Governor Tate Reeves Of Mississippi Is Reelected For a Second Term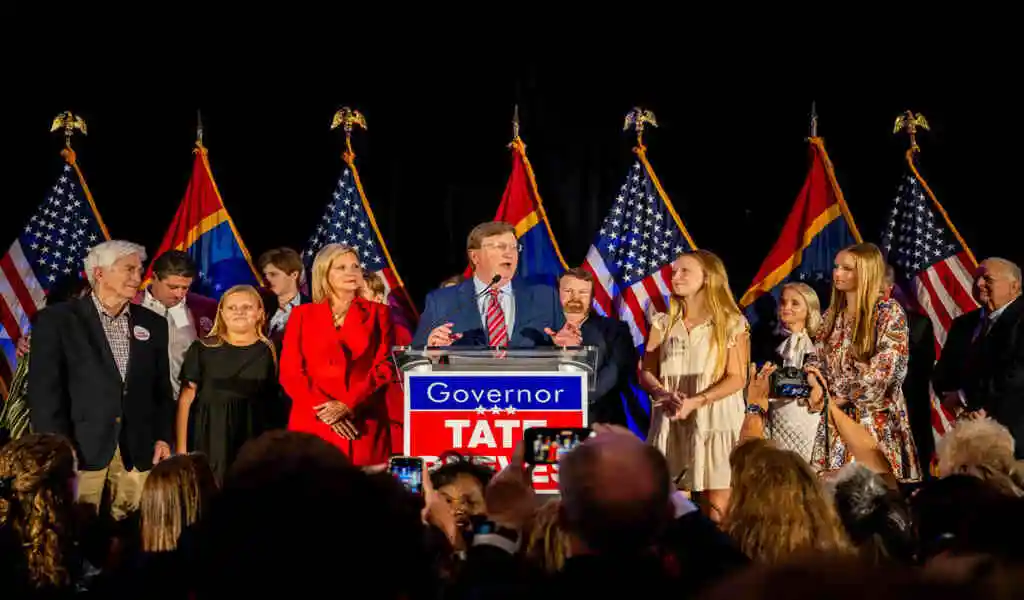 (CTN News) – Governor Tate Reeves, a Republican from Mississippi, won a second term Tuesday in the conservative state where his party dominates.
As a result of his aggressive campaign and larger fundraising, Tate Reeves defeated challenger Brandon Presley, giving Democrats a rare statewide victory in the Deep South.
At a party in the Jackson suburb of Flowood, Tate Reeves told cheering supporters, "This is Mississippi's time."
After the polls closed, Presley said at his party in Jackson, the capital city: "Tonight is a setback, but we won't give up." Mississippi's issues were raised through this campaign."
In this GOP stronghold, the race was unusually competitive. Yet Tate Reeves prevailed with a message focused on job creation, low unemployment, and improved education. In addition, he portrayed Presley as a liberal backed by out-of-state donors.
Tate Reeves said last week during the candidates'
The only debate that to believe Brandon Presley, you must believe everything about Mississippi is bad.
Reeves has hurt the state by refusing to expand Medicaid to cover people working low-wage jobs that do not provide health insurance, according to Presley, a state utility regulator and second cousin of Elvis Presley. According to Presley, welfare money was spent on pet projects for the wealthy and well-connected rather than aid for some of the poorest people in one of the nation's poorest states.
Presley said Reeves would not speak out about ethics reform. This system is broken and corrupt, and he is the poster child for it."
For the past 20 years, Republicans have held the Mississippi governorship. In the Legislature, they hold a wide majority and hold all statewide offices. It was 1976 when Georgia's Jimmy Carter won Mississippi's presidential vote for the last time a Democrat won.
Polling places in the state's largest county ran out of ballots and voters endured long lines in the key Democratic stronghold, disrupting the hard-fought race. All polls in the county were ordered to remain open until 8 p.m. Central Standard Time. Four polling places in some Jackson suburbs had to extend voting until 9 p.m., another judge ruled.
Hinds County election commissioners, all Democrats, are accused of underestimating turnout and not having enough ballots on hand. There were long lines of frustrated voters waiting for batches of ballots that arrived and then ran out again.
"Sheer incompetence," said Perry Perkins, an organizer for Working Together Mississippi. "What a travesty."
There were $11.3 million raised by Presley's campaign this year compared to $6.3 million raised by Tate Reeves. However, Tate Reeves had more money to start the year. In late October, Presley had spent $10.8 million and had $1.3 million left, while Reeves had spent $11 million and had $1.2 million left.
In 2019, he won an open race for governor after serving two terms as state treasurer and two terms as lieutenant governor.
He served as mayor of his small hometown of Nettleton for six years before being elected to the three-member Mississippi Public Service Commission in 2007.
SEE ALSO:
Glenn Youngkin Lost His Political Future To a Less Extreme Abortion Ban