Biden Administration Freezes the Sale of Firearms to Thailand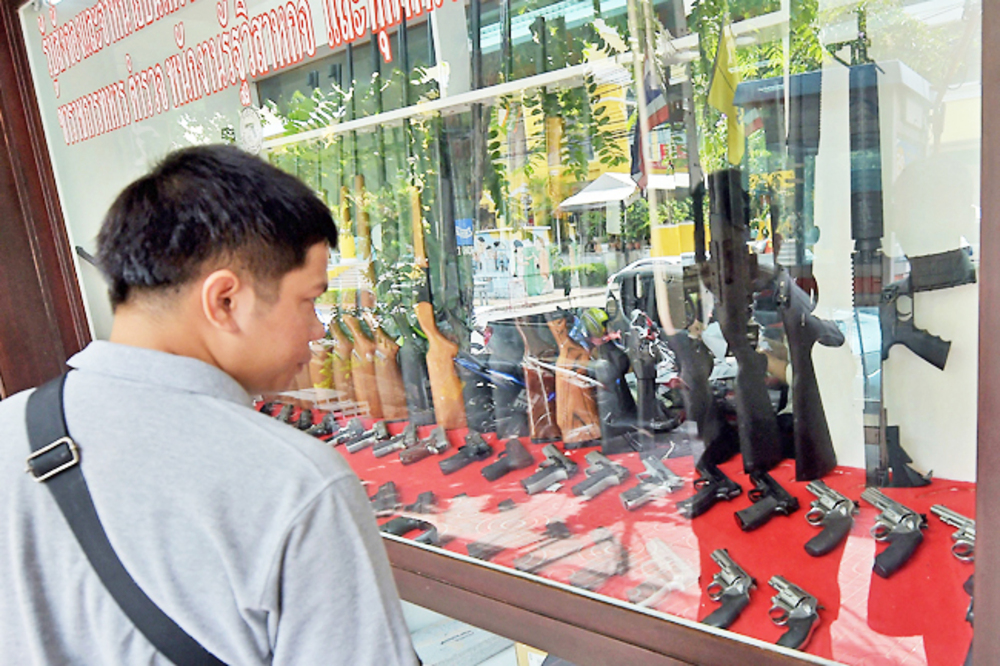 The US Commerce Department is temporarily halting exports of most US-made firearms to Thailand and other major markets for 90 days and reviewing its support for the country's largest gun trade show to ensure it "does not undermine US policy interests" — steps that could slow two decades of growth in international gun sales.
Bloomberg has spent months investigating the US gun industry's effective strategy for increasing foreign sales of its products, in conjunction with sympathetic US legislation.
The probe began in July with an examination of gun sales to Thailand, which witnessed one of the world's worst mass killings last year when a former police officer murdered 35 people, including 22 children (the majority of whom were stabbed), at a nursery in Nong Bua Lam Phu.
According to the investigation, the killer's Sig Sauer P365 was one of a growing number of semiautomatic handguns and rifles shipped by American gunmakers and related to violent crimes.
Largest Market for Firearms
Thailand is by far the world's largest market for semiautomatic firearms made in the United States. According to the analysis, from 2005 to 2022, the United States supplied 795,000 such weapons to Thailand, accounting for 21.5% of the global total of 3.7 million.
The study also reveals how Sig Sauer won two contracts with the Royal Thai Police for 400,000 guns for the "welfare guns" project, which places low-cost weapons in the hands of individual police officers and other state officials.
According to Bloomberg, the sheer amount of the orders formed a new "asset class" of guns for trading and investment purposes. Thousands of welfare firearms are resold for profit in an environment of inadequate regulation.
Another piece released on October 19 looked at the Commerce Department's lavish support for the SHOT (Shooting, Hunting, Outdoor Trade) Show, including directing over 3,200 overseas purchasers to the event this year.
The Commerce Department halted the approval of new export licences for semiautomatic and nonautomatic firearms sold to non-government entities around the world on Friday. The freeze does not apply to Israel, Ukraine, or the about 40 other countries that are signatories to a multilateral export-control pact with the United States.
Commercial firearms exports
However, it does include some of the most important markets for American gunmakers, such as Thailand, Brazil, and Guatemala, where the Bloomberg study demonstrated the impact of US government assistance for those companies.
"The review will be conducted with urgency and will enable the Department to more effectively assess and mitigate risk of firearms being diverted to entities or activities that promote regional instability, violate human rights, or fuel criminal activities," the Department stated in its announcement of the pause.
While the government provided no hint of long-term changes, the study might alter or even reverse a series of notably pro-industry rules that have assisted domestic manufacturers in expanding sales abroad.
These include moving control of most commercial gun exports from the State Department to the business-friendly Department of Commerce in 2020, as well as strong support for the SHOT Show, a firearms marketing exhibition held every January in Las Vegas.
Two decades ago, the United States sold very few firearms on a global scale. However, as local producers sought new markets, sales of rapid-fire and military-style weapons increased dramatically, totaling more than 3.7 million units sold since 2005.
Many of the guns are transferred to countries where gun crime is on the rise, while others are sold to authoritarian governments, with many of the transactions backed by both Democratic and Republican administrations. However, several Democrats in Congress have recently become increasingly vociferous in their opposition to these deals.