How to Register to Vote for Social Security Check Qualifications on October 31, 2023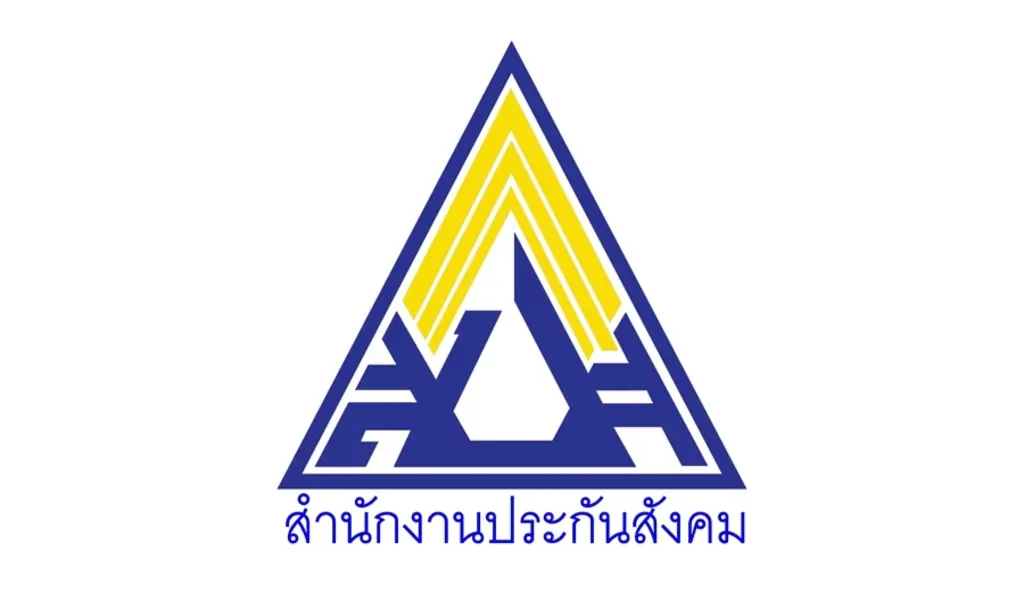 (CTN News) – Department of Social Security Get businesses and insurance providers involved The first election for the Social Security Board will be held from October 12–31, 2023, and registration will take place online.
Representatives of employers and insured individuals are being chosen in accordance with Social Security Act No. 4 B.E. 2015. made policy recommendations to the government based on public opinion.
Voters eligible for Social Security benefits Must be a Social Security system employer and insured under Sections 33, 39, and 40. Here are the required actions and details for registering to vote.
Use Sections 33, 39, and 40 to register to vote for Social Security. The procedures are as follows.
1. Go to the website https://sbe.sso.go.th/sbe/
2. Select the login method through registration, insured person, or employer.
3. Fill in personal information to register, including:
National identification number

The number on the back of the ID card

First and last name

Date of birth
4. In order to exercise your right to vote for the Social Security Board, select a region to visit. By providing the following information:
Choose a province

Select an area or district

Contact mobile phone number
Caution: Once the area for traveling to the polls has been selected, it cannot be changed later.
Voter registration procedures for insured persons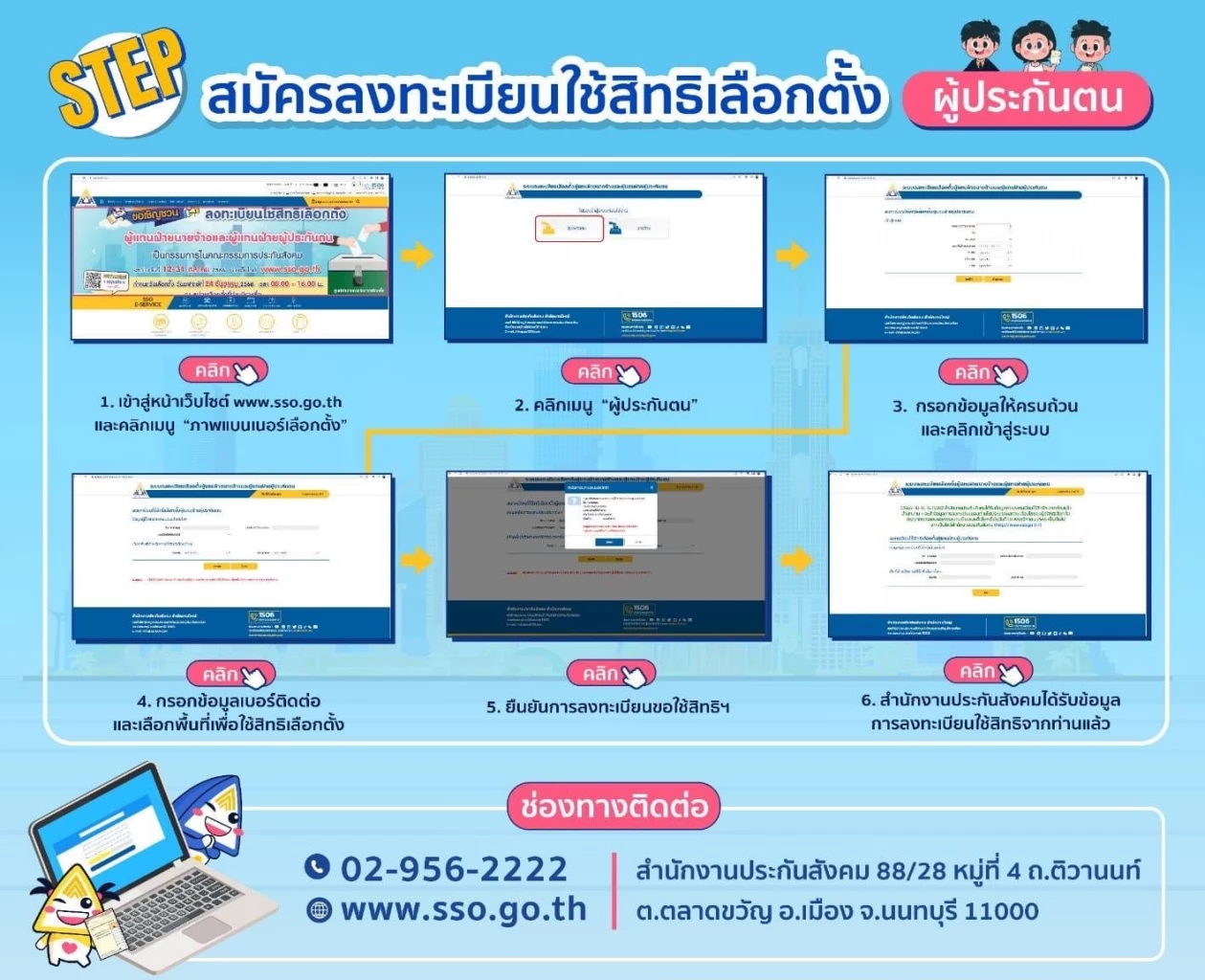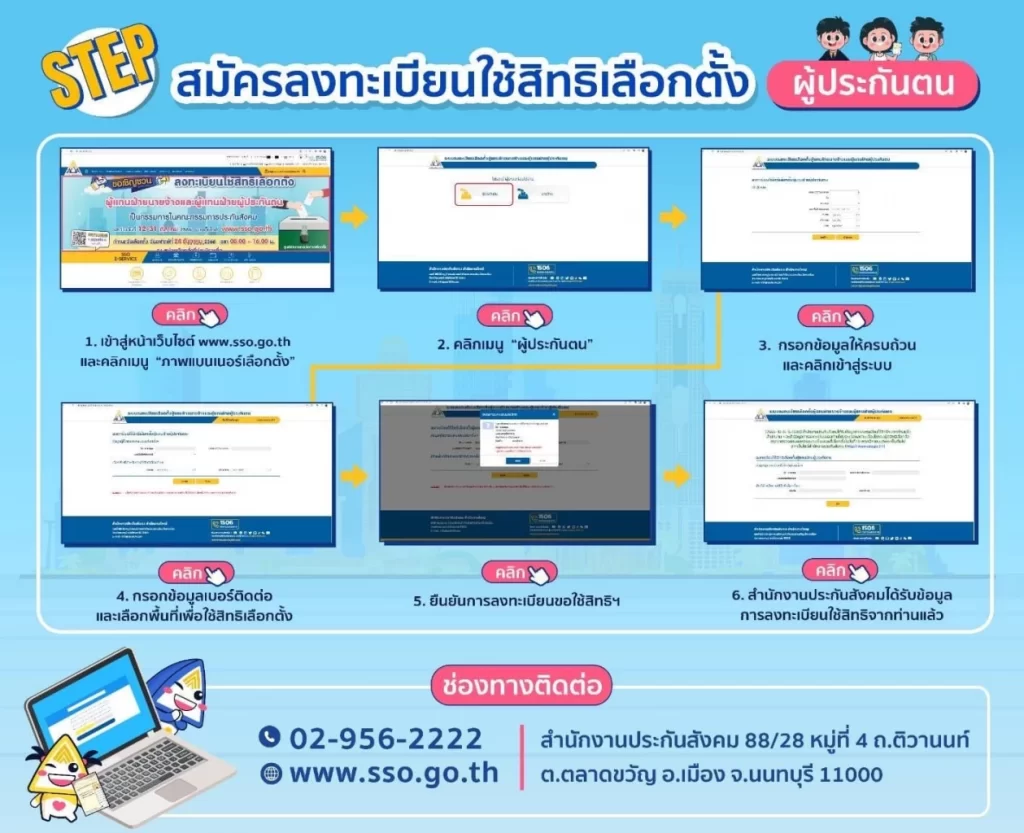 Voter registration procedures for employers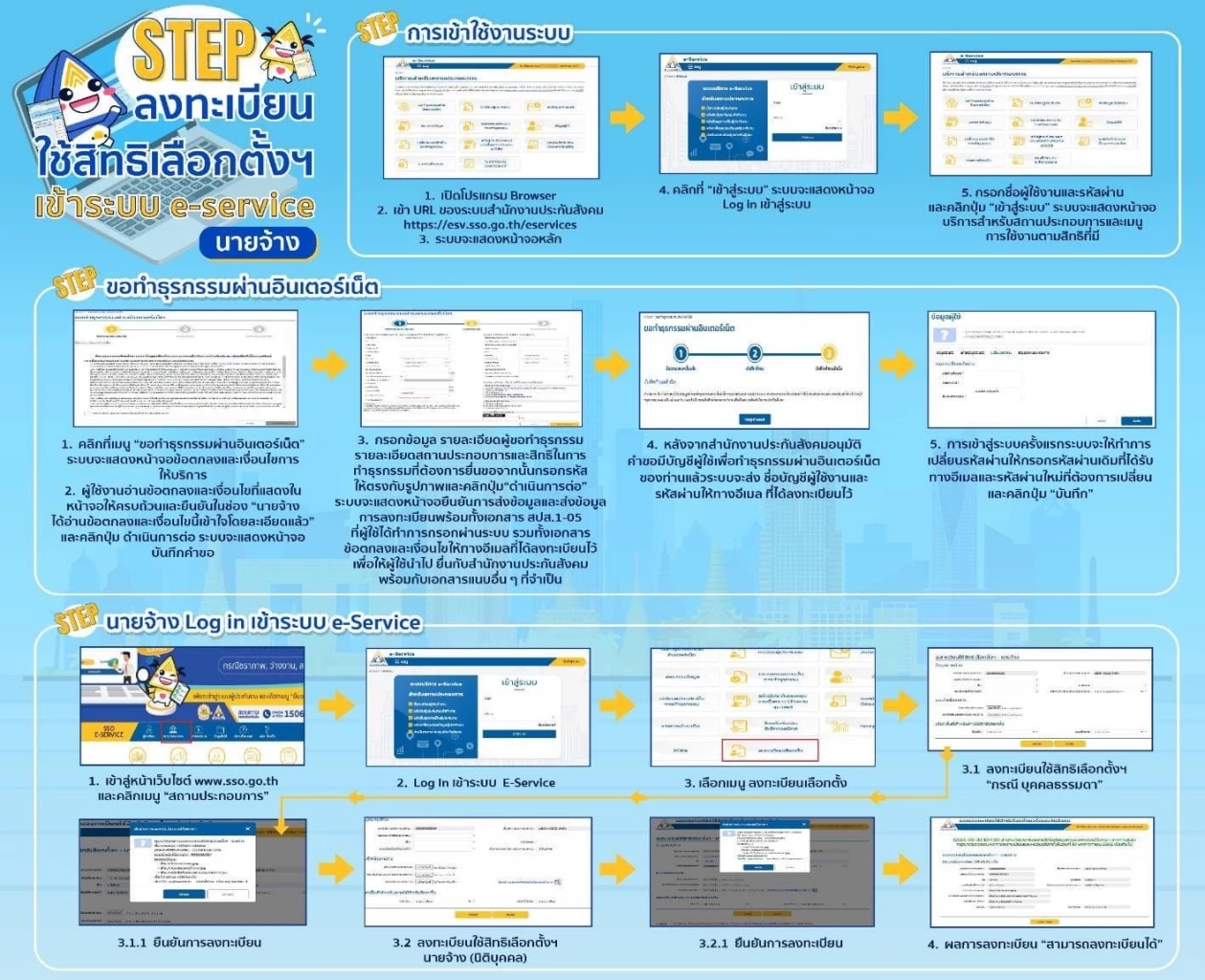 Schedule of elections for the Social Security Board
Elections for the Social Security Board will be conducted by the Social Security Office subsequent to the registration deadline. Between 8:00 am and 4:00 pm on Sunday, December 24, 2023. Voter registration is exclusively conducted through online channels. or at any Social Security Office, Bangkok region, province, or branch location nationwide. The inventory of voters is accessible via the website. The URL for www.sso.go.th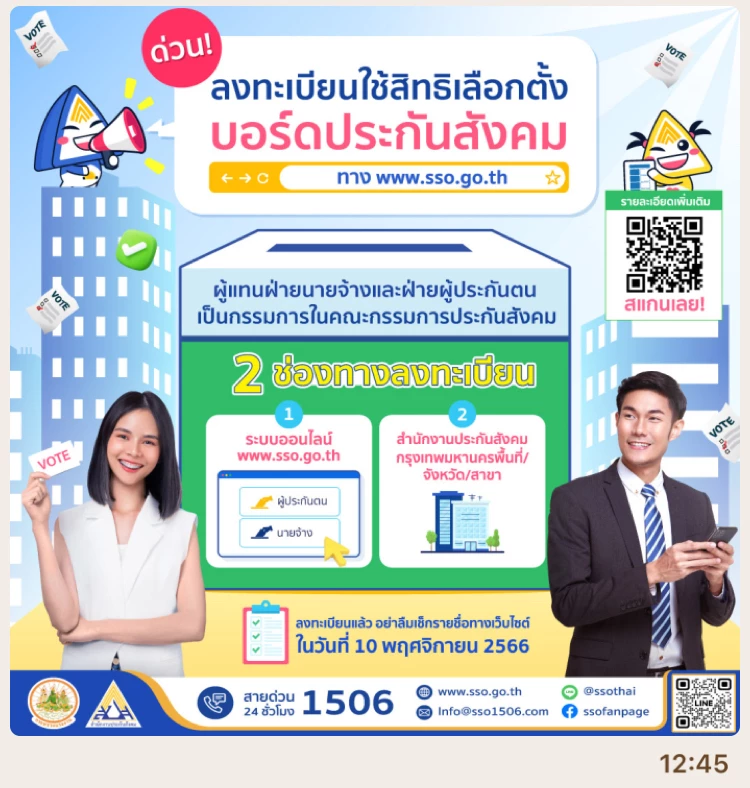 Documents and credentials required of election candidates
For individuals contemplating standing for office Remember to inspect the available features. Documents for applications and attributes prohibited by the Social Security Administration You must submit your application in person at the Bangkok area/province/branch of the Social Security Administration. Between October 25-31, 2023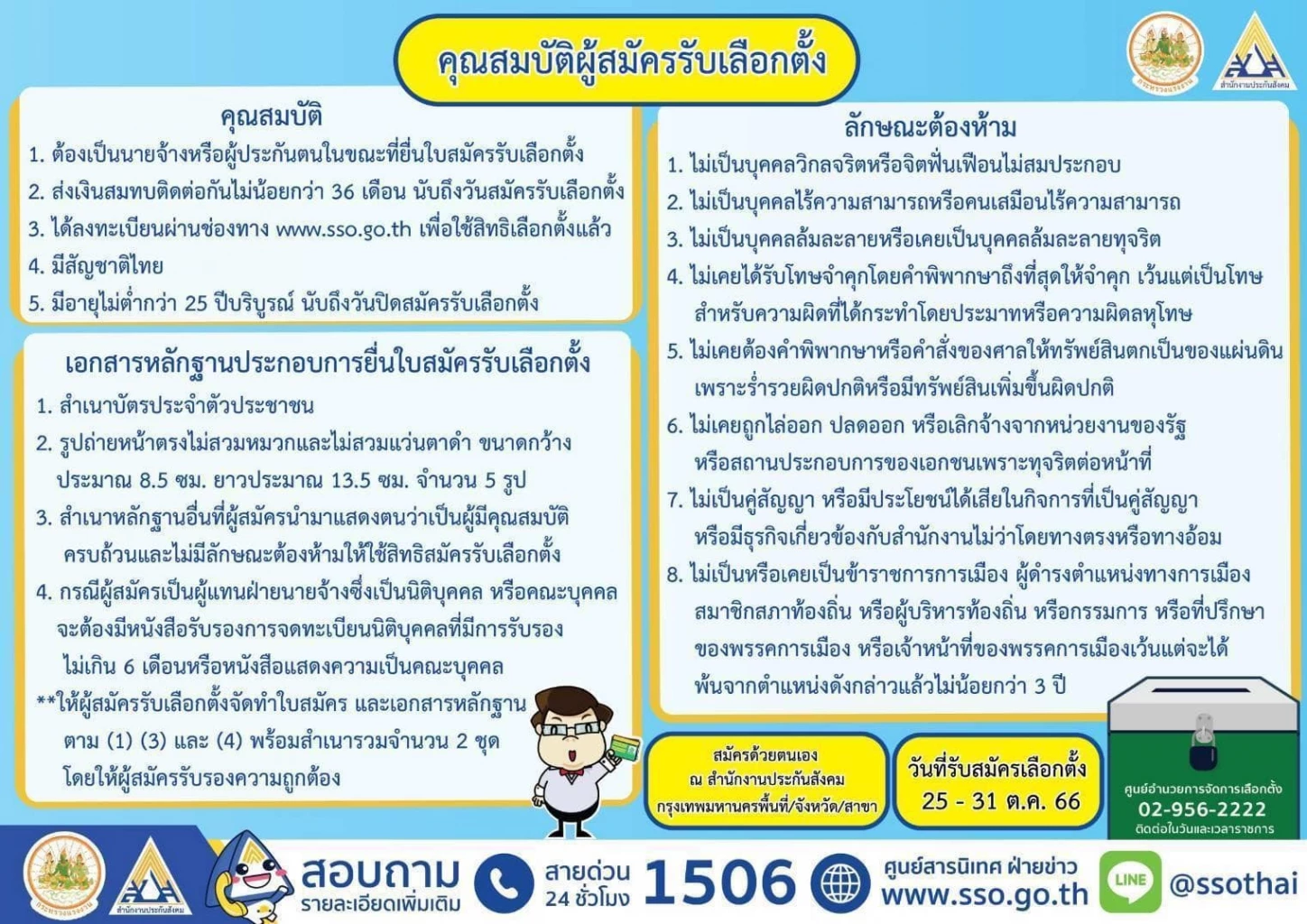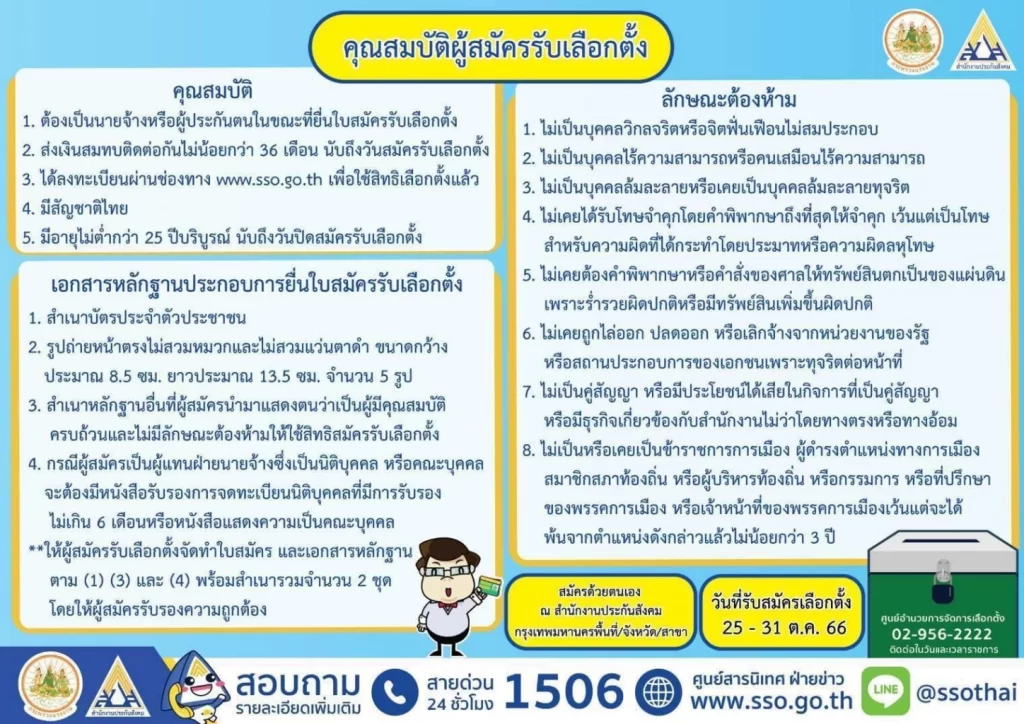 Qualifications of the applicant
1. Must be an employer or covered person at the time the election application is submitted.
2. Make contributions for at least 36 months, beginning with the day you applied for election.
3. Have registered to vote using the website www.sso.go.th
4. Be a Thai national
5. Be at least 25 years old as of the election application deadline.
Application documentation
1. ID card photocopy
2. Photograph with a straight face, no hat, and dark glasses. Width is around 8.5 hours, length is approximately 13.5 hours, and there are a total of 5 photos.
3. A copy of any other evidence presented by the applicant to demonstrate that he or she meets all of the qualifications and does not possess any of the forbidden characteristics for exercising the right to run for election.
4. If the applicant is a representative of the employer who is a juristic person or a group of people, they must provide a certificate of registration of a legal body that is not more than 6 months old or a letter proving that they are a group of individuals.
Candidates must submit an application. and evidence documents in accordance with (1), (3), and (4), together with two copies, which the applicant must confirm as correct.
Characteristics that are prohibited
1. Not a mentally ill or disturbed individual.
2. Not being an incompetent or quasi-incompetent individual
3. You must not be bankrupt or have ever been dishonest.
4. Never got a prison sentence as a result of a final sentence of incarceration. unless it is a punishment For offenses committed due to carelessness or small offenses
5. Never been punished or ordered by a court to transfer assets to the state as a result of unusual wealth or an exceptional increase in assets.
6. Never been dismissed, laid off, or terminated from a government agency or private business for deception in the performance of tasks.
7. Not being a contracting party or having a vested interest in a business that is a contracting party or having business related to the office, whether directly or indirectly.
8. Not being or having been a political official or holder of a political post. Local council members, administrators, committee members, or advisors of a political party, or officials of a political party, unless they have been out of office for at least three years.
Related CTN News:
On Nov 2, the IMF team visited Pakistan for the first review talks