As England Ease Past Ukraine, Harry Kane And Bukayo Saka Score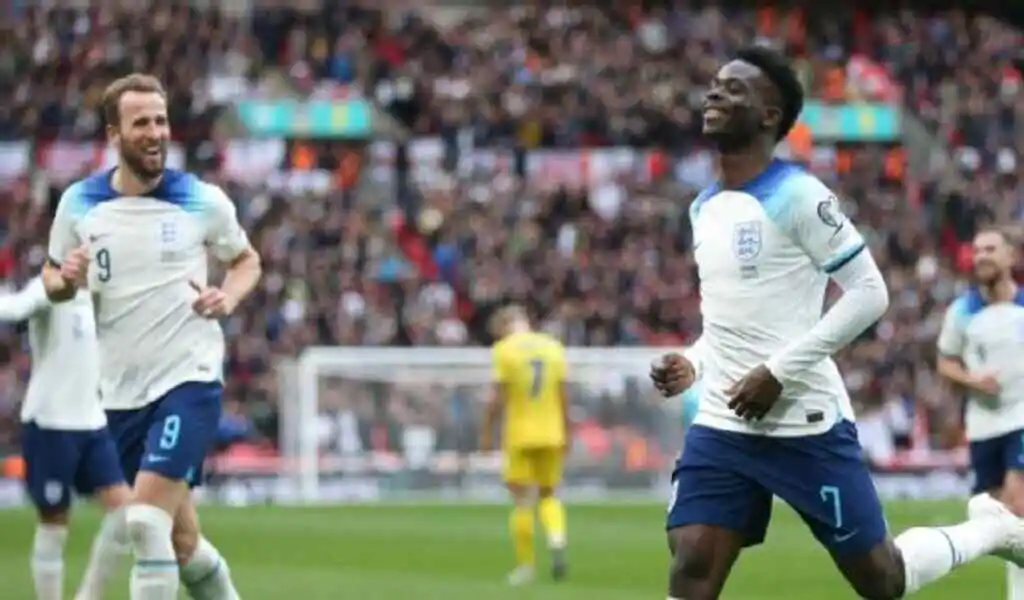 (CTN News) – A first-half goal from Harry Kane and a second goal from Bukayo Saka lifted England to a 2-0 victory against Ukraine at Wembley on Sunday.
Since Thursday's win over Italy, Gareth Southgate's team has won back-to-back matches to begin their bid to qualify for the next European Championship. These two matches also marked their first since they were eliminated from the Qatar World Cup quarterfinals in 2022.
An excellent volley from inside the six-yard box by Harry Kane breached the Ukraine goalkeeper's legs to open the scoring. After breaking Wayne Rooney's record against Italy two days ago, Kane now has 55 goals for his country.
Three minutes later, Saka doubled England's lead with a curling strike from the edge of the box.
Although Ukraine enjoyed some pressure after the half, they never really seemed capable of claiming only a second victory over England.
Despite a tepid second half, Brentford forward Ivan Toney, who replaced Kane 10 minutes from time, made his international debut.
This is the toughest fixture for Ukraine since they missed out on qualifying for the World Cup in a playoff against Wales.
A warm applause greeted the country's anthem and 1,000 tickets were donated to refugees and their sponsor families.
When the whistle sounded, England put all sentiment aside and focused only on building upon its first victory on Italian soil in 62 years.
During the first half, Ukraine comfortably defended the hosts' goal.
Having been awarded a golden boot beforehand, Kane missed two routine chances, fluffing a close-range volley and prodding an inviting Maddison delivery wide.
When he got a third chance, he didn't miss.
Having passed the ball to Saka, the captain ghosted into the area and was picked out by Arsenal's man cross. A stunning goal was then scored by Saka, who turned on Jordan Henderson's pass and curled a shot into the top corner.
The Ukrainians showed plenty of energy after the interval, but were unable to upset a cruise-control England side.
Conor Gallagher and Jack Grealish, the substitutes who were left out in favor of Maddison, could have given England a bigger margin of victory, but by then thousands of England fans had already reached the station.
The Ukrainian fans, however, stayed until the end and erupted in a sea of yellow and blue. While England is away in Malta next, their next match is against North Macedonia in June.
SEE ALSO:
76ers vs Suns Predictions, NBA Picks & Odds For Saturday, March 25