Vintage Apple-1: Steve Jobs' Handwritten Ad Sparks Bidding Frenzy, Fetches $175,759!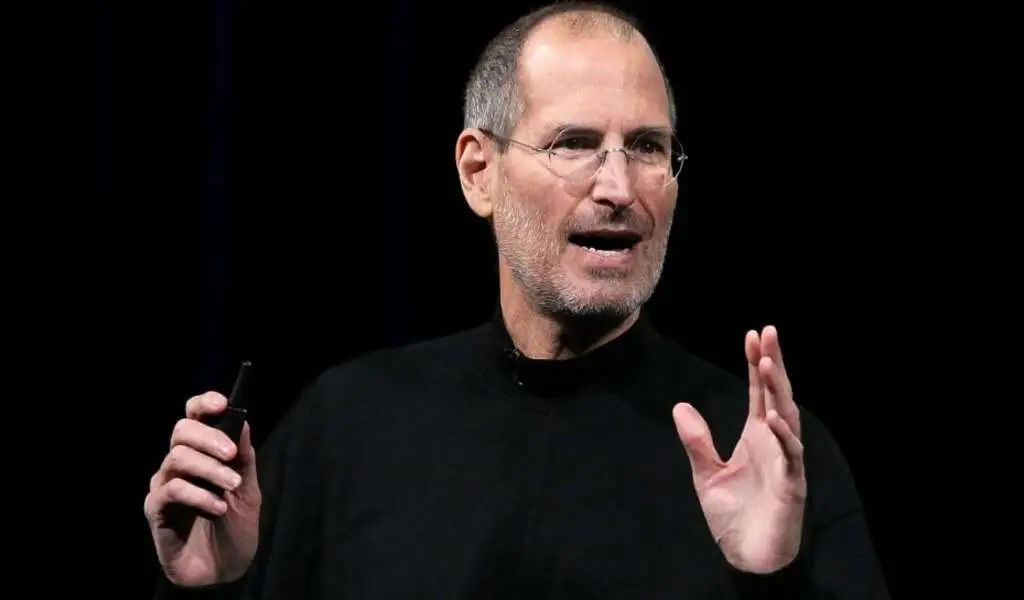 (CTN NEWS) – Items associated with Apple's history tend to command substantial sums at auctions.
This holds true whether the item in question is an early computer from the 1970s, an original, sealed iPhone, or even a job application written by Steve Jobs prior to his co-founding of the company.
Jobs, the visionary behind Apple's transformation into one of the world's most prosperous enterprises, has left an indelible mark.
On the subject of Jobs, yet another artifact linked to him has recently been sold at auction through RR Auction based in Boston. Remarkably, the winning bid reached an astounding $175,759—six times beyond initial expectations.
The item in question is a sheet of paper bearing a draft of an advertisement penned by Jobs himself. The advertisement pertains to the Apple Computer-1, which initially debuted in 1976 under the name Apple Computer, eventually gaining renown as the Apple I or Apple-1.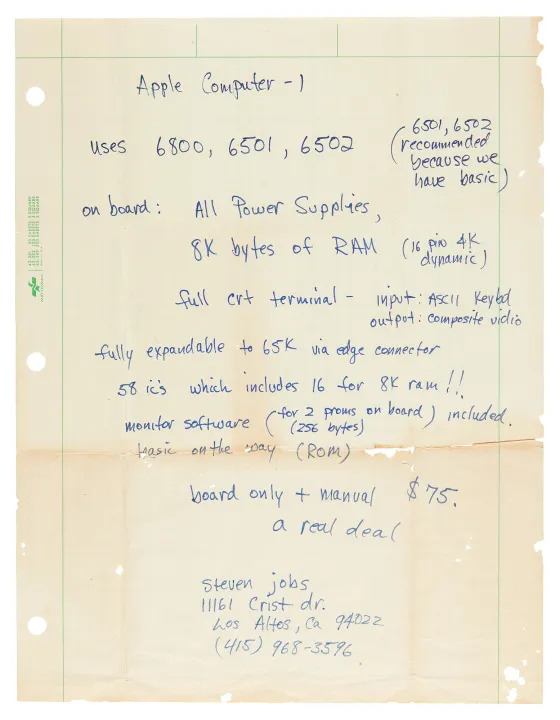 Steve Jobs' Handwritten Apple-1 Advertisement Draft
In terms of advertisements, simplicity reigns supreme in this case, with the written content containing nothing more than the technical specifications of Apple's inaugural computer.
The draft also features Steve Jobs' signature in lowercase, accompanied by the contact details of his parents' residence.
"Neatly penned in black ink on a slightly off-white 8.5 x 11 binder sheet, this advertisement essentially acts as a preliminary draft specification sheet for the Apple-1.
It was presented to the consignor during a visit to Jobs' garage in 1976," states RR Auction in its listing for this item.
The advertisement includes the following details: "All Power Supplies, 8K bytes of RAM (16 pin 4K dynamic), full crt terminal—input: ASC11 Keybd, output: composite vidio [sic], fully expandable to 65K via edge connector, 58 ic's which includes 16 for 8K ram!! Monitor software (for 2 proms on board (256 bytes) included."
The listing points out that Jobs makes a reference to a forthcoming "basic on the way (ROM)."
However, this never came to fruition for the Apple-1, though it did accompany the Apple II the subsequent year. The late Apple leader concludes by offering a price of $75 for the "board only + manual, a real deal."
Historical Alignment: Jobs' Advertisement Specs Echo Initial Apple-1 Ad
According to Apple historian Corey Cohen, the technical specifications in Jobs' draft for the advertisement align with the initial ad for the Apple-1, which made its debut in the July 1976 edition of Interface Magazine.
"This initial marketing push provided Apple with the necessary funding to transition from 'two guys in a garage' to becoming two of the most influential figures of the late 20th century," notes the listing.
The lot also encompasses two authentic Polaroid photographs captured at The Byte Shop in Mountain View, California.
These images portray a fully assembled Apple-1 computer board along with an accompanying keyboard and monitor. Additionally, a snapshot showcases an Apple-1 computer screen displaying a program in Apple Basic.
The stark simplicity of this advertisement becomes even more striking when one considers that a mere eight years later, the company—already experiencing considerable success—unveiled its iconic "1984" advertisement (for the Apple Macintosh).
This legendary commercial was crafted by the Chiat/Day ad agency and directed by Ridley Scott.
RELATED CTN NEWS:
Delayed Lunar Ascent: Japan's Inaugural Moon Mission Postponed Due To Strong Winds
Claude.ai Introduces Premium Access And Enhances User Engagement Strategy
WordPress Unveils Its '100-Year Plan' Featuring Domain Registration, Hosting, And Support