Ray-Ban's Meta Sunglasses: A Fashion Choice for Influencers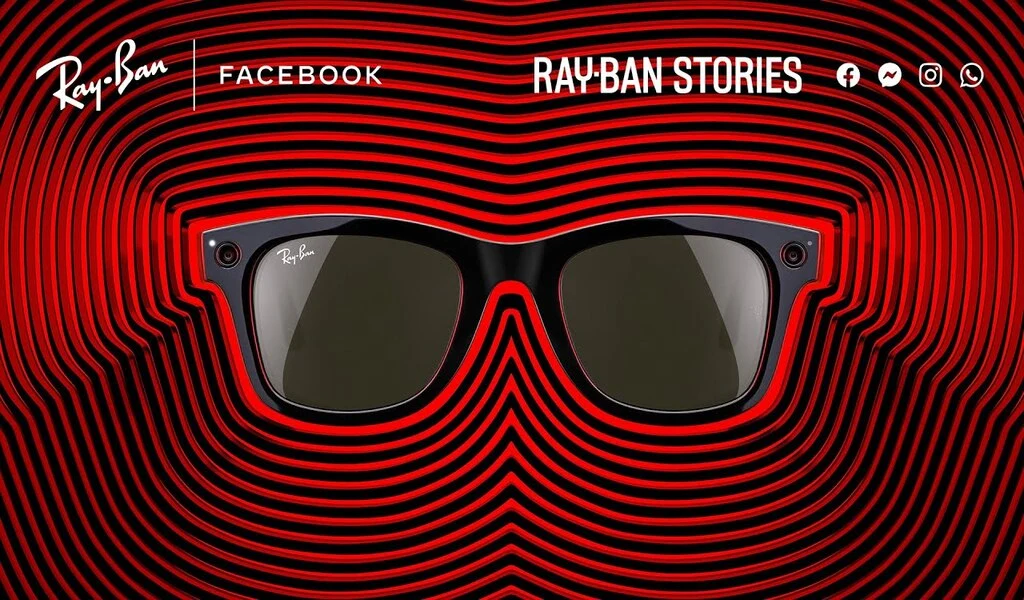 (CTN NEWS) – In the realm of mixed-reality headsets, there exists an ideal device that bridges the gap between the Ray-Ban Meta and Meta Quest 3.
This hypothetical headset is characterized by its sleek, lightweight design, offering features like hand tracking, passthrough, and the ability to livestream video when needed.
It's intended to be comfortably worn outdoors without drawing much attention, seamlessly transitioning to content capture when the moment arises.
At the present moment, the Ray-Ban Meta and Meta Quest 3 are distinct devices with minimal overlap, sharing only their head-worn nature and integrated sensors.
The Meta Quest 3, specifically designed for indoor use, is a lightweight mixed-reality headset. Wearing it outdoors might prove less enjoyable due to the circumstances.
This is where the Ray-Ban Meta excels, allowing freedom of movement outside the home while maintaining a discreet appearance.
Just before writing this piece, I casually donned a pair of Ray-Ban Meta glasses while en route to the JFK airport.
These glasses, though inconspicuous in design, stood out due to the fact that I was indoors wearing sunglasses.
Additionally, they featured essential recording lighting to prevent surreptitious photography without subjects' knowledge.
Our initial encounter with the Ray-Ban Meta occurred during a pre-Connect conference briefing, where the design prowess of the collaborative team left a strong impression.
The Ray-Ban Meta's industrial design seamlessly blends technology and style, to the point that most people would struggle to differentiate its charger from a typical Ray-Ban eyeglass case.
While it's slightly thicker, a touch heavier, and more rigid than some cases, the team managed to keep compromises to a minimum.
This case incorporates several clever features. Instead of a snap closure, it utilizes a ring, which, when opened, emits a green glow to indicate a full charge and an orange one when the battery is not at its peak.
The orange light blinks when the battery is running low. The interior space is optimized to accommodate the battery directly beneath the folded temples of the glasses.
In front of this area, a dock with two flush charging pins interfaces with contact pads hidden on the glasses' bridge, secured by magnets and a small tab.
The USB-C port is conveniently located on the exterior bottom of the case, allowing it to rest on its back while charging. Positioned just above this port on the rear of the case is the Bluetooth pairing button.
This newer case iteration is slimmer, making it easily pocketable and more comfortable to carry.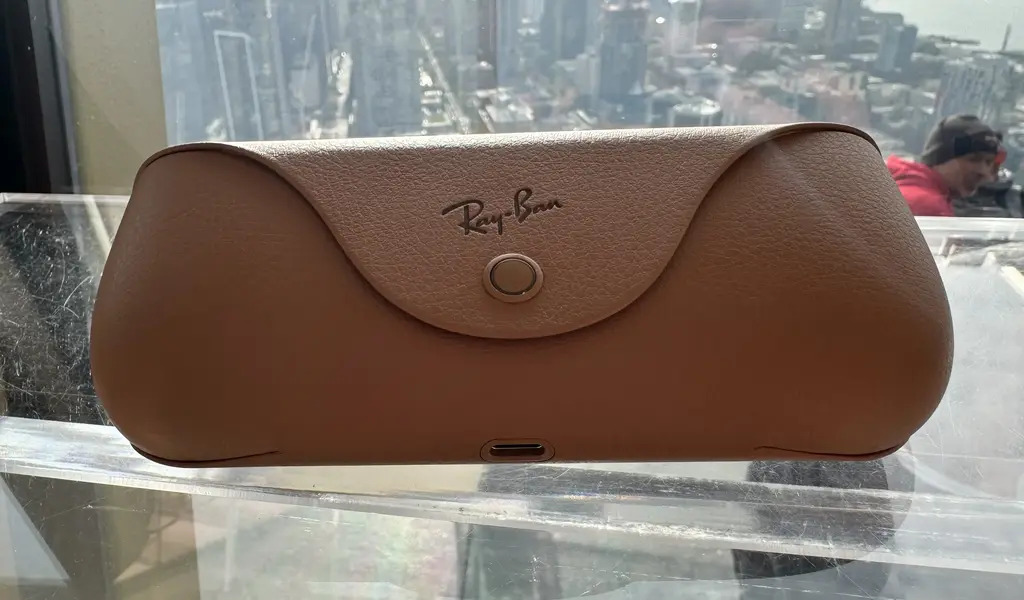 Meta specifies that the glasses offer "up to" four hours on a single charge, while the case can provide a total of eight charging cycles, totaling up to 36 hours of usage.
As with all tech, actual battery life may vary depending on use, configuration, settings, and various other factors. Notably, video consumption tends to be a more power-intensive activity.
The focus of this collaboration heavily leans into the style aspect, which is a smart decision when designing tech meant to be worn on the body.
The glasses come in two primary designs: the classic Wayfarer, which is likely the first image that comes to mind when thinking of sunglasses, and the new Headliner, which shares some similarities with the Wayfarer but features more pronounced curvature at the top and bottom.
According to Meta, there are 150 potential design combinations, taking into account various options such as frame color, style, and types of lenses, including sunglasses, clear, prescription, transitions, and polarized.
The temples of the glasses are slightly thicker than the average pair of sunglasses, a design choice dictated by the inclusion of speakers and other components (there's a transparent option available if you want to take a look).
Nevertheless, the designers have managed to keep the size within reasonable limits.
While these glasses are marginally heavier than a typical pair of Wayfarers (50.8 g compared to 44 g), they remain comfortable for extended wear throughout the less than four hours of battery life.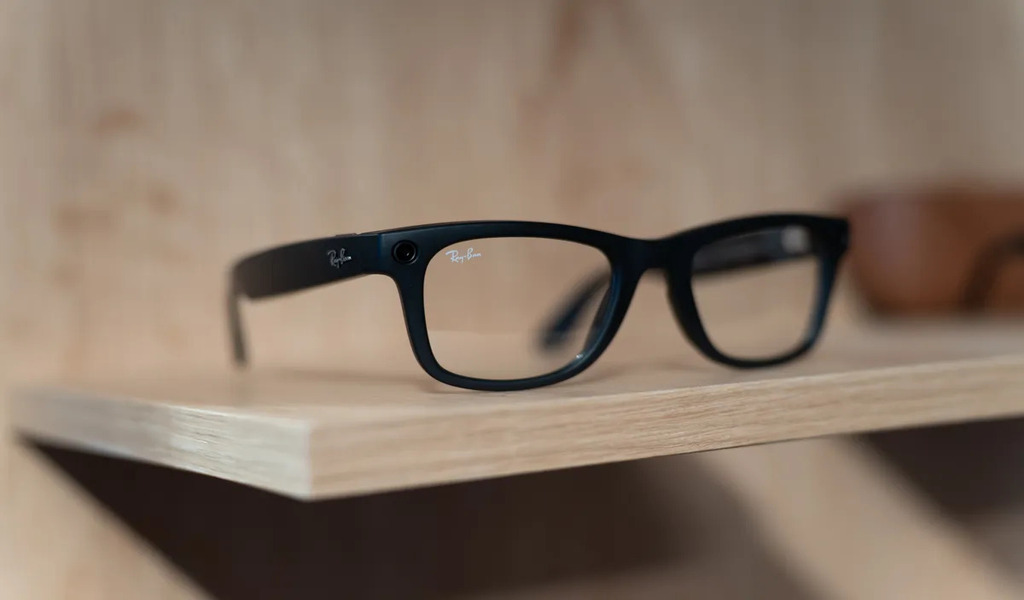 The left temple of the glasses features a touchpad on the outside. A simple swipe gesture adjusts the volume, and users can customize other functions within the app.
This touchpad also serves as a control hub for livestreaming, eliminating the need to handle a phone or repeatedly use voice commands.
A quick tap allows users to check real-time comments and viewers on platforms like Instagram or Facebook, and the capture button is conveniently located next to the hinge on the left temple.
The end pieces of the glasses are equipped with two small circular modules, both similar in appearance for the sake of symmetry but performing distinct, though related, functions.
On the top right side (when facing the glasses) is a 12-megapixel camera, while the top left side features an LED indicator that alerts those around you when the glasses are recording.
When the LED light is covered, the glasses emit an audio alert to signal that recording has ceased, a precautionary measure to prevent users from simply covering the light with tape.
While Meta reported no specific incidents of light tampering, this feature underscores the paramount importance of privacy for a device like this, especially given that most people around you are likely unaware of its recording capabilities.
When the battery is running low, users will receive a spoken alert, and the light will flash orange and then turn red just before powering down.
The light also serves various purposes, such as blinking white when receiving a call, performing a single flash during a photo capture, and remaining steadily lit during video recording.
The pairing process is straightforward, with the glasses flashing blue during pairing and becoming solid when successfully connected.
Users must download the Meta View app, choose between Meta Ray-Ban and Ray-Ban Stories, and grant Bluetooth permissions.
Images and videos are stored in the glasses' 32 GB of internal storage, which equates to approximately 500 photos or 100 videos, each with a maximum duration of 30 seconds.
To transfer content to a phone, users can tap "Import" within the app to connect via Wi-Fi or set up automatic imports in the settings.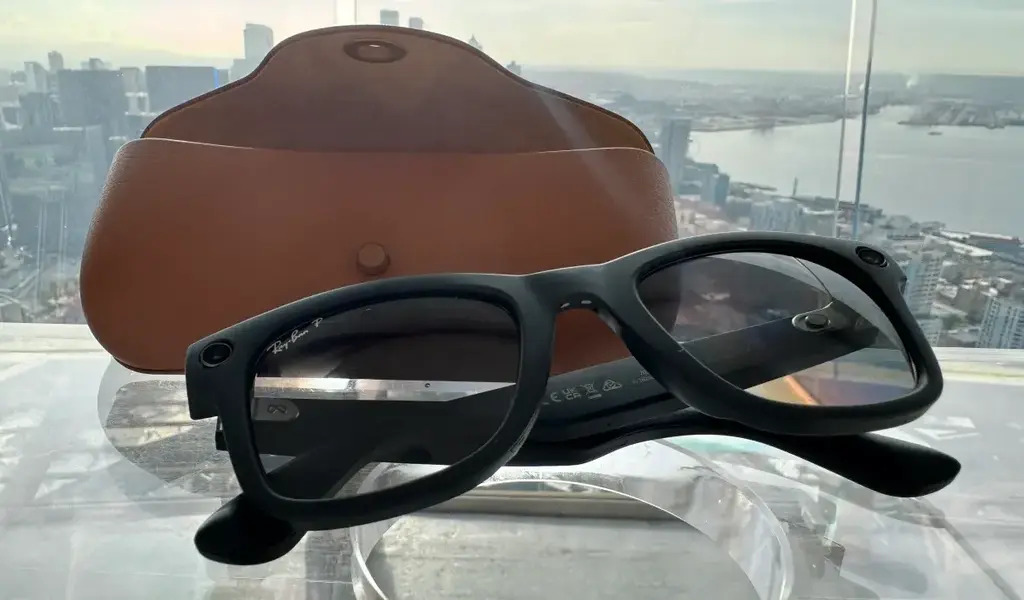 Once the glasses are paired, wearing them and opening either Facebook or Instagram allows you to initiate a livestream.
By tapping the plus icon, you'll access the livestream screen, with your phone's camera as the default choice. However, a quick double press of the capture button seamlessly switches to the glasses' camera.
Livestreaming stands out as one of the most significant features that was previously missing in Ray-Ban Stories.
The glasses are equipped with barely noticeable down-firing speakers located at the bottom of the temple tips. When tested in a quiet room, these speakers delivered surprisingly loud and clear audio.
These are open-ear speakers, distinct from bone conduction technology, which has its own set of advantages and drawbacks.
Bone conduction tends to be quieter but does a better job with ambient noise since it reaches your eardrums through a different mechanism.
In the bustling airport environment, it was expected that I'd need to turn up the volume quite a bit.
I would recommend using these glasses in quieter surroundings whenever possible, but of course, that's not always feasible. Sound plays a crucial role in the glasses, extending beyond music listening.
For example, there's an audible shutter click when taking a picture.
After familiarizing myself with the various button functions, using the glasses became effortless. During my time in Seattle, I decided to embrace my inner tourist and explore the video capture and photography capabilities.
I even dabbled in livestreaming on both Instagram and Facebook. The 12-megapixel still images are serviceable for impromptu shots.
They won't be replacing my iPhone camera anytime soon, but the pictures are certainly suitable for social media, and the built-in machine learning does a commendable job of keeping subjects in focus, addressing one of my initial concerns.
However, there was some difficulty in achieving accurate color balance, particularly in the presence of neon signs' red glow in the market.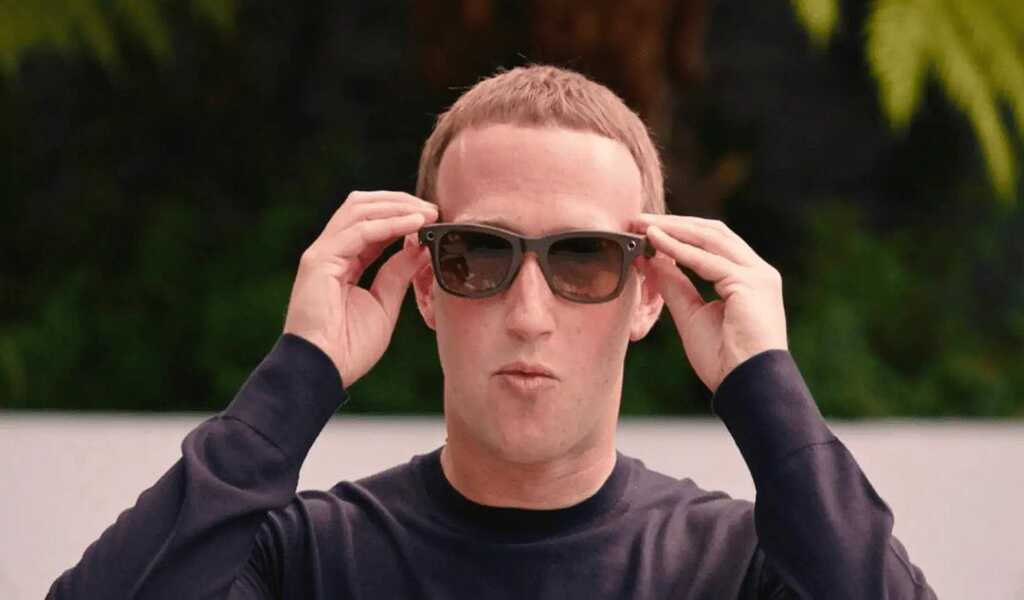 I initiated a livestream from Pike Place Market in the morning. The experience is incredibly smooth, simply involving a switch from the phone's camera to the Ray-Ban's camera.
There's no official word on when, or if, this functionality will extend to non-Meta owned platforms, but it wouldn't be surprising if the company keeps it exclusive.
Surprisingly, as you walk around, your head naturally helps stabilize the shot.
Once again, it's important to note that the 1080p video isn't the best quality you'll find on a mobile device, but it handles the mixed lighting conditions of Pike Place and the bright, overcast skies around the Space Needle quite well.
When wearing the glasses, you'll likely find yourself making more head movements to take in your surroundings.
The glasses also exhibit strong audio performance, capturing both my voice and the ambient tourist sounds of my surroundings effectively.
If you decide to try these glasses, I would recommend thoroughly testing them before going live.
It's surprisingly easy to momentarily forget you're wearing them and accidentally look down at your phone or something else you wouldn't want to be broadcast live on the internet.
As with most new computing platforms, there's a learning curve involved.
The glasses feature built-in microphones that listen for the "hey Meta" wake word.
Voice commands make perfect sense for a device like this, allowing you to take a photo, start or stop video, and adjust volume (though it turns out voice control for volume adjustments can be a bit cumbersome).
You can also ask the glasses for the current time, weather conditions, and remaining battery life.
Furthermore, you can pose Alexa-style questions, and Meta AI will attempt to provide answers. Currently, this feature is only available in the U.S. through an open beta.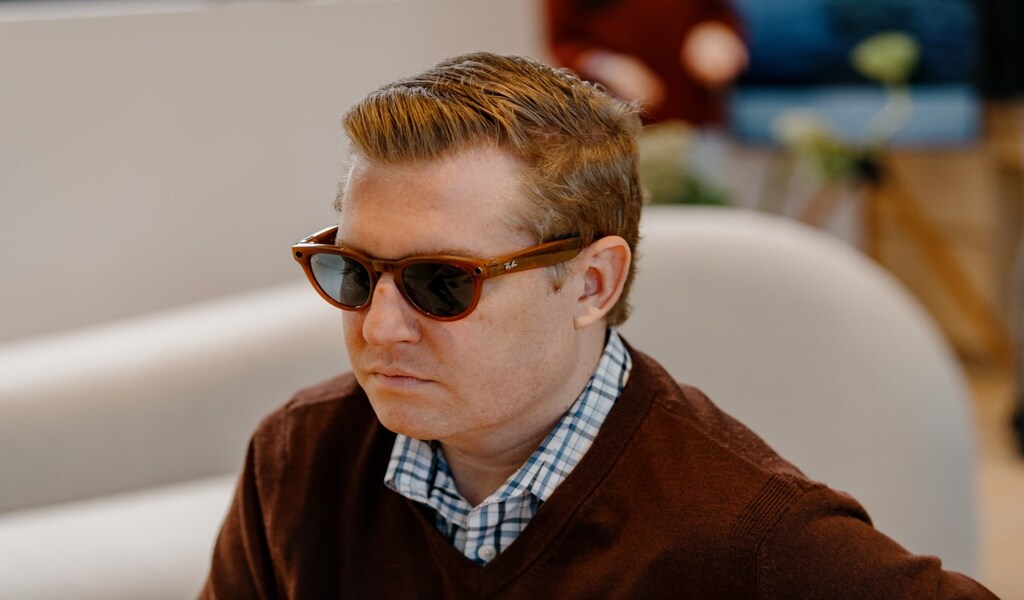 The pricing for the Ray-Ban Meta glasses starts at $299 for standard lenses, while polarized lenses are priced at $329, and transitions lenses at $379.
Prescription lenses are available at varying prices. The cost may indeed deter many potential buyers, and that's entirely understandable.
Ultimately, you should consider how much value a face-worn camera will bring to your life. If you earn a living through livestreaming, it could be a sensible investment. However, for sheer novelty, it's a significant expense.
It's worth noting that future updates will enhance the device's value, introducing features like sign translation (via voice) and the ability to identify landmarks in front of you.
The future of head-worn computing is visible on the horizon, but it will still take some time before we fully arrive there.
MORE RELATED NEWS:
The Future Of The Internet: What Happens If Google Loses Its Antitrust Battle?
AMD To Acquire AI Startup Nod.ai To Strengthen Software AI Capabilities
Microsoft Teams Unveils Revamped And Speedier Chat Client For Windows And Mac Users