Cardi B's Thrown Microphone Sells For Nearly $100,000 At eBay Auction In Las Vegas
(CTN NEWS) – The microphone that was thrown by Cardi B at a disruptive fan last month in Las Vegas has undergone a significant increase in value, fetching nearly $100,000 in an eBay auction held on Tuesday.
The microphone originally went up for sale courtesy of Scott Fisher, who owns The Wave Inc., an audio production company based in Las Vegas.
The company had supplied sound equipment to Drai's Beachclub on the day of the incident.
Fisher disclosed to CBS News that his company, which offers audio support to various nightclubs, has been furnishing audio equipment to Drai's since its grand opening at the Cromwell Hotel over nine years ago.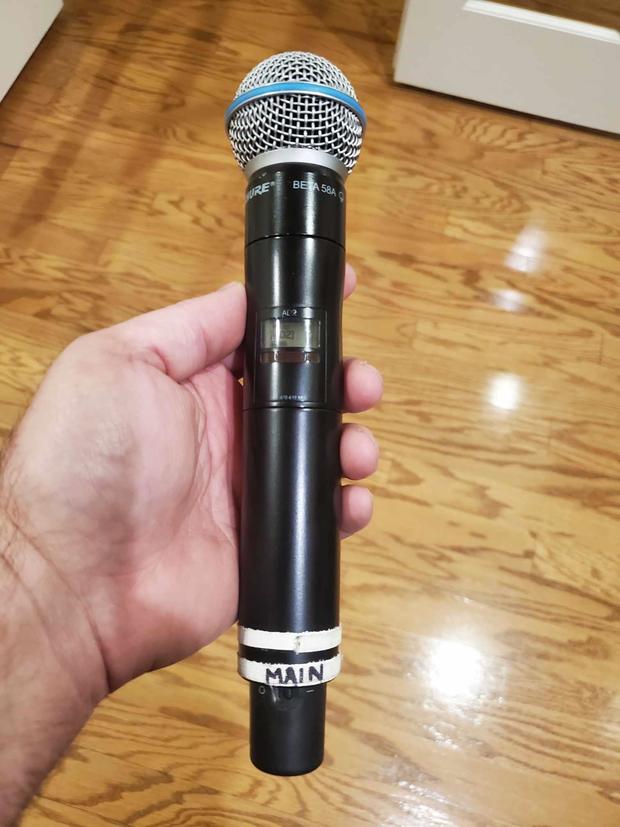 Cardi B's Infamous Mic Toss Takes Charitable Turn: From On-Stage Incident to Philanthropic Symbol
On July 29, a video captured an incident wherein a fan threw a liquid substance at Cardi B while she was performing on stage at the Las Vegas beach club. In response, the rapper retaliated by throwing her microphone into the audience.
The fan lodged a police complaint regarding the episode, although Cardi B did not face any charges.
Subsequently, Fisher retrieved the microphone and decided to put it up for auction, with the proceeds earmarked for two charitable causes: Friendship Circle Las Vegas and the Wounded Warrior Project.
Fisher was able to confirm the authenticity of the microphone, a Shure AD2 Axient Digital model, as the one launched into the crowd by virtue of its labeling and synchronization with Cardi B's in-ear monitor.
Fisher explained, "It is customary to label all microphones and in-ear systems with their designated recipients prior to the soundcheck, ensuring that the correct individuals receive the appropriate items during the performance."
Furthermore, he added, "In all the videos, you could observe white tape on Cardi B's microphone, which allowed us to identify her specific mic."
Additionally, Fisher confirmed the microphone's legitimacy through a third verification method: consulting Drai's sound technician to corroborate the microphone's labeling as the "main" mic and its synchronization with the corresponding receiver.
The microphone that Cardi B flung into the crowd has now become a noteworthy symbol, not only of the incident itself but also of the charitable contributions it will facilitate.
Its value has transcended its initial purpose as a performance tool, embodying both an unexpected turn of events and a positive impact on philanthropic endeavors.
Cardi B throws microphone at audience member who threw a drink at her. pic.twitter.com/alLgHMFshb

— Pop Base (@PopBase) July 30, 2023
Astonishing Bidding War: Hip Hop History Microphone Fetches Nearly $100,000
As stated in the eBay listing, the microphone remains in functional condition and will be accompanied by a letter of authenticity from Fisher. Additionally, a custom display case, generously crafted by a company inspired by the microphone's auction, will be included for the buyer.
A remarkable response was witnessed as more than 120 individuals participated in bidding for the item.
Expressing his astonishment, Fisher shared that while he anticipated some level of interest in the microphone, he never envisioned this "piece of hip hop history" to command a price nearing $100,000.
The specific brand and model of the microphone, distinct from the one thrown by Cardi B, is typically available in the market for approximately $1,000.
"I held the hope that it might reach $5,000, though I truly had no inkling," expressed the proprietor of the small business. "My expectations were for a certain degree of national attention, yet the extent of media coverage has been truly remarkable."
RELATED CTN NEWS:
What To Watch This Weekend: Best TV Series & Movies [Aug 4th-6th]
UNO Quatro: Mattel's Quest For The Inaugural "Chief UNO Player" -Qualifications & How To Apply
OFFICIAL: Blackpink's Jisoo And Actor Ahn Bo-hyun Confirmed To Be In A Relationship