Zach Wilson, Jets Quarterback: "We Need To Get Things Going"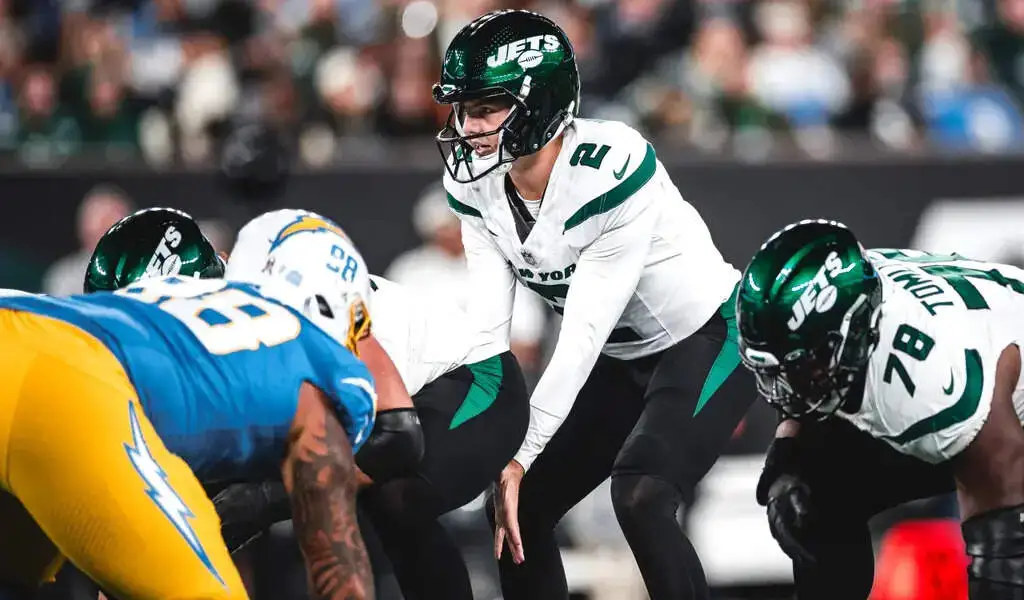 (CTN News) – Zach Wilson and the Jets offense failed to get off to a fast start on Monday night as the Los Angeles Chargers ended the Jets' three-game winning streak, 27-6.
After allowing a punt return touchdown less than 10 minutes into the game, the Jets committed two turnovers — Garrett Wilson's fumble and Zach Wilson's fumble, the latter leading to the Chargers' second touchdown. There were three turnovers in Chargers territory.
"It seemed like [the offensive tempo] was working," said HC Robert Saleh. I think the frustrating thing is that we never gave ourselves a chance to get going. We moved across midfield twice, moving the ball there. It was just self-inflicted wounds.
Wilson was sacked eight times, playing behind another different starting offensive line. In the absence of Connor McGovern (knee) Joe Tippmann, a second-round pick out of Wisconsin drafted as a center, got his first NFL start at center (after playing right guard for four games). Max Mitchell moved from T to G on the right, and Billy Turner started at RT.
Throughout the night, Zach Wilson was under pressure. 57 yards were lost by the Jets as a result of the 8 sacks (some of which came on third downs). Third down conversions were 3 of 17 (17.6%), fourth down conversions were 3 of 4, and red zone conversions were 0 of 2.
Zach Wilson,
Who was 33 of 49 for 263 yards and completed passes of 30 yards or more to G.Wilson and Tyler Conklin, said his job is to get the ball out of his hands as soon as possible. I'm always trying to help the O-line up front. If there is an opportunity after watching the film to get the ball out faster, I will take advantage of it. I must help those guys out as well, but also give credit to the Chargers."
As a result of Sunday's losses by Miami, Buffalo, and New England, the Jets (4-4) have missed a chance to gain ground in the AFC East division race. On Sunday night, the Green & White will face the Raiders in Las Vegas.
It was the Jets' fourth consecutive game without an offensive touchdown, and all three have come on one-play drives. The Jets' self-inflicted wounds included four pre-snap penalties and three fumbles from Wilson (he had two against the Giants in their previous game).
 As Saleh stated, " We need to take responsibility for what we have done and improve. You keep shooting yourself in the foot, and you will receive what you deserve.
When asked to assess Z.Wilson's performance, Saleh replied: "Was it his best? No. Was it his worst? No."
After Greg Zuerlein converted his second field goal in the second half, the Jets led 17-6, and the defense forced a three-and-out. After driving to the LAC 32-yard line, the Jets faced a third-and-three situation. A punt was forced by Z.Wilson's sack and false start.
Z.Wilson said, "We've got to move forward.". Zach Wilson said, "The defense is playing well. We must stick together, and I think we will. This league can be cruel at times."
In response to a question regarding his confidence, Zach Wilson said: "I feel like I'm a different player. I'm in the best position I've ever felt mentally. My understanding of the game… I feel I'm ready to compete.
SEE ALSO:
Bangladesh Knocks Sri Lanka Out Of The 2023 ICC World Cup