Messi's Inter Miami Thrilling Victory Over FC Cincinnati in Penalty Shootout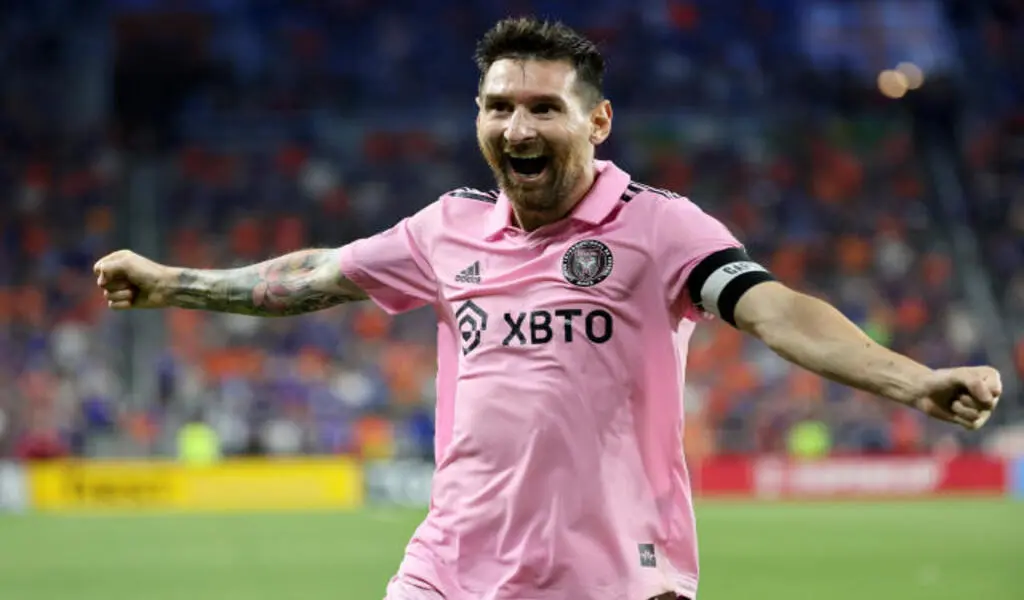 (CTN News) – Inter Miami's incredible comeback against FC Cincinnati in the US Open Cup semifinal showcased Lionel Messi's genius on the field.
The Argentine legend's pivotal role in assisting goals and leading his team to victory highlighted his mastery. With a star-studded lineup and an electrifying atmosphere, the match was a testament to Inter Miami's determination and Messi's influence.
Messi's Brilliance Turns the Tide:
Lionel Messi's brilliance came to the forefront when facing an early 2-0 deficit after goals from FC Cincinnati's Luciano Acosta and Brandon Vazquez. His well-placed free-kick set up Leonardo Campana's goal, sparking Inter Miami's fightback. In a dramatic twist, Messi's pinpoint pass allowed Campana to score again, leveling the score at 2-2 in stoppage time.
The momentum swung in Inter Miami's favor during extra time, as Josef Martinez found the net, giving his team a 3-2 lead. FC Cincinnati, however, refused to back down. Yuya Kubo's skillful shot brought the game to an exhilarating 3-3 tie in the 114th minute, setting the stage for a nail-biting finale.
The match eventually went to a penalty shootout, where Inter Miami's composure shone through. Converting all their spot-kicks, they clinched victory, underlining their determination.
Messi's influence and a star-studded lineup featuring former Barcelona teammates Jordi Alba and Sergio Busquets proved instrumental in securing the win.
The match witnessed FC Cincinnati's 11th sell-out of the season, with a crowd of 25,513 creating an electrifying atmosphere. Bengals DE Sam Hubbard wielded the ceremonial sword, accompanied by fellow teammates, adding to the intensity of the encounter.
As Inter Miami advances to the US Open Cup final, questions arise about Messi's workload. Head coach Gerardo Martino hinted at the possibility of Messi considering a break after playing twice a week. Despite this, Messi's passion for being on the field remains evident, raising discussions about managing his performance.
In conclusion, Inter Miami's stunning comeback against FC Cincinnati, fueled by Messi's brilliance, showcased the team's resilience and determination. With the upcoming US Open Cup final, the stage is set for another thrilling showdown that could further solidify Messi's legacy in American soccer.