Verstappen Furious After Sainz Takes Pole At Singapore F1 GP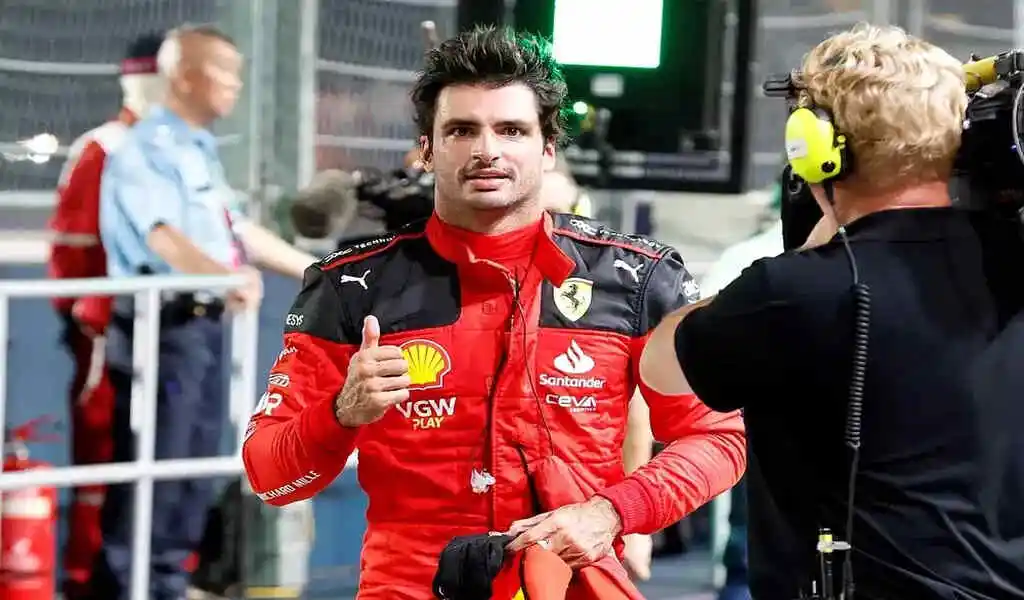 (CTN News) – Despite a season of utter dominance for Max Verstappen and Red Bull, when the wheels finally came off in qualifying for the Singapore Grand Prix, it was with striking effect, provoking both fury and consternation.
With a mighty lap between the walls, Carlos Sainz claimed pole for Ferrari at Marina Bay.
It was his second consecutive pole. In contrast, Verstappen and Red Bull were flailing, impotent with a recalcitrant car lacking the balance and grip that defined them as the class of the field.
Vertappen finished 11th, while Sergio Pérez, who was equally at sea, managed 13th. As a result of their utter dominance this season, Red Bull has not entered Q3 since the Russian GP in 2018.
It will be a herculean task to retain that record on Sunday, as the Red Bull stranglehold surely will be broken.
His car has lacked rear grip and Verstappen has struggled all weekend, unhappy with the balance of the car. The performance of the vehicle in qualifying angered him.
In Q2, after being knocked out by his final lap, he told the team, "That was shocking, absolutely shocking experience."
At AlphaTauri, he was beaten out of the top 10 by Liam Lawson, a rookie in his third F1 race. Surely this will further test the Dutch driver's temper.
Red Bull are unbeaten all season, while Verstappen has won the past 10 races. There was a real possibility of a clean sweep, but both runs are about to come to an end here.
Overtaking was difficult for Verstappen, so a victory was unlikely. No, he said. Like Monaco, qualifying will be a long, tough afternoon."
The team was also at a loss as to where to focus. "I knew it would be difficult to put it on pole, but this was beyond my expectations," he said. "We tried a few things on the car for qualifying and it tipped over."
The situation may have been even worse. He was investigated after the session for three separate incidents of impeding, but only reprimanded for two of them. A grid penalty would have been a galling end to an already disastrous day for Verstappen, whether he started 11th, 15th or 20th.
It is enormously frustrating that Red Bull's streak ended without a bang, rather than with a whimper. For neutrals, the tight battle at the front presents a good prospect.
As the track rubbered-in, Lando Norris, Sainz, Charles Leclerc, and Mercedes' George Russell, who was incredible on his last lap, were extremely tight. In the final sector, Sainz gained the edge.
Despite finishing seven hundredths ahead of Russell and Leclerc, he ran 1min 30.984sec. It will be one of them who takes the top step this season for the first time.
SEE ALSO:
Shohei Ohtani Clears Out Locker Amid Angels' Struggles