The Cowboys Slammed The Giants 40-0 On Sunday Night Football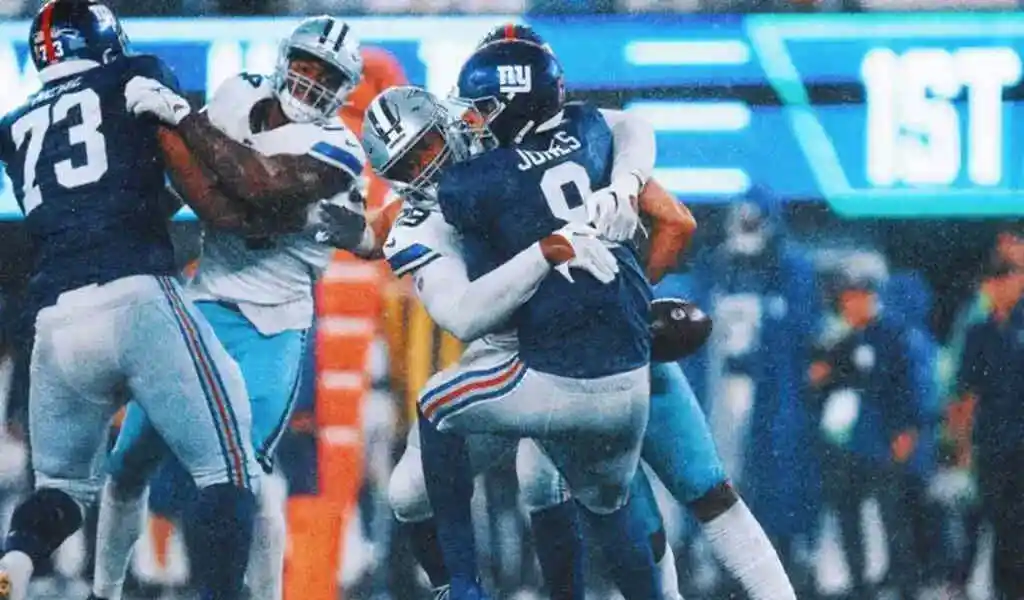 (CTN News) – It wasn't just rain that poured on the New York Giants on Sunday.
A one-yard touchdown run by Dallas Cowboys running back Tony Pollard ended the game. I ran. At MetLife Stadium, the third quarter scoreboard read 33-0.
The game ended 40-0.
Dallas took advantage of New York's lack of offensive responses, increasing the gap with easy points.
Taking a closer look at the analysis, here are five points to consider:
Momentum can be changed in one play
New York drove 48 yards down the field in 11 plays (the last play was a fumbled snap on third down). Until the mishap, the Giants were coordinated and confident. Noah Igbinoghene returned Graham Gano's blocked field goal 58 yards for a touchdown.
It was the last time New York looked coordinated and confident. After that, Dallas never looked back.
A forgettable night for Daniel Jones
The Giants signed Jones to a four-year, $160 million contract this past offseason. The annual salary is $40 million. His final stats were 104 passing yards on 15-for-28 completions, no touchdowns, and two interceptions. On 13 attempts, he gained 43 rushing yards and was sacked seven times. It's not what a $40 million player should provide.
The weather and poor offensive line play didn't help Jones' cause, but these signs were noticeable in previous seasons unless he improved as a pocket passer. In Week 1, it didn't seem that way.
Dallas' life after Ezekiel Elliott starts strong
Dallas started a game without Elliott since 2016. In any case, it was time to move on, and Tony Pollard, Rico Dowdle, and KaVontae Turpin each did it their own way. With 70 yards and two touchdowns on 14 carries, Pollard stood out. Additionally, Turpin scored on the ground.
Dak Prescott didn't stand out statistically — 143 yards on 13-of-24 passing, no touchdowns and no interceptions — but he didn't have to.
The Giants' WR quality is lacking
Last season, Darius Slayton was New York's most productive wideout. In 16 games, Slayton had 46 catches for 724 yards and two touchdowns. After this loss, it became clear that the Giants may regress.
However, none of that significantly influenced the outcome of the game. As for the next highest catch, it was by Isaiah Hodgins with a 24 yard catch. I agree, that's not good enough.
Super Bowl-level defense for the Cowboys
A good defense wins championships, and Dallas seems to have one. Although the Cowboys' offensive line couldn't resist the Cowboys' pressure, seven sacks and 11 QB hits were not to be ignored. Despite wet conditions, they repeatedly knocked the ball out of New York's hands.
Stephon Gilmore alone defended three passes for Dallas. Despite the Cowboys not having much to defend, it's a promising sign for defensive coordinator Dan Quinn.
SEE ALSO:
The Panthers vs Falcons Live Stream Starts Now.