Ukrainian President Zelenskiy Wins NATO Jet Training Pledge On His Visit To London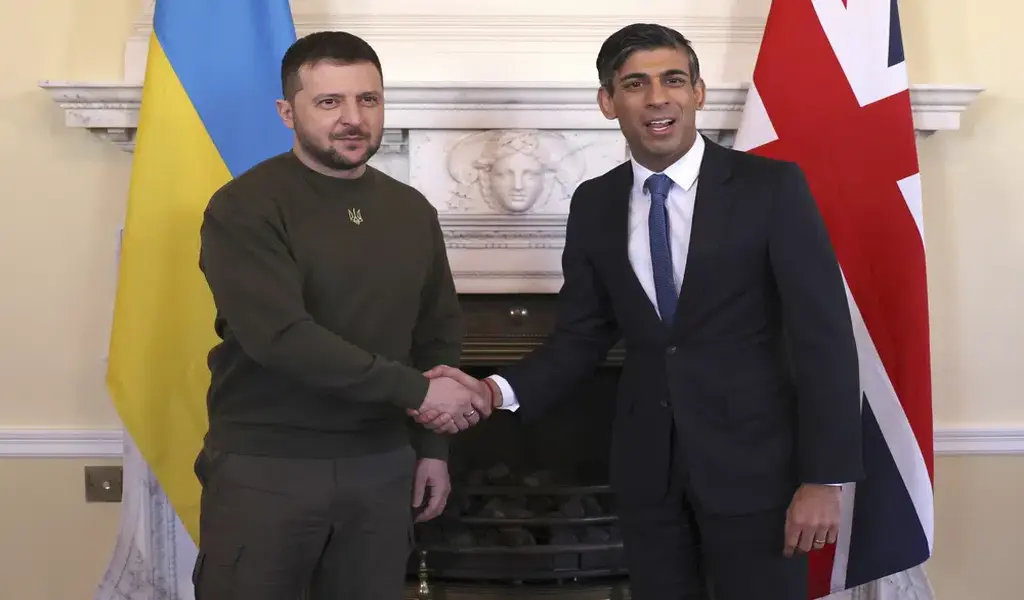 (CTN NEWS) – LONDON – On Wednesday, President Volodymyr Zelenskiy traveled to Britain to solicit aid.
He secured a promise to train Ukrainian pilots on cutting-edge NATO fighter jets, a significant symbolic increase in Western military assistance.
His first stop on his second trip overseas since Russia invaded Ukraine on February 24 was in London. Zelenskiy will continue his journey on Thursday to Brussels, where the European Union is hosting a summit, according to an EU diplomat.
"One of the earliest countries to support Ukraine was the United Kingdom. And today I'm in London to express my gratitude to Prime Minister Rishi Sunak for his leadership with the British people for their support."
Zelenskiy shared a photo of himself and Sunak at Stansted Airport on social media.
Zelenskiy was also scheduled to address parliament, meet King Charles III, and visit Ukrainian troops undergoing training in Britain.
Sunak stated, "President Zelenskiy's travel to the UK is a monument to his country's strength, commitment, and battle, as well as to the enduring friendship between our two countries."
Additional sanctions on Russia were announced by Sunak's office, along with plans to speed up the delivery of military supplies to Kiev. The Ukrainian air force and marines would now be a part of the British training program for the first time.
The training will guarantee that pilots can operate advanced NATO-standard fighter jets in the future, according to the statement.
Since nations have refrained from supplying aircraft or other weaponry capable of striking deep within Russia, this appeared to represent a significant shift in Western support.
British officials have stated that preparing pilots to fly British jets takes years. The statement provided no schedule for the training.
However, the first-of-its-kind pledge indicates support for a long-term security partnership with Kyiv and may open the door for allies to send planes.
Britain was the first Western nation to promise Kyiv advanced battle tanks last month. It only offered 14, but within two weeks, the US and its friends in Europe promised dozens, putting an end to months of discussion.
Olaf Scholz, the German chancellor, who faced harsh criticism for allegedly delaying the approval of tank delivery, advocated for the confidential coordination of armaments transfers rather than the public announcement of such transfers by individual nations.
According to a speech text, he told the Bundestag lower house of parliament, "What damages our unity is a public competition to outdo each other."
IMPLEMENTED PROMISES
As he seeks to back from Western friends at the start of what Kyiv claims will be a pivotal second year of the war, Zelenskiy is likely to attend the EU meeting.
Although his appearance has not been formally confirmed, he has a standing invitation to the event on Thursday and Friday.
Since the beginning of the year, Western nations have significantly increased their commitments to provide Ukraine with military assistance, reaching a climax with the promise of tanks.
Ukraine continues to demand greater-range warplanes and missiles.
Following significant Ukrainian victories in the second half of 2022, Russia has gained ground with the arrival of tens of thousands of newly mobilized troops.
In recent weeks, Russian forces have advanced sporadically in eastern Ukraine amid ongoing winter engagements that both sides consider some of the fiercest combat of the war.
As the first anniversary of the invasion, which falls on February 24, approaches, Kyiv claims it anticipates Moscow to intensify that effort.
Oleksiy Danilov, the head of Ukraine's national security service, spoke to Reuters on Tuesday and stated that the group "has to have something to present before their followers, and have a great desire to achieve something important, as they perceive it, by this date."
He anticipated that Russia concentrated on the eastern Donetsk region, would launch additional assaults on Kharkiv to the north or Zaporizhzhia to the south.
It will be up to us to determine their level of success.
Russia claims to have annexed four Ukrainian provinces and launched its "special military operation" last year to counter what it sees as a security threat posed by Ukraine's links to the West. It claims that sending arms from the West to Kyiv will worsen the conflict.
Ukraine claims that giving it the authority to expel Russian military from its territory is the only way to end hostilities.
Ukraine's main request is for Western fighter jets. Moscow and Kyiv do not have air superiority over Ukraine, which has prevented either side from using piloted aircraft.
Joe Biden, the vice president of the United States, stated last month that Washington would not send F-16 fighter jets to Ukraine, while British officials have stated that the jets need too much training to be of immediate service.
However, as part of a decision made by Western allies, France and Poland were among the nations that left the option of sending jets open.
In the upcoming days, the United States is anticipated to reveal a $2 billion weapons package containing new rockets with glide bombs that will have double the range of the rockets it launched last year.
That would place Russian troops within striking distance of Russia's supply routes in the Ukrainian mainland and some areas of the Crimean Peninsula.
RELATED CTN NEWS:
Turkey-Syria Earthquake Death Toll Passes 11,000
Dollar Slid After Powell Strikes a Balanced Tone on Inflation