US Military Chief Meets Ukraine's Top Military Chief For 1st Time In Person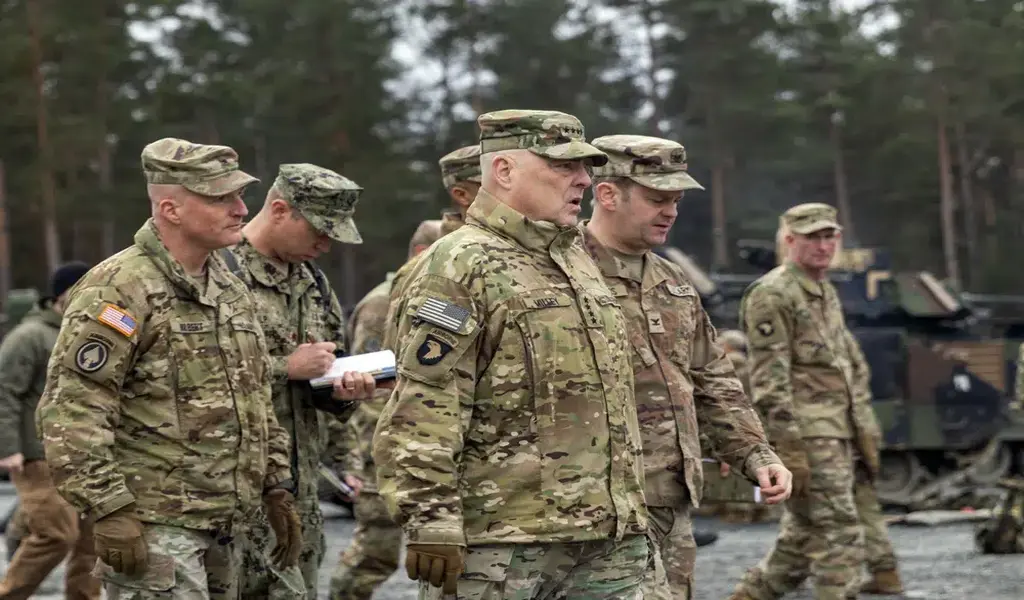 (CTN NEWS) – MILITARY BASE IN SOUTHEASTERN POLAND – Army Gen. Mark Milley, the top military official in the United States, visited a location close to the Poland-Ukraine border on Tuesday met with his Ukrainian counterpart there for the first time.
The meeting took place at a crucial time as the war between Russia and Ukraine approaches its first anniversary and highlighted the strengthening relations between the two militaries.
At an unannounced location in southeast Poland, Milley, the chairman of the Joint Chiefs of Staff, had a brief meeting with Gen. Valerii Zaluzhnyi, the head of Ukraine's armed forces.
Over the past year, the two leaders have often spoken about the war's progress and Ukraine's military requirements, but they have never met.
The gathering occurs as the international community increases its military aid to Ukraine, including enhanced training provided by the US for Ukrainian troops, and the delivery of tanks.
A Patriot missile battery and other weapons systems by the US and a coalition of European and other countries.
It also denotes a significant period in the war.
Ukraine's soldiers are engaged in severe combat in the eastern Donetsk province, where Russian forces are trying to turn the tide following a string of recent battlefield setbacks with the help of thousands of private Wagner Group contractors.
Army Two reporters accompanying the chairman were informed by Col. Dave Butler, a spokesman for Milley, that the two generals thought a face-to-face meeting was crucial.
The reporters did not accompany Milley to the meeting, and they consented, under military restrictions, to withhold information about the location of the reporters' base in southeast Poland.
Since they have frequently been speaking for almost a year, Butler added, "these guys have gotten to know one another." "They discussed the defence Ukraine is attempting to mount against Russian aggression in great detail.
There is a difference when two military personnel speak about critical subjects while looking each other in the eye."
When it became evident on Monday that it would not happen, Butler said there had been some hope that Zaluzhnyi would fly to Brussels for a conference of NATO and other defense chiefs this week.
However, they immediately opted to meet in Poland, close to the border.
While several U.S. civil servants have visited Ukraine, the Biden administration has made it plain that only military personnel associated with the embassy in Kyiv will travel to Ukraine in uniform.
According to Butler, only Milley and six of his top staff members drove to the meeting.
Milley will be able to share Zaluzhnyi's worries and information with the other military chiefs during the NATO chiefs meeting, according to him, because of the meeting.
He claimed that Milley would be in a position to "explain the tactical and operational situations on the battlefield and what the military needs for that, and the way he does that is by both comprehending it himself and by regularly communicating with Zaluzhnyi."
Milley will also be able to discuss the updated training that the United States is providing for Ukrainian forces at the Grafenwoehr training facility in Germany.
The chairman claimed the new, so-called combined arms instruction will better prepare Ukrainian troops to launch an assault or repel any uptick in Russian strikes during a nearly two-hour visit there on Monday.
Just one day before Milley's arrival, more than 600 Ukrainian soldiers started the camp's enhanced training regimen.
This week's high-level gatherings of military and defense leaders begin with the meeting between Milley and Zaluzhnyi.
On Wednesday and Thursday, Milley and other defense chiefs will meet in Brussels, and on Thursday and Friday, the so-called Ukraine Contact Group will assemble at Ramstein Air Base in Germany.
About 50 senior defense officials, including Defense Secretary Lloyd Austin, work together in this group to organise military aid to Ukraine.
The discussions are anticipated to center on Ukraine's current and future military requirements as the winter's snow-packed terrain gives way to the spring's muddy roads and fields.
Russia recently claimed it had taken control of the little salt-mining town of Soledar after losing land it had taken over for several months.
Ukraine claims that its troops are still engaged in combat, but if Moscow's forces manage to seize Soledar, they will be able to move closer to Bakhmut, a larger city where the battle has been raging for months.
And over the weekend, Russia launched a barrage of airstrikes against Kyiv, Kharkiv in the northeast, and Dnipro in the southeast, where the death toll in one apartment building reached 44.
Western observers claim that Russia's military command is getting ready for a more extensive mobilisation effort, pointing to indications that the Kremlin is prepared for a protracted conflict.
RELATED CTN NEWS:
Russian Strike Death Toll: 45 Citizens Killed, Including 6 Children