North Korean Leader Kim's Daughter Visits Troops To Mark The 75th Founding Anniversary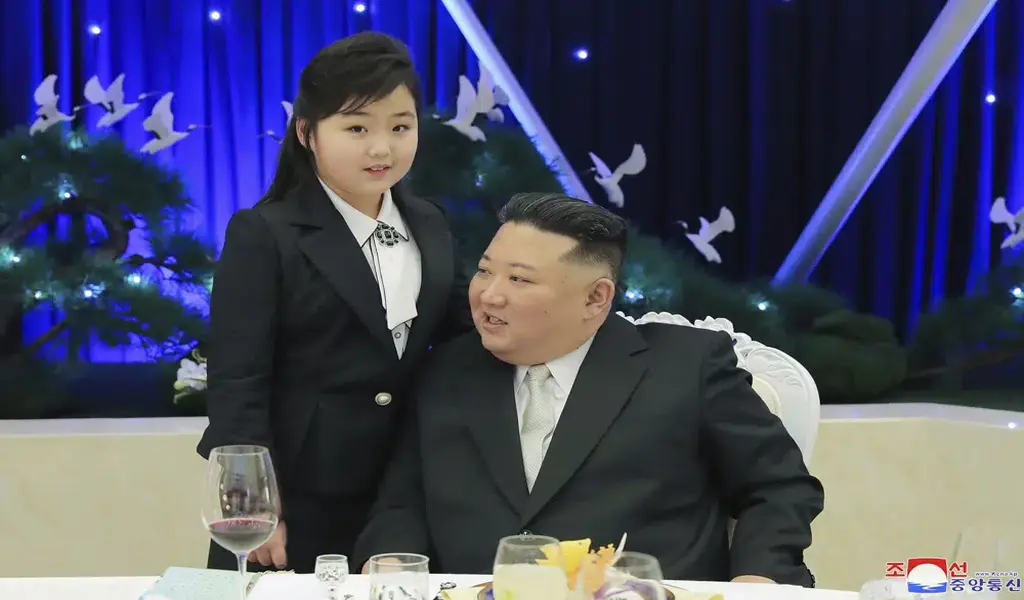 (CTN NEWS) – SEOUL – State media said on Wednesday that North Korean leader Kim Jong Un visited troops to commemorate the 75th anniversary of the establishment of the nation's armed forces and praised the "irresistible might" of his nuclear-armed military.
The visit occurred as signs emerged that North Korea is planning to hold a big military parade in its capital, Pyongyang, where it may display the newest equipment of a developing nuclear weapons program that fuels alarm among its neighbors and the United States.
Kim's daughter Kim Ju Ae thought to be 9 or 10 years old, stood close to her father as he shook the hands of senior officials and sat next to him at a table in her fourth public appearance.
According to analysts, Kim's choice to accompany his daughter to military-related public events is an attempt to show the world that he has no plans to voluntarily give up his nuclear weapons.
Which he reportedly views as the strongest assurance of his life and the continuation of his family's dynastic reign.
The debate has also been sparked about whether Kim Ju Ae is being groomed to succeed her father due to the state media's laudatory descriptions of her, including "respected" and "beloved."
She joined her father at a meeting with military specialists and a ballistic missile inspection, in addition to attending an intercontinental ballistic missile flight test in November.
Kim and his daughter visited the general officers' quarters of the Korean People's Army, according to the official Korean Central News Agency of North Korea on Wednesday.
Later, at a banquet, he addressed the troops and gave them a motivational speech, congratulating them for maintaining the "strongest army in the world" despite external challenges.
The visit occurred the day after Kim chaired a meeting with his senior military commanders and asked for the extension of combat drills to enhance war readiness.
As he seeks to intensify an already provocative run in weapons exhibitions in the face of rising tensions with his neighbors and Washington.
Military leaders could be seen cheering at the meal, which appeared to be hosted at Pyongyang's Yanggakdo Hotel, in images published by the state media.
Holding hands, Kim and his daughter strolled down a red carpet with his wife, Ri Sol Ju, dressed similarly in black suits and white dress shirts.
The supreme commander of an army that is "fulfilling (the) call of the times and history as the strongest army in the world," according to Kim, was his "biggest honor" and "happiest pleasure" during his address.
No remarks about Washington or Seoul were mentioned in state media reporting on Kim's visit to the military.
However, the official newspaper of Pyongyang, Rodong Sinmun, stated in an editorial on Wednesday that when faced with threats from the enemy.
The North's military is ready to launch a "super powerful attack of unfathomable might to wipe out the origins of provocations without a trace."
According to the newspaper, North Korea's increased weapon tests and military drills last year were effective exhibitions of its "overwhelming military force,".
Which supports its escalating nuclear policy and stance of "power-to-power, all-out confrontation" against adversaries.
The schedule for a military display, which might occur later on Wednesday, has not been confirmed by North Korea.
As soldiers lined up to salute, citizens of Pyongyang observed the anniversary by going to the city's Mansu Hill to place flowers and pay tribute to the monuments of their late rulers, Kim Il Sung and Kim Jong Il, who were ruler's grandfather and father, respectfully.
Commercial satellite photos have revealed weeks of preparations involving a sizable military and civilian presence for an occasion normally meant to exalt Kim Jong Un's regime and his unrelenting pursuit of the North's nuclear status.
Food shortages and North Korea's growing economic isolation are other signs that the price of Kim's nuclear aspirations is rising.
Following a record-breaking year of weapon testing, North Korea launched dozens of missiles in 2022, some of which may have been equipped with nuclear warheads and were intended to strike South Korean and American mainland sites.
Intense comments threatening preemptive nuclear attacks against its neighbors and the United States in various situations when it might consider its leadership as being under threat punctuated the testing activity's increased intensity.
The tension may increase in the coming months as Kim intensifies his nuclear push for 2023.
In December, Kim demanded the "exponential buildup" of the nation's nuclear warheads, the mass manufacturing of tactical nuclear weapons to fight against the "enemy" South Korea.
And the advancement of more potent intercontinental ballistic missiles capable of reaching the entire United States.
Along with conducting developmental tests, North Korea might also step up its military displays in retaliation to South Korea and the United States escalating joint military drills, which the allies claim are intended to address the North's evolving threat.
The U.S. plans to extend its joint military exercises with South Korea and send more modern military equipment, such as bombers and aircraft carriers, to the region.
Last week, North Korea's Foreign Ministry issued a warning, saying the country is ready to respond to such actions with the "most overwhelming nuclear force."
RELATED CTN NEWS:
Turkey-Syria Earthquake Death Toll Passes 11,000