Russian Strike Death Toll: 45 Citizens Killed, Including 6 Children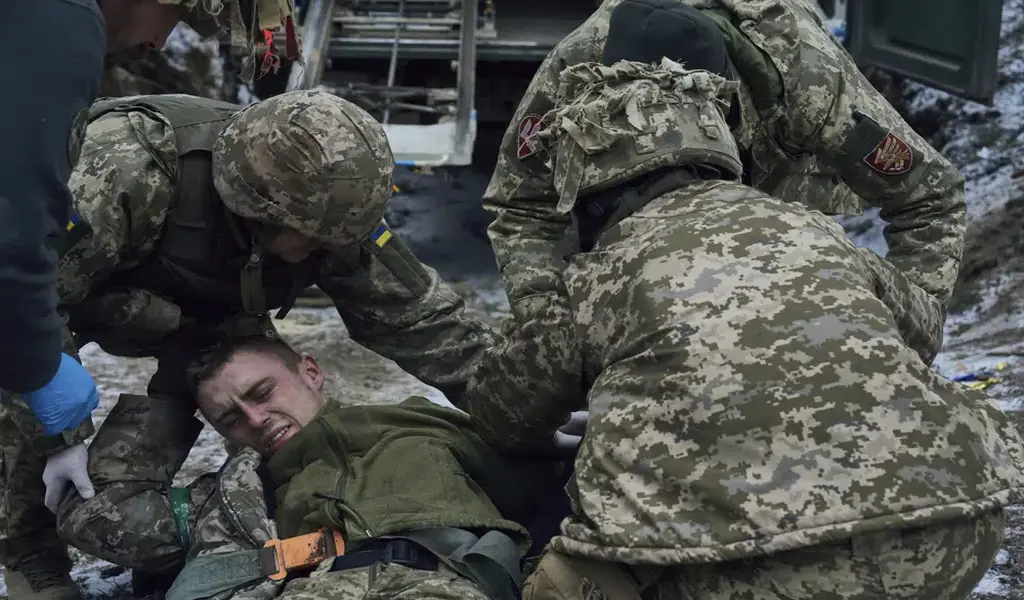 (CTN NEWS) – DNIPRO, Ukraine – Officials announced Tuesday that the death toll from the weekend Russian missile attack on an apartment building in the southeast of the country, which was the bloodiest attack on civilians at one spot since last spring, has reached 45.
Six children were among the 79 injured during the Saturday afternoon Dnipro strike, according to President Volodymyr Zelenskyy's post on the messaging service Telegram.
According to Kyrylo Tymoshenko, deputy director of the Ukrainian president's office, the death toll at the multistory building housed roughly 1,700 people, including the original list of missing twenty persons.
According to the Dnipro City Council, rescue workers cleared almost 9 metric tonnes (9.9 tonnes) of debris throughout a nonstop search and rescue effort.
According to the report, 400 people lost their homes, 72 units were fully destroyed, and another 236 had irreparable damage.
On Tuesday, a large group gathered to lay flowers, light candles, and bring soft toys. Oleksandr Pohorielov, a resident of Dnipro, travelled to grieve for a third day in a row.
"It's similar like visiting your family's grave in a cemetery. To say goodbye properly is a memory."
The remnants of the building gave off a strong smell of burning, which he claimed was necessary "to continue to be a human after all."
On an improvised ladder, volunteers assisted Nadiia Yaroshenko's son in escaping their third-floor apartment, but their white cat Beliash resisted.
Yaroshenko reported that while anxiously using a flashlight to try to view him from the courtyard, the man was still there at his preferred location at a window that had been destroyed.
"Even with rescuers, we cannot access the apartment due to its urgent and hazardous situation. Walls there could fall at any moment," she said.
Outrage was raised by the most recent lethal Russian attack on a civilian target in the preceding nearly 11-month period.
A Ukrainian presidential adviser unexpectedly resigned on Tuesday due to his claim that the Russian missile fell after the Ukrainian air defence system shot it down, removing some guilt from the Kremlin's soldiers.
An uproar resulted from Oleksii Arestovych's remarks in a Saturday night interview.
Georgian born Zelensky Advisor Oleksii Arestovych who has advocated the use of terror attacks in Moscow pre 2022 and who is one of the key players in the Kiev Regime showing his contempt for the Ukranian people and admits if he wasn't a U.S puppet he would be in exile. pic.twitter.com/XWnIHs8Z0y

— Kubela4Freedom and Life (@KubelaLlc) January 17, 2023
As he left, he called his comments "a major error." According to the country's air force, Ukraine's military is not equipped to shoot down Russian Kh-22 supersonic missiles, the kind that struck the residential complex.
Zelenskyy vowed to hold the strike's perpetrators accountable.
"We will use all national and international opportunities to guarantee that all Russian murders, as well as anybody who orders or carries out missile terror against our people, suffer just punishments.
And to make sure they complete their punishment," he stated in a televised address on Monday.
The weekend's bombardment of long-range missiles, the first of its sort in two weeks, according to the British Defense Ministry, was directed at Ukraine's power grid.
Soviet engineers created the Kh-22 to attack enemy ships. It may also be applied to ground targets, albeit with far less accuracy.
According to observers, Russia has been using older weapons, particularly those made for other purposes, more frequently to attack targets in Ukraine, which may indicate that its supply of sophisticated precision weaponry is running low.
Kh-22 "is notoriously imprecise when employed against ground targets as its radar guidance system is poor at discriminating targets in urban surroundings," the U.K. ministry said, implying that this might have contributed to the deaths in the Dnipro.
Similar missiles were allegedly employed in other events that resulted in significant civilian casualties, including a June attack on a mall in the Ukrainian city of Kremenchuk, which authorities claimed resulted in the deaths of over 20 people.
According to The Associated Press-Frontline War Crimes Watch project, the attack on a train station in the eastern city of Kramatorsk on April 9 that left at least 52 people dead was the bloodiest to target civilians before Saturday.
In Moscow, a makeshift memorial to the victims of the Dnipro attack appeared in front of an apartment building. This was unusual in Russia, where even the merest suggestion of disapproval of the country's "special military operation" in Ukraine is frequently repressed.
Flowers, plush animals, a picture of the demolished structure, and a placard that said in Russian, "Dnipro. 14.01.2023," were left at the monument honoring renowned Ukrainian author Lesya Ukrainka amid the snow.
As Ukraine fights to thwart the Kremlin's invasion, attacks on civilians have strengthened international support.
Fighting has slowed during the winter, but according to military analysts, both sides will likely make a new push once the weather improves.
Defense Minister Sergei Shoigu announced Tuesday that Russia's military would increase its present strength of 1.15 million soldiers to 1.5 million over the following years, underscoring the country's expanding military requirements.
The military will create an army corps as part of the buildup, with three new motorised infantry divisions and two airborne divisions, in the northwest area of Karelia, close to Finland.
Seven motorized infantry brigades will be strengthened into divisions by the military.
Army Gen. Mark Milley, the top American military official, visited the Ukraine-Poland border on Tuesday to meet for the first time with his Ukrainian counterpart.
Gen. Valerii Zaluzhnyi and Milley, chairman of the Joint Chiefs of Staff, met in an undisclosed part of southeast Poland.
Milley met Ukrainian troops on Monday who was training at a German military camp under American leadership.
The first lady of Ukraine contributed on Tuesday.
At the Globe Economic Forum annual meeting in Switzerland, she urged government officials and business executives to use their power to stop a Russian invasion that is, in her words, causing children to die and the world to struggle with food insecurity.
About the 1986 nuclear power plant disaster, Olena Zelenska stated that as the first anniversary of the war approaches, parents in Ukraine are in tears as they watch doctors attempt to save their children.
Farmers are frightened to return to their fields filled with mines, and "we cannot allow a new Chernobyl to happen."
Zelenskyy informed the audience, "What you all have in common is that you are influential."
But there is something that makes you different, and that is the fact that not everyone uses this influence or sometimes uses it in a way that further divides you."
The director of the U.N. nuclear agency is currently overseeing the installation of permanent inspector presences at each of Ukraine's four nuclear power plants to monitor operations and guarantee safety.
The missions "will make a very substantial impact by aiding the Ukrainian operators and regulator in achieving their national responsibility of safeguarding nuclear safety and security," said Rafael Grossi, director-general of the International Atomic Energy Agency, on Tuesday.
RELATED CTN NEWS:
Ukraine Strike Kills 40, Russia Prepares For A Long War