Poland To Send German-Built Leopard Tanks To Ukraine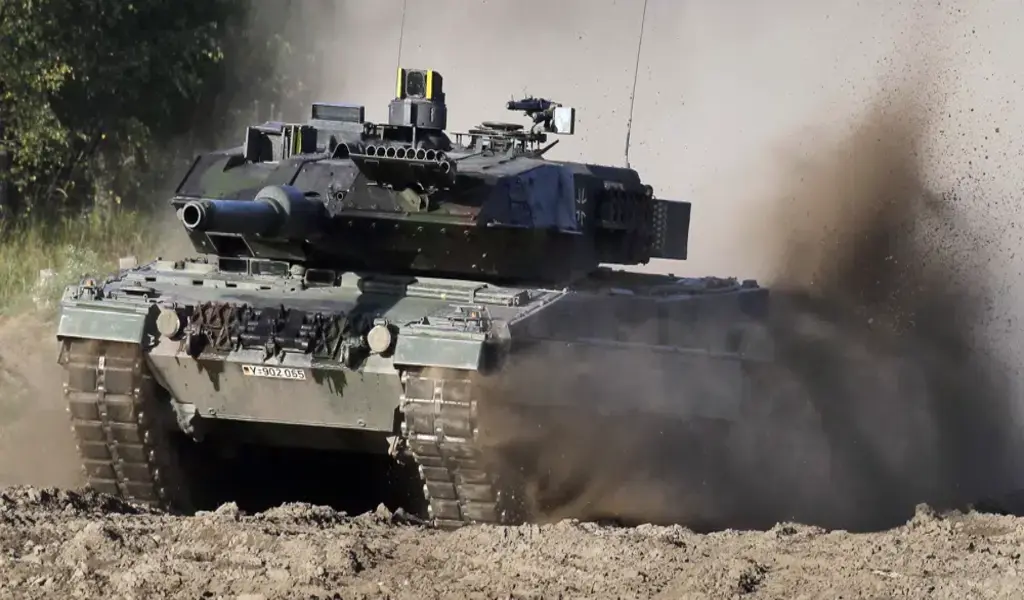 (CTN NEWS) – WARSAW, Poland –  Poland announced Monday that it would request authorization from Berlin to deliver Leopard tanks made in Germany to Ukraine as its Western allies strive to provide Kyiv with more potent military equipment to fight Russia's invasion.
To send tanks to Ukraine, Germany has been hesitant.
However, German Foreign Minister Annalena Baerbock's comments on Sunday that Berlin wouldn't try to stop Poland from sending Leopard 2 battle tanks gave Polish officials hope.
Mateusz Morawiecki, the prime minister of Poland, omitted to say when the request would be made to Germany.
According to him, Poland is assembling a group of countries prepared to deliver Leopard 2 battle tanks to Ukraine.
For Poland to supply tanks to a non-NATO nation, Germany, the tank's manufacturer, must give its approval.
Morawiecki stated at a news conference that Warsaw would make its judgments even if Germany did not consent.
According to Ukraine, tanks, particularly Leopards, are essential to its military effort. During the winter, the battlefield positions are largely impasses, with new ground offensives anticipated in the spring.
Given that Russia's troops are significantly larger than Ukraine's, Kyiv seeks to acquire a technological edge and greater support from its Western friends.
11 months after the Kremlin's soldiers invaded Ukraine, Poland has emerged as one of the top proponents in the European Union for providing military assistance to help Ukraine win.
Germany's reluctance has come under fire, especially from Poland and the Baltic nations on NATO's eastern border who feel particularly threatened by Russia.
Berlin has contributed much, but others have criticized it for taking its time sending military equipment.
Steffen Hebestreit, a spokesperson for the German government, stressed the need for Germany to avoid making a "reckless" decision that it might later come to regret.
He continued, "These are difficult, life-or-death questions. We must consider the implications for our nation's defense."
When questioned about how long it might take to decide whether to send tanks, Hebestreit responded, "I assume that it's not a question of months now."
Polish officials already signaled the readiness of Finland and Denmark to join Warsaw in sending Leopards to Ukraine. The UK has committed to sending Challenger tanks.
The potential of sending Leclerc combat tanks to Ukraine was something that French President Emmanuel Macron claimed he ordered his military minister to "work on" on Sunday.
The decision, according to Macron, will depend on three factors that are also important to other Western leaders:
Whether sharing the equipment will prevent the conflict from escalating, whether it will offer effective and practical assistance when training time is taken into account and whether it will not weaken his military.
While several EU nations are considering how to assist Kyiv, Morawiecki claimed that while Poland wants to seek Germany for permission to send Leopard tanks to Ukraine, the request is "a secondary matter."
Naturally, these are difficult negotiations, but we will make an attempt to overcome countries' resistance, he said.
Poland hasn't formally asked Berlin's permission to share some of its Leopards, but Germany's top ambassador, Baerbock, said on Sunday that "if we were asked, we would not stand in the way" if Poland did.
Morawiecki responded to Baerbock's remarks by saying that "exerting pressure makes sense" and that they provide "a flicker of hope" that Germany would join the coalition.
Germany possesses "more than 350 active Leopards and about 200 in storage," according to Morawiecki.
Poland wants to send a company of Leopard tanks, or 14 of them, but they would hardly make a dent in a war involving thousands of tanks. Warsaw estimates that the tank detachment might enlarge to a brigade size if other nations participate.
Berlin has been cautious as it has increased aid to Ukraine, a hesitation that is thought to have historical and political roots.
The most recent information about Western Europe sending tanks to Ukraine, according to Kremlin spokesman Dmitry Peskov, "signaled increased unease among members of the alliance."
At a summit held on Friday at the German air base at Ramstein, backers of Ukraine promised Kyiv billions of dollars in military assistance.
Defense leaders worldwide talked about Ukraine's urgent request for Leopard 2 tanks.
But the lack of a deal eclipsed any new military commitments.
EU foreign ministers approved a second 500 million euro ($543 million) military aid package for Ukraine on Monday in Brussels. They also approved funding for a training mission the EU has established for the Ukrainian military.
The funds would pay EU nations back for the arms and ammunition they sent Ukraine. This year's military training mission for the 27-nation union will cost an additional 45 million euros ($49 million).
With this addition, Ukraine has received around 3.6 billion euros from the EU budget.
In response to Kyiv's military's promises of cutting-edge Western weapons, Moscow has increased its warnings that escalation risks catastrophe.
The repercussions of escalation could be unforeseen, as we have stated on multiple occasions, according to Sergei Ryabkov, deputy foreign minister of Russia.
"Our signals go unheeded, and Russia's foes keep the stakes higher,"
The armies of the Kremlin have continued to shell Ukrainian territory.
Kharkiv Governor According to Oleh Synyehubov, on the previous day, Russian soldiers shelled a number of towns and villages in the northeast, killing one citizen and injuring another.
As the war enters its second year, neither side demonstrates any indications of giving up.
The Kremlin seems to be considering its options for bringing in more troops. Russian officials announced that the additional 300,000 reservists called up in late October have all been fully mobilized.
However, Russian President Vladimir Putin's mobilization mandate is still in effect until another presidential decree is published to formally halt the action, according to several Russian attorneys and rights organizations.
The directive is still in effect, according to Peskov, even though the specified number of reservists have been called up, because it also contains "additional measures needed to ensure the completion of tasks by the military." He said nothing further.
Officials from Ukraine have repeatedly warned that Russia intends to keep deploying more troops.
RELATED CTN NEWS:
Turkey's President Erdogan Announces Elections For May 14