V-Mount Battery with Display: The Ultimate Power Solution for Photographers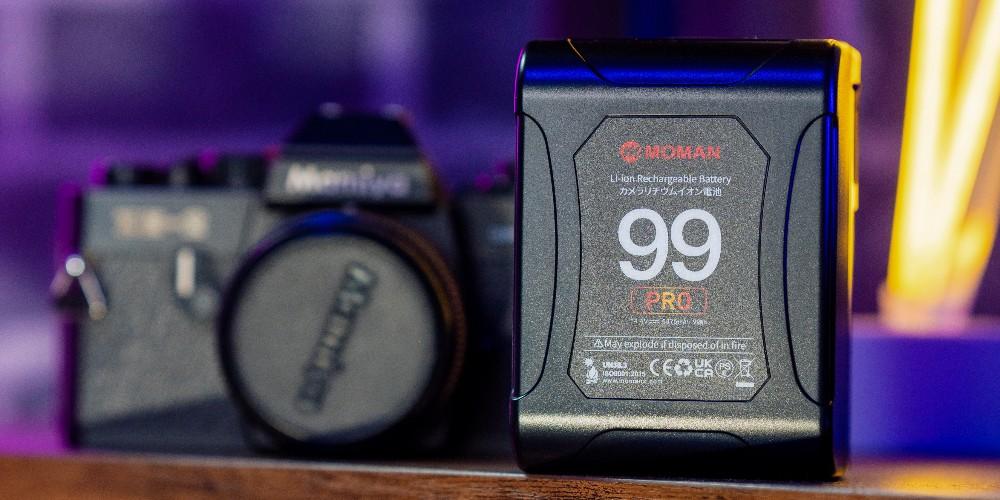 In the world of photography, having a reliable power source is crucial to ensure uninterrupted shooting sessions. The V-Mount battery system has become a popular choice among professional photographers and videographers due to its versatility and power output.
In this article, we will explore the Moman Power 99 Pro, a compact yet powerful V-Mount battery with a built-in OLED display that provides essential information and ensures a seamless photography experience. Let's dive in and discover why the Moman Power 99 Pro stands out as one of the best V-Mount batteries on the market.
1. Understanding the V-Mount Battery System
What is a V-Mount Battery?
The V-Mount battery system is a widely used power solution in the photography and filmmaking industry. It features a unique V-shaped mounting system that allows quick and secure attachment to compatible devices such as cameras, monitors, and lights. V-Mount batteries are known for their high capacity and reliability, making them a popular choice for professionals working on location shoots and in studios.
Advantages of V-Mount Power supply
V-Mount batteries offer several advantages over other power solutions. They provide a more extended runtime, making them suitable for long shoots without the need for frequent battery changes. Additionally, their compatibility with a wide range of professional equipment makes them a versatile choice for photographers and filmmakers.
2. Introducing the Moman Power 99 Pro V-mount battery with display
Compact Design with Massive Power Capacity
The Moman Power 99 Pro v-mount battery with display boasts an impressive capacity of 99Wh, making it flight-friendly and an ideal companion for travel and outdoor shoots. Despite its robust power output, the battery maintains a compact design that fits comfortably into most V-Lock setups. Its size is no bigger than the palm of your hand, ensuring convenient portability.
OLED Screen with Status & Time Display
One of the most sought-after features in a V-Mount battery is a clear and accurate display of remaining power and charging status. The Moman Power 99 Pro takes it a step further with its OLED screen that updates the current status every 100ms. This ensures you have real-time information on how much power is left and how long your battery can sustain your shooting session.
Type-C Fast Charge of 65W
Charging the Moman Power 99 Pro is a breeze with its innovative USB-C slot that supports fast charging up to 65W. You can charge the v-mount battery Dtap or BP port with a traditional adapter, or simply use the included USB-C cable, similar to how you charge your mobile devices. This convenience eliminates the need to carry multiple chargers and cables while shooting on location.
3. Unleashing the Power of the Moman Power 99 Pro
200W Output & 15A Constant Current
The Moman Power 99 Pro's immense power capacity enables it to handle 200 Watts of various devices concurrently. Whether you are using high-powered cameras, lights, or monitors, you can use v mount battery to power supply and handle it all with ease. Its max constant rated current of up to 15A ensures a stable and reliable power supply for your equipment.
Smart Battery Management System (BMS)
Safety is a top priority when it comes to using batteries. The Moman Power 99 Pro features a sophisticated Battery Management System from Texas Instrument that protects against Over Current/Voltage, Short Circuit, Over Charge & Discharge, and Over Heat problems. This smart system ensures the battery operates optimally and securely during every use.
Powerful Inside Cells with High Recycling Life
The longevity of a mini v-mount battery is a critical consideration for any photographer or filmmaker. The Moman Power 99 Pro and Power 99 lithium battery are equipped with cells that maintain a standard voltage level during charging and discharging. This technology allows for up to 1000 recharge cycles, ensuring your battery remains efficient and reliable for a long time.
4. The Moman Power 99 Pro: Ideal for Travel and On-The-Go Photography
Flight-Friendly Capacity
With its 99Wh capacity, the Moman Power 99 Pro complies with flight regulations, allowing you to travel with it without any hassles. It is an excellent choice for photographers who frequently embark on destination shoots and need a dependable power source on the go.
Perfect Fit for V-Lock Setups
The compact design of the Moman Power 99 Pro makes it a perfect fit for V-Lock setups commonly used in professional cameras and equipment. Its secure attachment ensures stability during shooting, preventing any interruptions due to loose connections.
A Portable Powerhouse
Photographers who engage in on-the-go activities will appreciate the Moman Power 99 Pro's portable and lightweight design. It is small enough to fit into your gear bag without taking up much space, yet powerful enough to handle all your devices throughout an entire shoot.
5. How to Use the Moman Power 99 Pro
Charging the Battery
To charge the Moman Power 99 Pro, you can use the traditional method with a BP or D-tap adapter or take advantage of the USB-C slot and use the included cable. This versatility ensures that you can recharge your BMPCC 4k v-mount battery conveniently, even if you don't have access to a large adapter.
Compatible Devices
The Moman Power 99 Pro is compatible with a wide range of professional cameras, lights, monitors, and other devices that support the V-Mount system. Its high power output and constant current make it a reliable choice for various equipment needs.
Conclusion
The Moman Power 99 Pro emerges as an exceptional V-Mount battery solution for photographers and filmmakers seeking a compact, powerful, and reliable power source. With its OLED screen displaying real-time status and time information, 99Wh capacity compliant with flight regulations, and a fast USB-C charging option, it exceeds the expectations of professionals in the field. Say goodbye to worries about running out of power during your shoots with the Moman Power 99 Pro by your side.