Warriors Win 8th Straight At Home Against Suns 123-112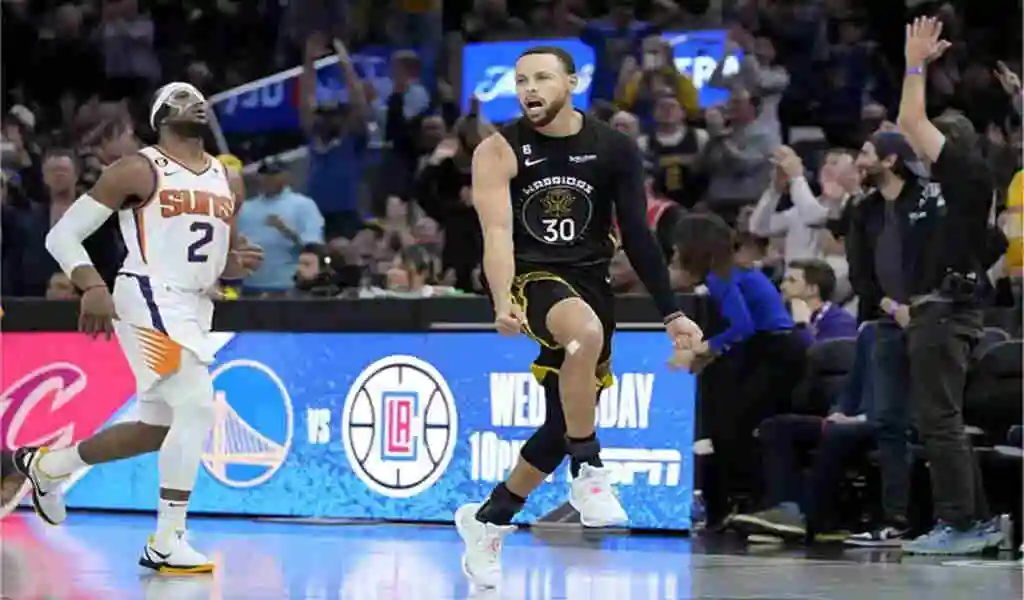 (CTN News) – The Golden State Warriors defeated the Phoenix Suns 123-112 on Monday night as Klay Thompson scored 33 of his 38 points in the first half and Stephen Curry added 23 points, seven rebounds, and five assists.
Off the bench, Jordan Poole contributed 20 points and six assists for the defending champions.
The Warriors were led by Kevon Looney, who tallied nine points, ten rebounds, and five assists in their eighth straight home game and 12th overall. Golden State has a home record of 29-7, but a road record of 7-26.
Deandre Ayton had 27 points and 12 rebounds for the Suns, who were able to put the game into perspective after halftime.
A Josh Okogie 3-pointer with 4:59 left in the third period pulled Phoenix within 85-81 before Curry and Company made it 87-84.
JaMychal Green and ex-Warriors guard Damion Lee were given double technicals in the closing minutes of the game.
In San Francisco, Kevin Durant missed a third straight game due to a sprained left ankle, missing his former team with fans in attendance. There has still been no acknowledgement from Golden State's Chase Center crowd for the star who led the Warriors to a pair of championships and won NBA Finals MVP honors in 2017 and 2018.
In February 2021, Durant played for Brooklyn at Chase Center, where spectators were not permitted during the pandemic.
"It's nuts. It's insane," Warriors coach Steve Kerr said regarding Durant's unwelcome reception from the San Francisco crowd.
After a four-game winning streak, Phoenix suffered a 128-119 loss to division-leading Sacramento at home on Saturday. Chris Paul scored 11 points and dished out 11 assists.
In the previous four meetings between the Suns and Golden State, including three straight in the season series, the Suns won all four games, but missed a chance to sweep all four games for the first time since 2010-11.
The Warriors' Draymond Green played 30 minutes and hit a timely two-handed slam early in the fourth quarter after rolling his right ankle during Saturday's overtime win over the Bucks. In addition to his six rebounds, four points, and four assists, he had three blocks and two steals.
In the first quarter, Golden State led 43-21 after shooting 72.7%, with Thompson and Curry each making seven of nine three-pointers.
With 3:21 left in the first quarter, Phoenix fell behind to the Warriors' hot shooting, who surged ahead 29-12 before a Suns timeout. The period was dominated by JaMychal Green, who scored seven points.
RECOMMENDATIONS
Suns: Apart from Booker, all other Suns shot 5 for 16 during the cold opening period. Six turnovers by the Phoenix team resulted in eight points for the Warriors.
In a re-evaluation, G Gary Payton II, acquired by the Warriors at last month's trade deadline but yet to play in his return to the team, was shown to be making progress after undergoing offseason surgery on his core muscles.
As of today, he has begun on-court work and will continue to do so over the next few days, with a 10-day evaluation scheduled.
SEE ALSO:
The NFL Free Agents of 2023: Follow Their Signings As They Happen