UCF football, UCF Defeats Florida Gators in Gasparilla Bowl to Win State Title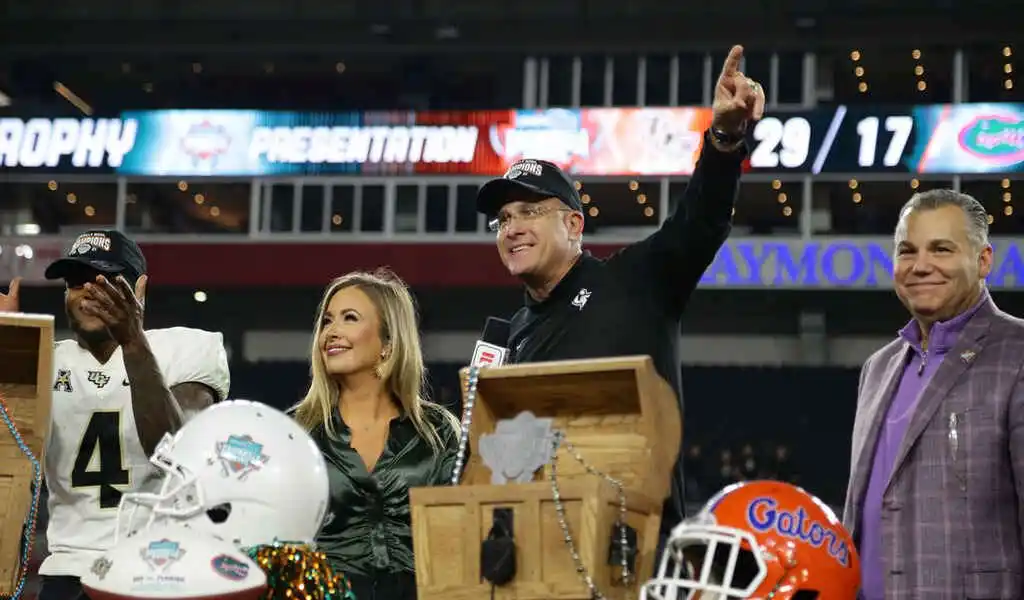 UCF Defeats Florida Gators: In UFC Football, Great News! At the Bounce House, UCF can put up another unofficial championship. In the Gasparilla Bowl on Thursday night, the Knights earned the title of the best team in Florida by defeating the Gators 29-17. "That's what we always thought," said MVP Ryan O'Keefe. We now have proof.
The proof was presented at Raymond James Stadium in front of an evenly split crowd of 63,669 people.
Knights coach Gus Malzahn emphasized several times that his team had beaten them handily.
Putting up 436 total yards, his Knights (9-4) won on offense. Florida (6-7) allowed more points to Georgia, Alabama, and Tennessee (led by former Knights coach Josh Heupel).
Also Check:
Alabama Football Recruiting Update: 5-Star Visitors and a New
Toddler's Dead Body Recovered after Alligator Attack a
How to Find the Best Detox and Rehab Facility in Florida
 UFC Won by Defense
On defense, UCF won. As a result, the Knights forced three three-and-outs in the second half and stopped 11 of Florida's 13 third-down conversions. Florida quarterback Emory Jones only completed 14 of 36 passes for 171 yards.
As for UCF's special teams, they took advantage of Florida's missed field goals (also plural) and failed kickoffs (plural).
Best Player On the Field
O'Keefe was the most valuable player on the field, accumulating 251 all-purpose yards (110 rushings, 85 receiving, and 56 on kickoff returns). During the third quarter, he caught a 54-yard touchdown pass to set up a 74-yard touchdown – the longest in the bowl's 14-year history.
2nd Best Player On the Field
Bowser pounded the ball 35 times for 155 yards and two touchdowns, making him the second-best player on the field. According to Malzahn, UCF was able to "impose our will" on Florida in the fourth quarter with Bowser. I agree with him.
Key injuries
UCF: Isaiah Bowser RB (Questionable), Dillon Gabriel QB (Out).
Florida: Anthony Richardson QB (Out), Zachary Carter DL (Out).
Also Check:
Alabama Football Recruiting Update: 5-Star Visitors and a New
Toddler's Dead Body Recovered after Alligator Attack a
How to Find the Best Detox and Rehab Facility in Florida
Also check our site: USNIB