Steelers Rally To Beat The Rams 24-17 In The Fourth Quarter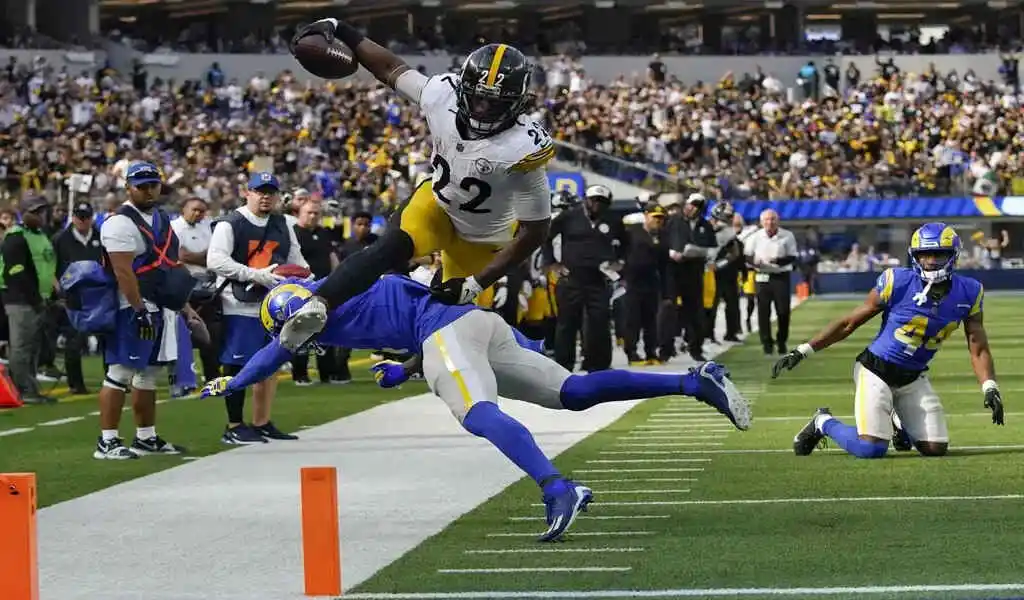 (CTN News) – At the two-minute warning, both the Steelers and Rams were aware that their game wasn't solely determined by a questionable fourth down spot.
Los Angeles was none too pleased with the officials' decision – and Pittsburgh was not about to apologize for earning a big break in its impressive comeback victory.
After a quiet offensive day on Sunday, Jaylen Warren and Najee Harris scored touchdowns in the fourth quarter to lead the Steelers to a 24-17 victory over the Rams.
At SoFi Stadium, Kenny Pickett passed for 230 yards and ran for another touchdown for the Steelers (4-2), who had just 110 yards in the first three quarters. But the much-maligned offense of Matt Canada finally broke through the Los Angeles (3-4) defense in the fourth quarter, driving three long drives culminating in two touchdowns.
On the final snap before the two-minute warning, Pickett converted a fourth-and-1 from the Los Angeles 38.
"I understood," Pickett replied. To put it simply, I was doing everything in my power to obtain it."
Since the Rams were out of timeouts, Sean McVay was unable to challenge the spot, and the play occurred just outside the window that would have resulted in a booth review.
McVay stated, "It does not matter what I think. That was the spot they chose. It is not my intention to make any excuses for things that did not go according to plan. It shouldn't have come down to that if we had executed as well as we were capable of."
It was the culmination of a strong finish for the Steelers, who won six straight games following a bye week and went 13-4 following a bye week during Mike Tomlin's coaching career.
The Steelers scored only one touchdown early in the second half when T.J. Watt intercepted Matthew Stafford's first pass of the second half deep in Rams territory, returning it a career-best 24 yards, setting up Pickett's 1-yard sneak for the Steelers' first touchdown.
In big-time moments, we must bow up as a defense and attempt to change the tide of the game, Watt said. "We just want to get a spark so that we can begin to move forward. We do not want to be a team that starts games slowly, or that starts the second half slowly."
Before halftime, Stafford passed for 231 yards and hit Tutu Atwell for a 31-yard touchdown for Los Angeles, which fell to 1-3 at home.
Despite Puka Nacua's eight catches for 154 yards, the Rams had difficulty scoring after halftime, scoring no points on their final three drives and gaining only 20 yards in the fourth quarter while not completing any passes. Maher also missed two long field goals and an extra point.
For only the second time in his 15-year NFL career, Stafford failed to complete a pass in a fourth quarter with at least four attempts. The team cannot have opportunities to make plays that will change the game one way or another and not take advantage of them. The only way to become more consistent is to continue to work."
The offenses struggled to maintain sustained possession in the first half until Los Angeles mounted an 88-yard drive shortly before halftime, capped by a long touchdown reception from Atwell, who alertly cut in front of a pass from Stafford that appeared to be intended for Cooper Kupp.
During the first half, the Steelers managed just 91 yards of offense and were unable to convert a third down. With 13:49 remaining, Diontae Johnson's 39-yard catch set up Warren's 13-yard scoring run. In his return from injury, Johnson caught five passes for 79 yards.
In the second half of Pittsburgh's first victory over the Rams in Los Angeles, where the Steelers had been 0-10, George Pickens made four of his five receptions for 107 yards.
SEE ALSO:
India Thrash New Zealand By 4 Wickets In World Cup 2023