Israel Intensifies Bombardments As Second Humanitarian Aid Convoy Enters Gaza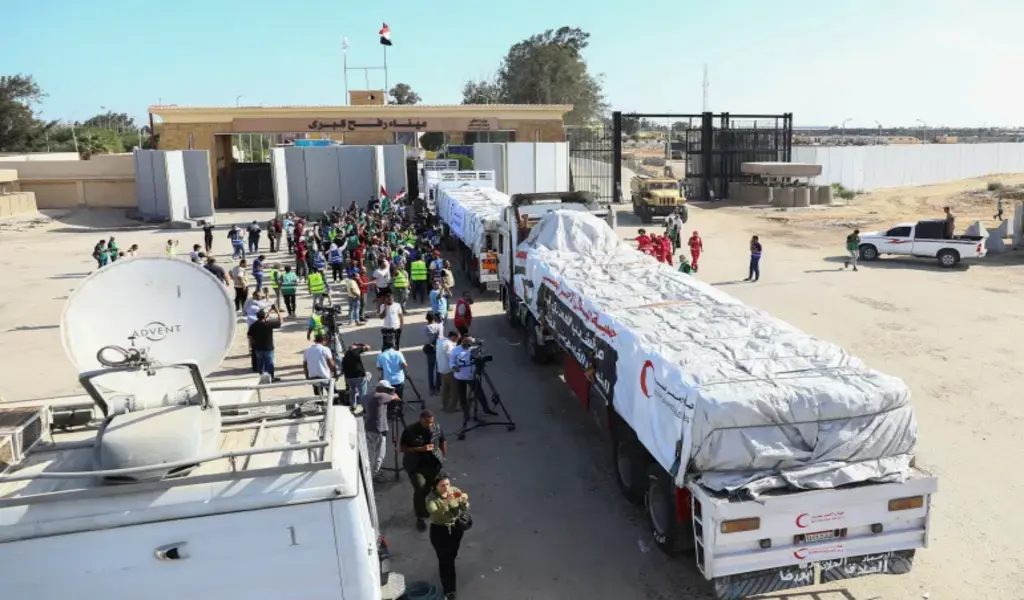 (CTN NEWS) – A convoy of 17 trucks carrying humanitarian aid entered Gaza from Egypt on Monday.
This aid delivery comes at a critical time as Israel continues to intensify its air raids on the besieged enclave.
The aid is aimed at providing much-needed relief to the people of Gaza who have been enduring the devastating impact of the conflict.
This includes essential supplies like food, medical equipment, and other relief items to support the population during these challenging times.
The situation in Gaza remains dire, with a pressing need for humanitarian assistance to alleviate the suffering of the civilian population.
A second humanitarian convoy has entered the Gaza Strip from Egypt as Israel continues its relentless bombardment of the besieged area, resulting in the deaths of 55 people overnight.
On Sunday, 17 trucks carrying medical aid, food, and water entered Gaza, following a convoy of 20 trucks that brought similar supplies a day earlier.
The Gaza Strip has been enduring continuous Israeli airstrikes since October 7, prompted by a deadly attack by Hamas that resulted in over 1,400 Israeli casualties.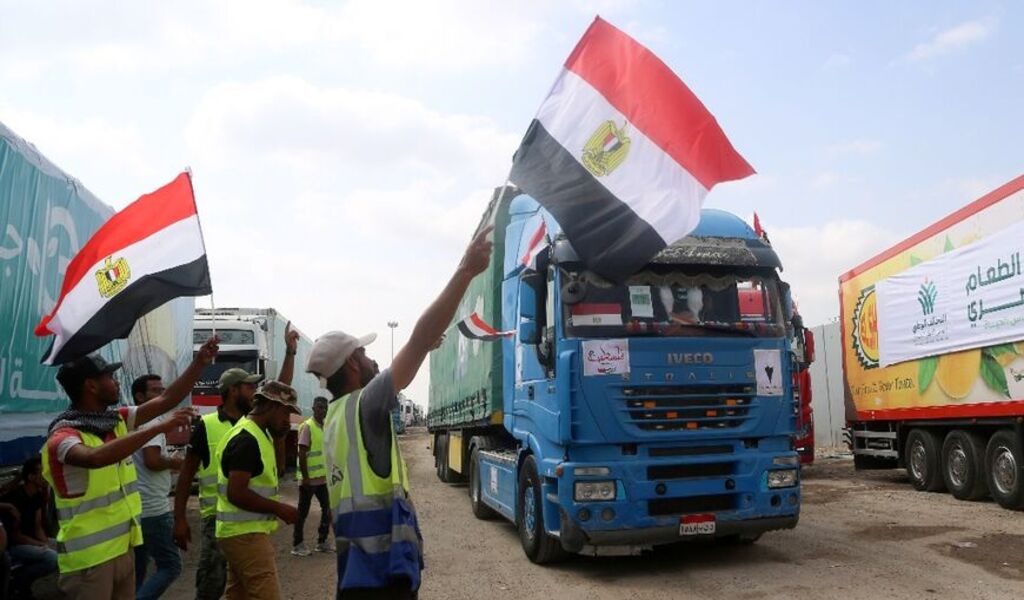 Reporting from Khan Younis in Gaza, journalist Hani Abu Isheba informed Al Jazeera that the trucks are primarily carrying much-needed medical aid.
"According to doctors, this aid is intended for Gaza Strip hospitals, which are in desperate need of medical supplies.
However, there is no report of fuel being included in these shipments," he stated, emphasizing the hospitals' anxiety regarding the fuel shortage.
Thomas White from the United Nations Relief and Works Agency for Palestine Refugees (UNRWA) communicated with Al Jazeera from Gaza, clarifying that while the aid trucks on television resemble fuel trucks, they are, in fact, transporting fuel internally between depots for UNRWA's use.
"No fuel is entering Gaza. Fuel is extremely critical right now to sustain aid operations," he stressed.
Humanitarian organizations are also cautioning that the aid deliveries must remain consistent.
The current efforts, while valuable, represent only a small portion of Gaza's massive needs, given its population of 2.3 million.
The humanitarian situation in the densely populated enclave is dire.
In addition to a shortage of medical supplies, there is also a scarcity of food and drinking water, as Israel has cut off electricity, fuel, and water supplies following some of the deadliest attacks in decades.
According to the United Nations, air strikes have inflicted damage on sanitation facilities, water wells, reservoirs, and pumping stations.
The international agency estimates that about 100 trucks are required daily to meet Gaza's needs.
Cindy McCain, the executive director of the World Food Programme, emphasized the need to bring in more trucks and ensure that aid is safely and consistently delivered to the right beneficiaries.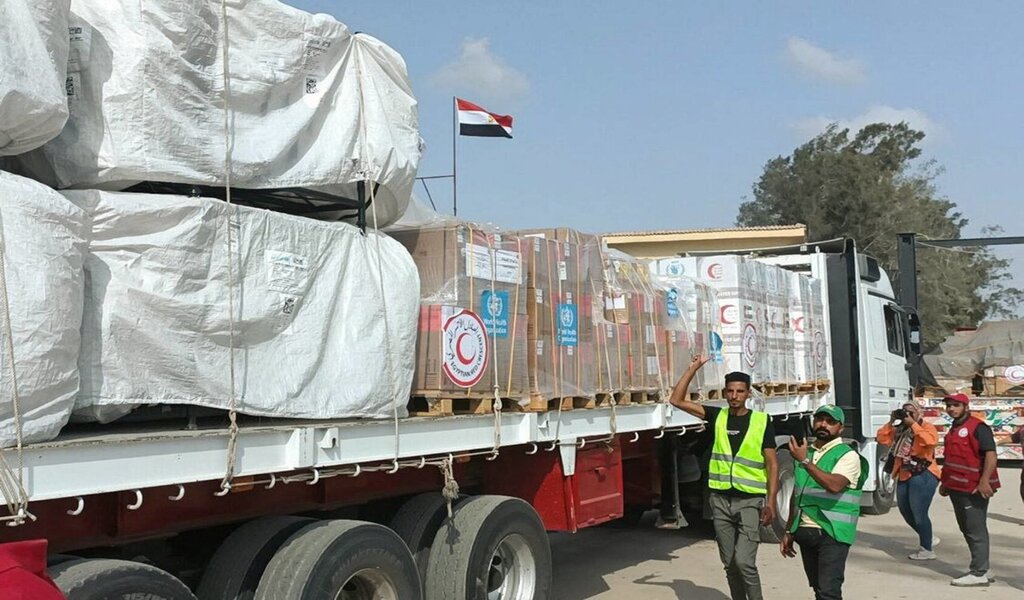 Bombardments Continue
The Israeli military continued its bombardment of Gaza and Rafah overnight, resulting in the death of at least 55 people and the destruction of 30 homes, as reported by local authorities.
Journalist Hani Abu Isheba, reporting from the scene near the Rafah crossing, described the dire situation as one of "humanitarian aid delivery amidst heavy bombardment."
In response to the ongoing conflict, the United Nations has escalated its efforts and called for a "humanitarian ceasefire" to ensure the safe delivery of aid.
UN Undersecretary-General for Humanitarian Affairs and Emergency Relief Martin Griffiths emphasized the need for clarity about locations that should be exempt from attacks, emphasizing that civilian infrastructure, hospitals, and schools should be protected under the rules of international humanitarian law.
Griffiths expressed the desire for negotiations to establish a formalized inspection regime for aid delivery into Gaza, similar to mechanisms used in other conflict zones, to ensure that aid reaches those in need promptly and safely.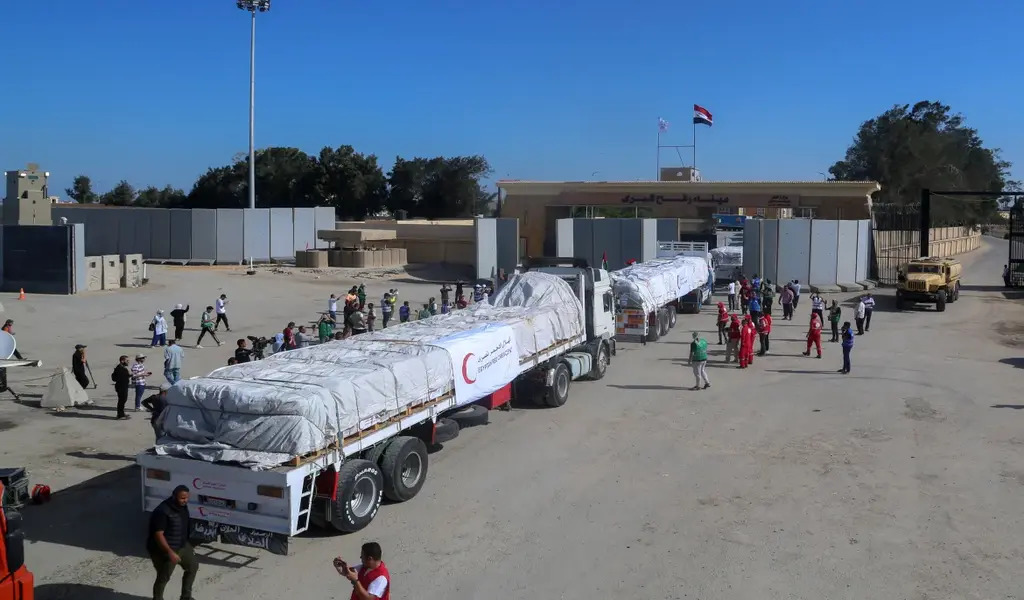 The ongoing conflict in Gaza and Rafah has created a challenging humanitarian situation, with the Israeli military's continued airstrikes causing significant casualties and damage.
These attacks have led to the deaths of numerous individuals and the destruction of many homes, further intensifying the crisis in the region.
Amid these dire circumstances, aid deliveries have become increasingly vital to address the urgent needs of the affected population.
International organizations, particularly the United Nations, are actively pushing for a "humanitarian ceasefire" to facilitate the secure and efficient distribution of aid to those in need.
This ceasefire would establish safe zones where aid can be provided without the threat of attacks from any side.
One critical concern is the protection of civilian infrastructure, such as hospitals and schools, in accordance with the rules of international humanitarian law.
This protection is essential to safeguarding the well-being of the civilian population and ensuring that humanitarian aid reaches those in need.
To enhance the effectiveness of aid delivery and to maintain a clear understanding of the ongoing humanitarian situation, the UN is seeking to establish a formalized "inspection regime" for aid entering Gaza.
This mechanism would help monitor and control the flow of aid, making it possible to address the evolving needs of Gaza's residents more comprehensively.
The situation remains complex, but international efforts are aimed at minimizing the impact of the conflict on innocent civilians and providing vital assistance during these challenging times.
MORE RELATED NEWS:
US Prosecutors Accuse High-Profile Crypto Firms Of $1 Billion Investor Fraud
Israel army orders villagers to evacuate Lebanon border as tensions rise with Hezbollah
Gaza, Syria, and the West Bank are struck as Israel fights Hamas on other fronts