Gaza Receives Warning: Relocate South Or Face Allegations Of Terrorism Amid Humanitarian Crisis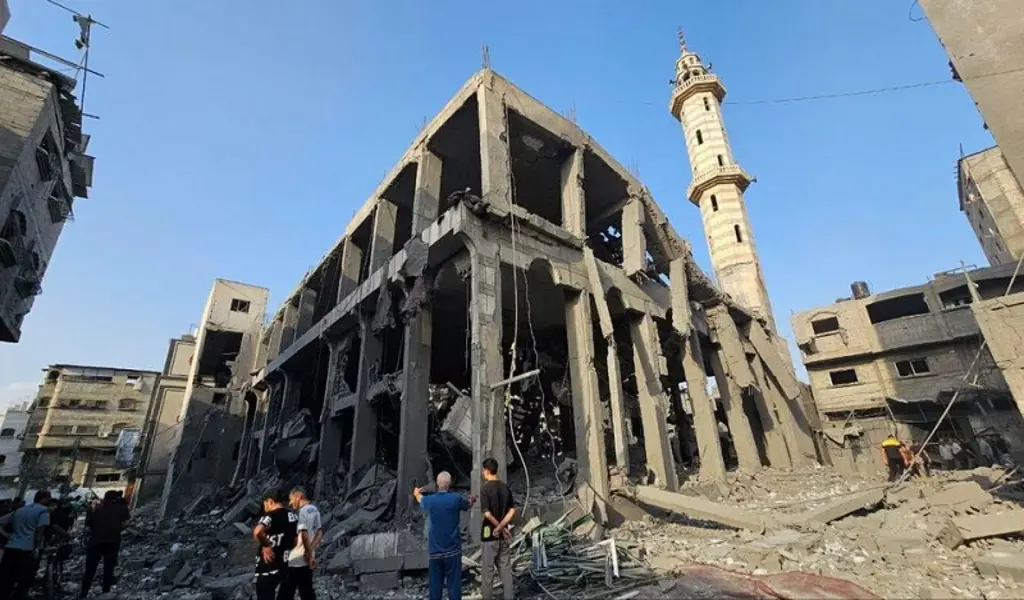 (CTN NEWS) – Gaza residents have received warnings from Israel's military, cautioning them that if they don't move south, they risk being identified as accomplices "in a terrorist organization."
This comes as concerns about a growing humanitarian crisis in Gaza persist, with limited aid allowed to enter the region.
Over a million people reside in the northern part of the Gaza Strip, and amid relentless air and artillery strikes, many have fled southwards, cramming into temporary refuges.
This mass displacement follows two weeks of a complete Israeli siege on the area.
While some limited supplies of aid arrived on Saturday, relief agencies continue to sound the alarm about an impending humanitarian catastrophe.
Hospitals are running out of fuel to power crucial equipment like incubators.
Israel is preparing for a ground assault and has been bombarding the 45-km (28-mile) strip ever since Hamas militants carried out attacks in Israeli towns on October 7, resulting in the deaths of over 1,400 people and the taking of more than 200 hostages.
The Palestinian Red Crescent's logistics head in Gaza, Mahmoud Abu al-Atta, noted that truckloads of aid have been handed to specific agencies, including UNICEF and the Qatari Red Crescent.
Some aid is intended for hospitals, while some is designated for UN-managed shelters.
Amid this dire situation, Gaza residents are expressing their desperation.
Mohammad Maher, who fled to the south from Gaza City, lamented the war and the relentless bombing of civilians, emphasizing the need for it to end.
He described the amount of food aid that has arrived as insufficient and accused Israel and the United States of contributing to Palestinian suffering, urging the international community to act.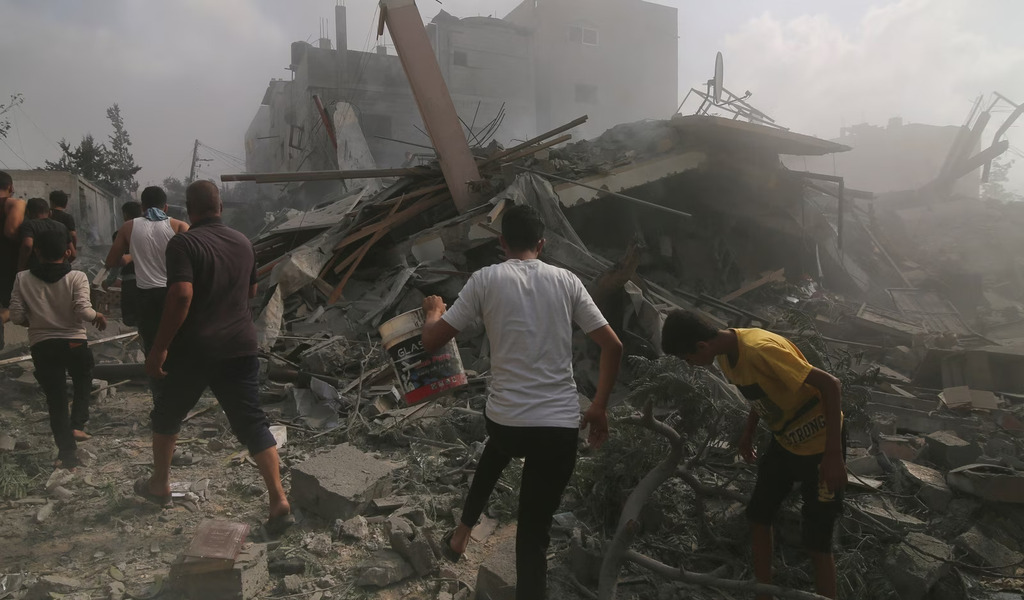 Fuel Shortage
Starting on Saturday, the Israeli military issued warnings to Gaza residents through leaflets and mobile phone audio messages.
These messages instructed residents in the northern parts of Gaza to move to the south, as staying in the north could put their lives at risk and potentially identify them as accomplices in a "terrorist organization."
Israeli airstrikes continued overnight, resulting in the deaths of at least 55 Palestinians in Gaza.
This increased the total casualty count since the beginning of the conflict on October 7 to over 4,300.
As Israel prepares for an expected ground incursion into Gaza to target Hamas, which seized power in the territory in 2007, Chief of Staff Lieutenant General Herzi Halevi emphasized the intention to destroy Hamas operatives and infrastructure.
This marks a significant escalation in the ongoing conflict.
In addition to the warnings about moving to the south, Israeli airstrikes have destroyed numerous buildings in Gaza, including mosques.
Jabalia refugee camp in the north of the enclave has seen extensive damage to its infrastructure, with at least 30 mosques destroyed in the past two weeks.
These actions have led to growing concerns about the humanitarian situation in Gaza, as the delivery of aid has been limited, and relief agencies are warning of a potential catastrophe, with critical facilities like hospitals facing fuel shortages to power essential equipment.
In southern Gaza, the situation remains dire for those who have sought refuge.
In Khan Younis, a funeral was held for seven members of a family killed in overnight strikes.
Grief-stricken women embraced one another as the bodies were solemnly transported to a burial site and laid to rest, wrapped in white shrouds.
Sunday's incoming supplies, however, do not include fuel. Israel's military expressed concerns that Hamas could misuse the fuel, leaving Gaza with a dwindling power supply.
Ashraf al-Qidra, the spokesperson for the Gaza health ministry, shared the grave situation, explaining that there were 130 newborn babies in electrically powered incubators.
At al-Shifa Hospital, one of Gaza's largest, they had nearly depleted their fuel reserves, with the incubators running on the remaining supply.
UNRWA, the United Nations agency for Palestinians, also sounded the alarm, stating that they would exhaust their fuel reserves within three days.
They emphasized the dire consequences of a fuel shortage, warning that it would lead to a lack of water, non-functioning hospitals, and disrupted bakery operations.
Life in Gaza has grown increasingly challenging for its residents.
At a bakery in Khan Younis, long queues formed from dawn, with little bread available.
The prospect of widespread food and water shortages looms large if the situation persists.
Shady al-Aqqad, one of the hundreds waiting for bread, voiced the concerns of many, fearing a complete scarcity of essential provisions.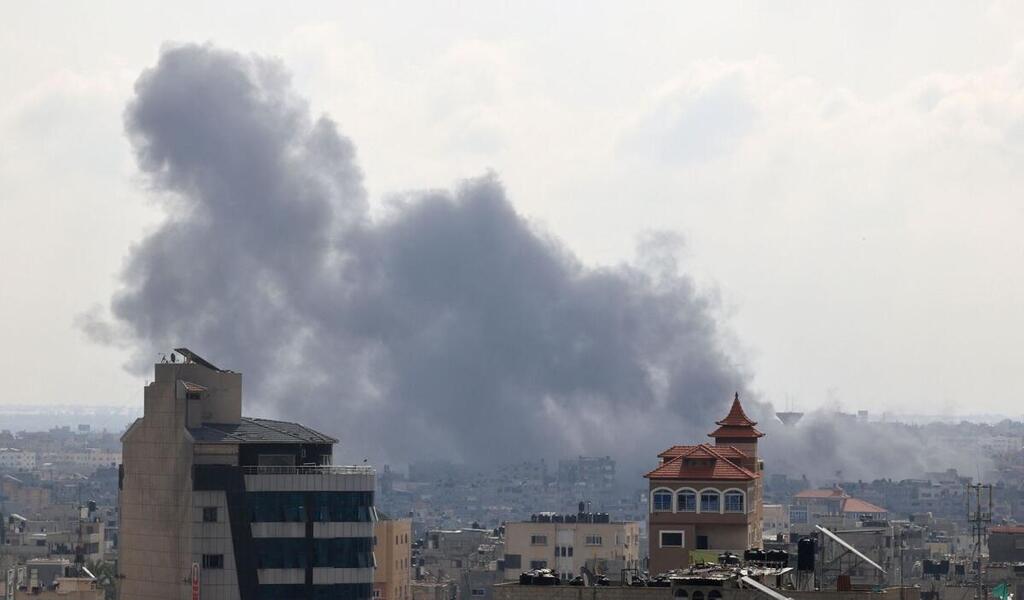 US Sends Military Assets
Growing concerns over the potential escalation of the Israel-Palestine conflict are gripping the Middle East.
The United States has moved more military resources to the region while Israel continues its intense airstrikes on Gaza and other targets.
In neighboring Syria, Israeli missile strikes targeted Damascus and Aleppo international airports, causing civilian casualties and rendering the airports inoperable, according to Syrian state media.
On the other front, Israel claimed that it struck Hezbollah targets in Lebanon, and a soldier was hit by an anti-tank missile during cross-border clashes.
The Iran-backed Hezbollah group reported six of its fighters killed in this incident.
The United States is closely monitoring these developments.
US Secretary of State Antony Blinken spoke with Lebanon's caretaker Prime Minister Najib Mikati, cautioning that the Lebanese people could be adversely affected if Lebanon gets drawn into the conflict.
US Defense Secretary Lloyd Austin has announced the deployment of additional military assets to the Middle East, with a focus on supporting Israel and bolstering US defense capabilities in the region.
This move follows what the US characterizes as recent escalations by Iran and its proxy forces.
The reinforcements include a Terminal High Altitude Area Defense (THAAD) system and additional Patriot air defense missile system battalions.
Additional troops are also on standby.
The United States has been strengthening its military presence in the Middle East over the past few weeks, including deploying two aircraft carriers, support ships, and approximately 2,000 Marines.
Furthermore, the situation in Iraq is causing concern.
Drones and rockets targeted two military bases housing US forces last week, part of a series of attacks.
Iraqi militants have warned the US against intervening to support Israel against Iran-backed Hamas in the Gaza Strip.
In a related development, the deadly explosion at Gaza's Al-Ahli hospital on Tuesday is believed to have resulted from an errant rocket fired from Gaza, rather than an Israeli strike.
This conclusion aligns with assessments from Canada, the United States, and France.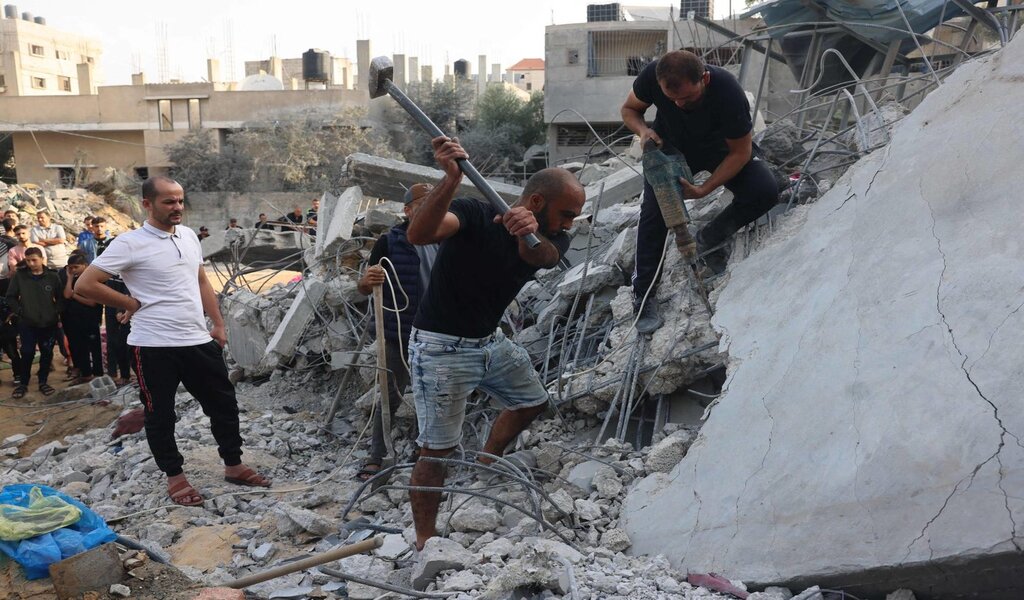 Escalating Bombardment
Israeli aircraft targeted a compound located beneath a mosque in the Jenin refugee camp in the occupied West Bank in an early Sunday strike.
The Israeli military claimed that this compound was being used by militants to organize attacks.
The Palestinian health ministry reported the killing of a fifth Palestinian in the West Bank overnight, bringing the total number of deaths there to 90 since the conflict began.
In the southern Gaza city of Khan Younis, at least 11 Palestinians were reportedly killed in an Israeli strike, with reports of continued Israeli airstrikes in the southern city of Rafah.
The Israeli military spokesperson, Rear Admiral Daniel Hagari, called on Gazans to move southward for their safety.
He announced that Israel would continue its attacks on the area of Gaza City and intensify these operations.
In southern Lebanon, at least 27 people have been killed, with most being combatants, but at least four civilians, including a Reuters journalist, were also among the casualties.
Israel has issued evacuation orders for dozens of communities in northern areas, and thousands of Lebanese residents have fled border regions to seek refuge in the southern city of Tyre.
The Israeli defense ministry announced the evacuation of 14 additional communities in the area on Sunday, while Israel has pointed fingers at Lebanese group Hezbollah, accusing them of dragging Lebanon into the conflict.
MORE RELATED NEWS:
US Prosecutors Accuse High-Profile Crypto Firms Of $1 Billion Investor Fraud
Israel army orders villagers to evacuate Lebanon border as tensions rise with Hezbollah
Gaza, Syria, and the West Bank are struck as Israel fights Hamas on other fronts