Israel army orders villagers to evacuate Lebanon border as tensions rise with Hezbollah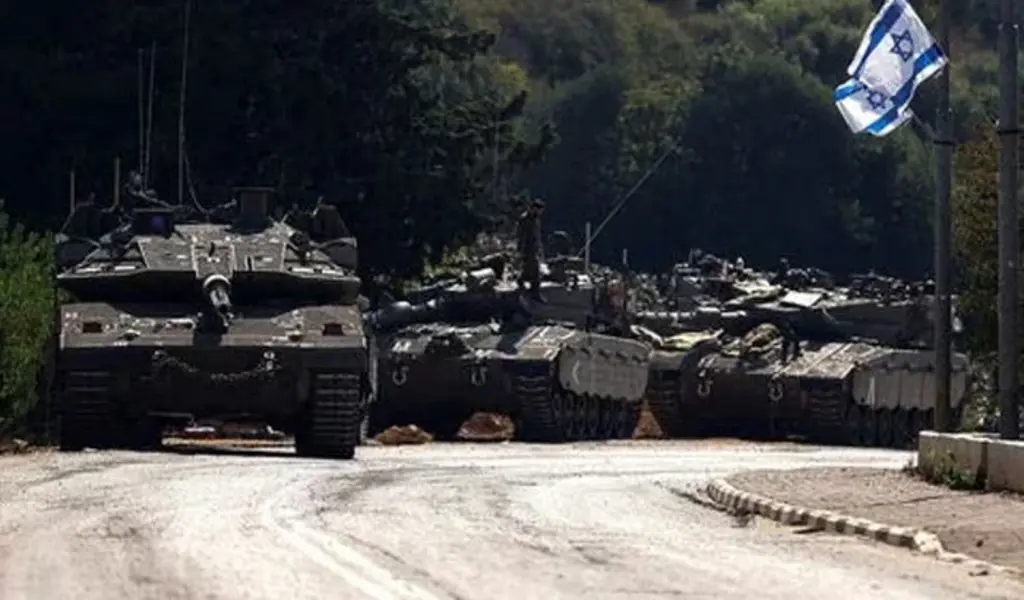 (CTN News) – Hostility between the Israel army and Hezbollah along Israel's northern border with Lebanon has prompted Israeli authorities to order the evacuation of tens of thousands of Israeli civilians.
14 communities have received evacuation orders in the last 24 hours, while 28 others have gotten similar orders in the previous week. The impacted populations have reacted in a variety of ways to these evacuations.
During the evacuation, some people expressed displeasure and cynicism about their safety. This large-scale exodus reflects the palpable fear and worry gripping the region as military tensions rise.
Another journalist was assassinated.
Meanwhile, the Palestinian population in Gaza mourned the death of photojournalist Rushdi Sarraj, who was killed in an Israeli attack on his home.
View this post on Instagram
Sarraj was honoured for his remarkable photographic abilities and imaginative narrative, which shed light on the hardships that the Gazans suffered as a result of conflict and a long-standing siege.
Colleagues paid tribute to him, including renowned international photojournalist Wissam Nassar. Ali Jadallah, a Palestinian photojournalist with Turkey's Anadolu Agency, posted an image of Sarraj's alleged body bag, confirming his untimely death.
Earlier, Israeli soldiers struck the Jenin refugee camp in the occupied West Bank after increasing airstrikes on Gaza in preparation for a ground invasion.
According to Al Jazeera, the airstrike targeted a mosque connected with the Jenin Brigade, which Israel has designated as an "underground terrorist group."
According to Israeli officials, the Al-Ansar mosque was affiliated with the Jenin Brigade, which Israel termed a "underground terrorist group" and added that they were "neutralized," without specifying how many people were killed or their identities.
According to the Palestinian news agency Wafa, the director of the Red Crescent in Jenin, Mahmoud Al-Saadi, one person was slain and three others were injured in the strike.
Since October 7, when Hamas fighters broke into Israel and killed at least 1,400 people, the majority of whom were civilians, dozens of individuals have been martyred in the West Bank by Israeli military or settlers.
Meanwhile, in retaliation, Israel has unleashed a major assault on the Gaza Strip, killing over 4,651 Palestinians, largely civilians, including over 1,000 children, according to the Gaza health ministry. According to Al Jazeera correspondent Sara Khairat, the air strike caught people off guard, but it appears that more may be on the way.
"Eyewitness spoke to us and said they saw an F-fighter jet in the sky, they heard it and then the Israeli army came out to confirm it was an air strike," said Khairat, who called from Ramallah at the time.
According to her, the mosque was the location of a two-day Israeli siege in July, during which Israeli soldiers discovered a network of tunnels and captured equipment, drones, and ammunition.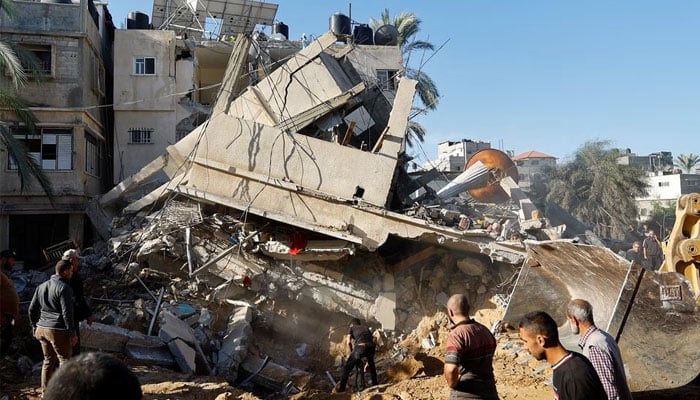 Following the attack, some locals got text messages on their phones telling them not to work with the Jenin Brigade, one of the West Bank's largest and most popular factions.
According to Al Jazeera, the warnings also advised parents to keep their children inside. Unconfirmed allegations say an Israeli officer called neighbours and told them to hand over their "youngsters" to the police by 7 a.m.
Jenin, a Palestinian camp in Israel, has been under Israeli attack since 2002, with incidents such as the murder of Al Jazeera journalist Shireen Abu Akleh last year.
However, with Israel's most recent incursions, Palestinians in Jenin are being reintroduced to airborne terror in densely populated areas, displacing refugees who were previously displaced in Gaza.
This shows the persistent Israeli hostility and the need for more effective approaches to these concerns.
The United States is sending more air defence systems to the Middle East
In response to recent attacks on US troops in the region, the US will send a Terminal High Altitude Area Defence (THAAD) system and more Patriot air defence missile system battalions to the Middle East, the Pentagon announced on Saturday.
In recent weeks, the United States has sent a substantial amount of naval strength to the Middle East, including two aircraft carriers, support ships, and approximately 2,000 Marines.
.@SecDef has directed a series of additional steps to further strengthen DoD's posture in the Middle East region, which will bolster regional deterrence efforts, increase U.S. force protection in the region, & assist in the defense of Israel. More at:https://t.co/t54PqUORoY

— Brig. Gen. Patrick Ryder (@PentagonPresSec) October 22, 2023
According to Reuters, Washington is on high alert for activity by Iran-backed groups as regional tensions rise amid the Israel-Hamas conflict.
"Following detailed discussions with President (Joe) Biden on recent escalations by Iran and its proxy forces across the Middle East Region, today I directed a series of additional steps to further strengthen the Department of Defence posture in the region," Lloyd Austin, the deputy secretary of defence, said in a statement.
Austin stated that he was preparing to deploy additional troops but did not specify how many. The Pentagon has already placed 2,000 troops on high alert in case they are called to deploy to the region.
"These steps will bolster regional deterrence efforts, increase force protection for US forces in the region, and assist in the defence of Israel," he said. The deployments come two years after Biden's government withdrew air defence systems from the Middle East, citing lower tensions with Iran as the reason.
Israel promises to step up its attacks on Gaza.
Israel has cut off the supply of food, water, fuel, and electricity, while the UN claims that over 40% of all housing has been damaged or destroyed, citing local authorities.
According to military spokesman Admiral Daniel Hagari, Israel would increase its bombardment to decrease the risks to its forces when it begins a land invasion.
"From today, we are increasing the strikes and minimising the danger," declared the prime minister. "We will increase the attacks and therefore I called on Gaza City residents to continue moving south for their safety."
Israel has advised more than one million Gaza inhabitants to flee to the south for their safety, and the UN estimates that more than half of the enclave's population is now internally displaced.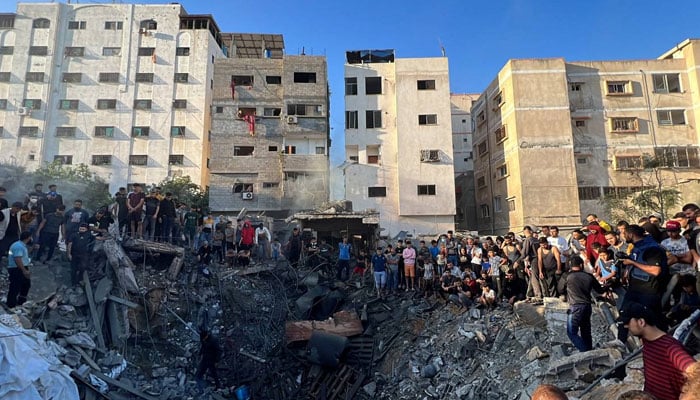 However, bombing has continued in the southern sections of the Strip, with Hamas officials reporting nine martyrs in an attack in Khan Younis overnight. Hundreds of thousands of residents are thought to be trapped in and around Gaza City in the north, unable or unable to evacuate.
Fears of a larger regional war have been raised as a result of the fighting, and Washington has stated that it will deploy defence batteries and extra Patriot battalions to protect US forces.
The Pentagon reportedly stated that it was telling additional troops to "prepare to deploy orders," but did not indicate how many or when they may be sent.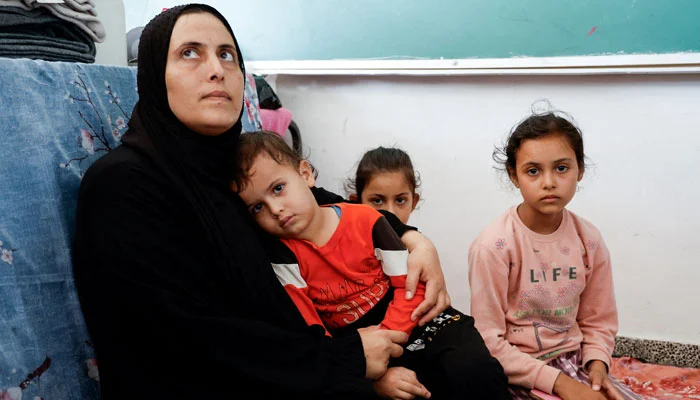 Qatar is still negotiating the release of hostages.
Israeli forces have gathered near the Gaza border, and commanders visited frontline units on Saturday to motivate troops. "We will enter Gaza," said Chief of Staff Lieutenant General Herzi Halevi during a visit to one Israeli brigade.
"Gaza is densely populated, the enemy is preparing a lot of things there — but we are also preparing for them," Halevi went on to say. During a ground invasion, Israeli forces will encounter various challenges, including Hamas tunnels and booby traps in a densely populated urban setting.
Another complicating factor is the safety of the more than 200 detainees held by Hamas. After mediation from Qatar, two American hostages were released on Friday evening, with others expected to be released "very soon."
"We are on a path that will very soon lead to the release of the hostages, particularly civilians," Majed Al-Ansari, a spokesman for Qatar's foreign ministry, told the German daily Welt am Sonntag on Saturday.
"We are currently working on an agreement under which all civilian hostages will be initially released," he went on to say. On Saturday, food, water, and medicine crossed the border from Egypt into Gaza, despite US pressure. Following that, the border was blocked, and UN officials cautioned that much more was required.
"Gaza was in a desperate humanitarian situation before the most recent hostilities," five UN agencies stated in a joint statement. "It is now disastrous. "The entire world must do more."
During a peace summit in Egypt, UN Secretary-General Antonio Guterres appealed for a humanitarian ceasefire "to end this godawful nightmare."
Even though Arab summit delegates issued their statement condemning international leaders, Western diplomats expected a firm denunciation of Hamas, therefore the summit ended without a joint proclamation. Residents in Gaza said they were unsure where to go or how to safeguard their family.
"Even in my worst nightmares, I never thought this could be possible," Rami Abu Wazna said, standing in central Gaza's Al-Zahra area, marvelling at the devastation.
when of the extent of the bombing, basic procedures have been rendered inoperable, with the UN claiming that 40 unidentified remains were buried in a mass grave in Gaza City on Saturday when cold storage ran out before they could be identified.
My appeal today from the Middle East:

Immediate, unrestricted & sustained humanitarian aid for civilians in Gaza.

Immediate & unconditional release of all hostages.

Immediate & dedicated efforts to prevent the spread of violence, which is increasing the risk of spillover.

— António Guterres (@antonioguterres) October 21, 2023
Across the border, at Israel's Kibbutz Beeri, where Hamas fighters killed 10% of the population, funeral preparations were beginning on Sunday. Residents, according to Romy Gold, 70, are still struggling to fathom the severity of their experience.
"Around us whole families were shot or butchered or burned alive," he told the AFP news agency. He, like many others, feels that a ground invasion of Gaza "cannot come soon enough." Something must be done."
"We need some kind of assurance that it will not happen again," he told reporters.
Related CTN News:
How to Select Your Favourite Faces in Group Photos Using the Pixel 8's Best Take
Gaza, Syria, and the West Bank are struck as Israel fights Hamas on other front
Gaza, Syria, and the West Bank are struck as Israel fights Hamas on other fronts