NFL Green Bay Packers Pull Ahead of Detroit Lions 28-17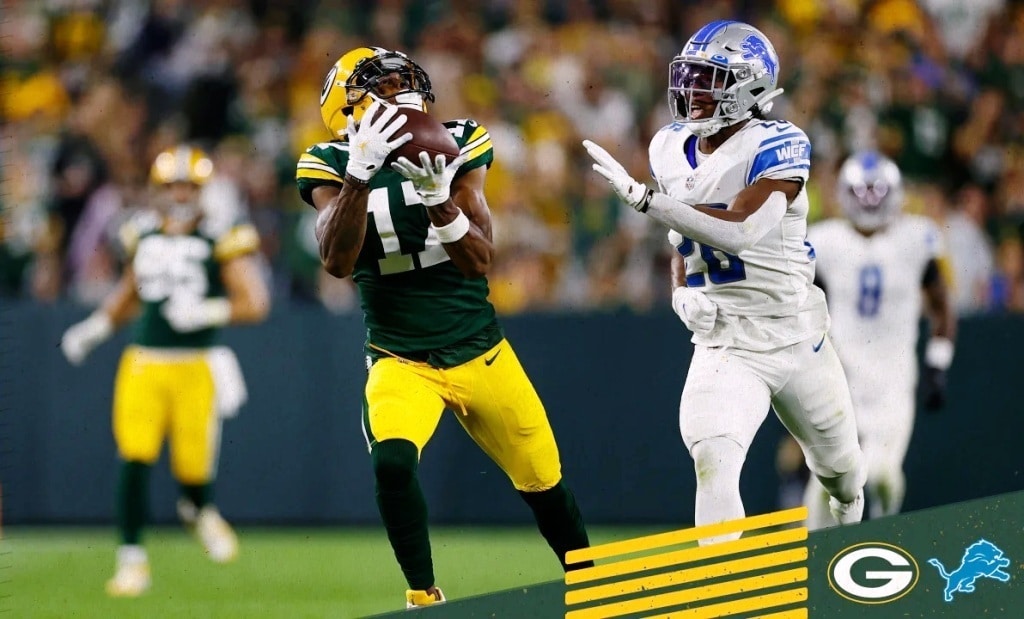 NFL Aaron Jones was the first Green Bay Packers running back since 1942 to get three touchdown passes in a single game when the Packers led the Detroit Lions 28-17 into the fourth quarter.
The Lions won the opening coin toss and elected to receive. The Packers made one notable adjustment to their nickel package on the opening drive with Eric Stokes entering the game on the perimeter and Kevin King moving into the slot.
Green Bay got Detroit into third-and-1 before Jared Goff hit receiver Quintez Cephus for a 46-yard gain. Four plays later, Cephus came free in the end zone for a 5-yard touchdown to give Detroit a 7-0 lead with 10 minutes, 36 seconds in the first quarter.
While Lucas Patrick (concussion) was active, Jon Runyan received his first NFL start at left guard.
The Packers came out running the ball, with Aaron Jones picking up 17 yards on his first three carries. Green Bay did a better job of mixing its personnel packages, with Aaron Rodgers' first completion going for 18 yards on a quick pass to Davante Adams.
Robert Tonyan picked up 19 yards on a screen pass before a pair of Jones runs for 13 combined yards set up first-and-goal from the Detroit 5.
A push pass to a motioning Jones went for a 4-yard touchdown to tie the game at 7 with 3:45 left in the first quarter. After running for just 43 yards on 15 carries last week against New Orleans, the Packers rushed eight times for 33 yards on the opening 11-play, 75-yard drive.
NFL Lions lead Green Bay Packers 17-14 at halftime
The Lions got backed up to first-and-25 after a false start and holding penalties. Facing third-and-9, linebacker Preston Smith's pressure of Goff forced a 14-yard intentional grounding penalty.
The Packers went three-and-out on their next possession, with Detroit taking over at its own 39 after a 46-yard Corey Bojorquez punt. The Lions would pull back ahead, 14-7, after Jared Goff connected with tight end T.J. Hockenson for an 8-yard touchdown on second-and-goal.
Rookie Kylin Hill returned the ensuing kickoff 42 yards, leaping over Lions kicker Austin Seibert, to start the next drive at the Green Bay 44.
The Packers got back to running the ball with Aaron Jones and AJ Dillon combining for 50 total yards on eight touches, including a 13-yard screen pass to Jones that set up first-and-goal at the Detroit 1.
Two plays later, Rodgers hit Jones on a quick play-action pass for the 1-yard TD to tie the game at 14 with 1:52 left in the half. Jones had 13 touches for 76 yards in the first half.
It's the second time in Jones' career that he's had two touchdown catches. The first was in a 31-24 win over Kansas City on Oct. 27, 2019.
A 33-yard Godwin Igwebuike kickoff return allowed the Lions to start the next drive from their own 41. Two D'Andre Swift carries for 14 yards and a 20-yard pass to Hockenson gave Detroit a first down at the GB 25.
The drive stalled there, but Austin Seibert made a 43-yard field goal to give Detroit a 17-14 halftime lead.
Green Bay Packers pull ahead of Lions 28-17 after three
The Packers kept feeding Aaron Jones and he kept producing, picking up 21 yards on his first three second-half touches. Rodgers was sacked for a 10-yard loss on second-and-2 but found Davante Adams in single coverage down the sideline for a 50-yard completion to the Detroit 26.
On third-and-6, Rodgers connected with tight end Robert Tonyan down the seam for a 22-yard touchdown to put the Packers ahead 21-17 with 10:26 left in the third quarter.
The Lions came right back with Goff picking up 17 yards on a read-option and then hitting Hockenson on a slant for 15 yards on third-and-1. Detroit would turn over the ball at the GB 25 on downs after an incomplete pass intended for Cephus against Eric Stokes on fourth-and-1.
Randall Cobb caught his first pass in his return to the Packers after Rodgers caught Detroit with too many men on the field on third-and-10. The completion went for 14 yards.
A holding call would back the Packers up 10 yards but Tonyan drew a 25-yard pass interference penalty on Lions backup cornerback Jerry Jacobs for a new set of downs.
Rodgers hit Cobb twice more for 12 yards, converting a third-and-7 with a 9-yard pass in the flat. Davante Adams then went over 100 yards on the night when he pulled down a 22-yard pass at the Detroit 11.
The third quarter ended with Rodgers finding Jones open in the flat for an 11-yard touchdown to extend Green Bay's lead to 28-17. It's the first time a Packers running back has caught three touchdown passes since Andy Uram against the Chicago Cardinals in 1942.
As it started to rain near the end of the third quarter, Goff fumbled the snap on Detroit's next drive. Packers linebacker Krys Barnes recovered, giving the offence the ball back at the Green Bay 23.