3-2 Florida Panthers Win 6th-Longest NHL Game In History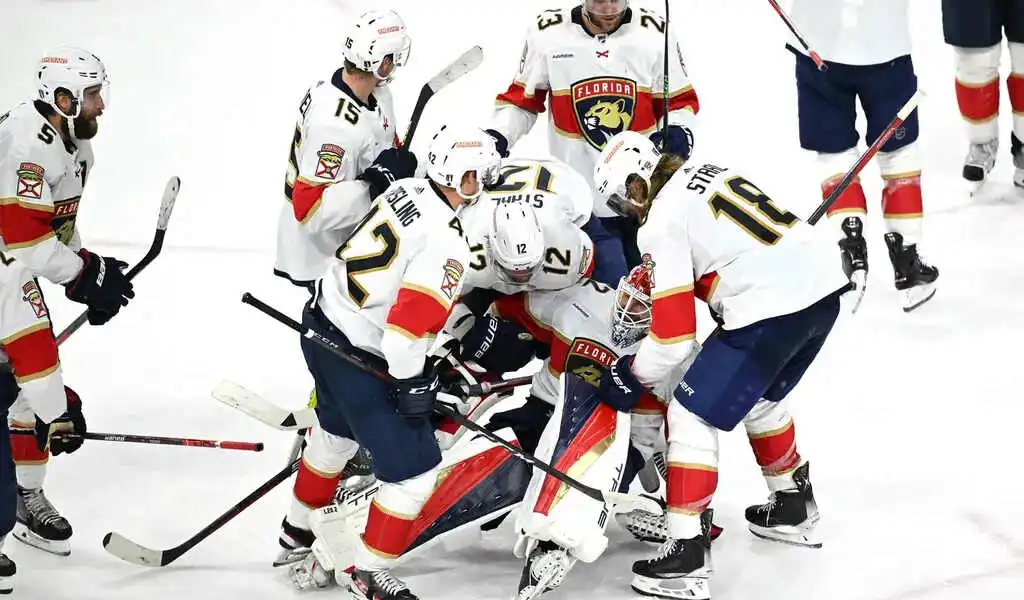 (CTN News) – In the first game of the Eastern Conference finals, Florida Panthers captain Matthew Tkachuk beat Carolina Hurricanes goaltender Frederik Andersen in the final seconds of the fourth overtime period.
This gave the Florida Panthers a 3-2 win over the Hurricanes.
When the Florida Panthers won a battle for the puck as Carolina tried to clear the puck from the right circle with 12.7 seconds left in the period, Tkachuck took a feed from Bennett, then whipped a shot from the right circle past Andersen to give Florida the lead.
It was at that point that Tkachuck raced toward center ice to celebrate with his teammates in what ended up being the longest game in either franchise's history, as well as the sixth-longest in NHL history.
With the win, the Florida Panthers are now 5-0 in these playoffs and seventh in a row on the road. On Saturday night, there will be a second game in Raleigh.
As the game got more ragged as players rack up the ice time, and the game turned into a goaltender's battle due to Aleksander Barkov and Carter Verhaeghe scoring in regulation for the
Florida Panthers. Sergei Bobrovsky made 63 saves during a goaltender's battle.
In total, Andersen made 57 saves for the Carolina Hurricanes, who scored two goals on power plays through Seth Jarvis and Stefan Noesen.
As the longest NHL game in history, the Detroit Red Wings defeated the Montreal Maroons 1-0 in the sixth overtime period on Mud Bruneteau's goal, which came after 116 minutes, 30 seconds of extra play, in the longest game in NHL history, which lasted 116 minutes and 30 seconds.
The only other game to have gone to a sixth overtime was Toronto's 1-0 victory over Boston on April 3, 1933, when Ken Doraty scored a goal at 104:46 to win the game.
Three of the games have been decided by a fifth overtime. During Florida Panthers game on May 4, 2000, Philadelphia beat Pittsburgh 2-1, thanks to a goal from Keith Primeau at the 92:01 mark.
At 90:27 in the third period on Aug. 11, 2020, in the bubble, Brayden Point scored a goal to help Tampa Bay win 3-2 over Columbus.
During the game on April 24, 2003, Anaheim beat Dallas 4-3 thanks to a goal by Petr Sykora at the 80:48 mark.
SEE ALSO:
Discover The Ideal Basketball Sneaker: Top Tips For Finding The Perfect Shoe To Elevate Your Game