Korea Times Launches An Indonesian Global Business Club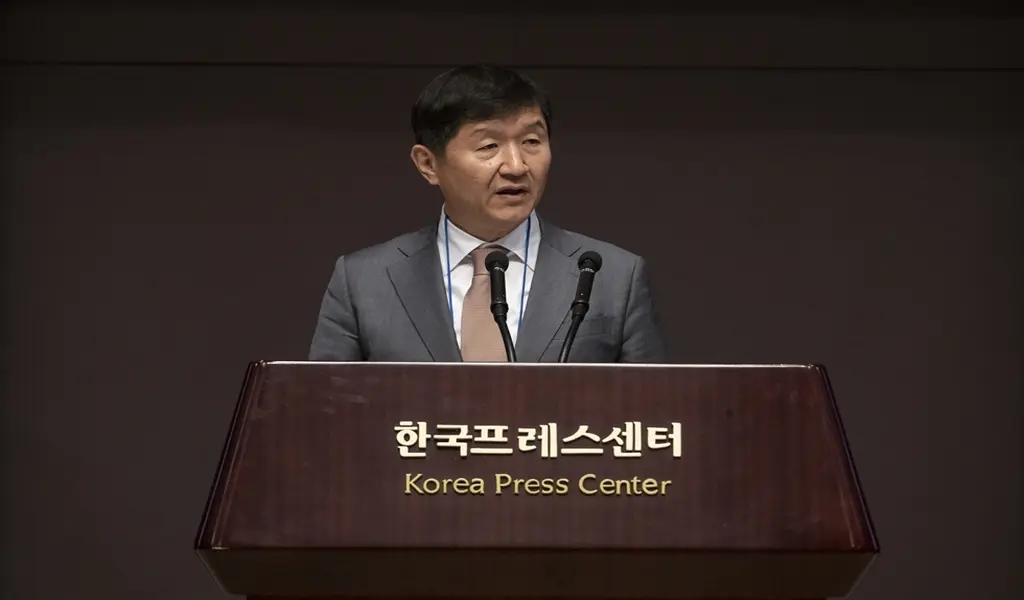 (CTN NEWS) – SEOUL –  The Global Business Club (GBC), a platform for business executives and professionals to exchange experiences and insights to broaden their perspectives on the worldwide business, was launched by The Korea Times.
The Indonesian Ambassador to Korea, Gandi Sulistiyanto, was introduced by Korea Times President-Publisher Oh Young-jin during the first meeting of the business club, which had the theme "Korean Business Possibilities in Indonesia."
Oh expressed optimism for Sulistiyanto's contribution to the group, saying that he would contribute special and insightful information that was difficult to obtain from other sources.
"We know that Indonesia is not just a land of opportunities but emerging to become 'the' land of opportunities," the president-publisher remarked.
"We know this because of the size of its population and quantity of resources, along with the addition of the forward-going development momentum."
The Indonesian ambassador spoke to the group and engaged the audience in a Q&A session while providing a variety of diplomatic and economic facts about his country.
He held a prominent position as a corporate executive in Indonesia before serving as ambassador to Korea.
Sulistiyanto drew attention to Indonesia's plan to move its capital, which presented Korea with many options.
The ambassador stated that Indonesia "plans to move the capital city from Jakarta to Nusantara in East Kalimantan" and that many Korean businesses in the new capital project demonstrate their growing interest in investing there.
According to Sulistiyanto,
The capital city is anticipated to have several positive economic effects, including boosting overall investment, promoting inbound investment in other provinces, and boosting investment in non-traditional industries, particularly the service sector.
He unveiled six strategic economic clusters for the new capital to relieve congestion and restore the country's balance. The six clusters include chemical products, low-carbon energy, sustainable agriculture, integrated pharmaceuticals, and eco- and health tourism.
The leaders of Korea and Indonesia met and signed MOUs on the construction of the new capital during the G20 Summit in Bali in November.
In the environmentally friendly new capital, Korean businesses are eager to exhibit smart city concepts, plan advanced air mobility networks, and integrate them with land transportation.
"Please don't doubt the Indonesian government's commitment to this new capital. The Indonesian Parliament has already approved it, and the pledge will remain in place even if the president changes.
"The point of no return for Indonesia in terms of constructing a new capital, the ambassador said, has already reached.
The envoy claims that as of last week, infrastructure work in the new capital had progressed by 15%.
According to him, "President (Joko Widodo) intends the 2024 Indonesian Independence Day to be observed (in the new capital) and will be declared as the capital city of Indonesia for administration first with other sectors following."
"Also accelerating local development in Indonesia. This region (East Kalimantan) has the nearby cities of Samarinda and Balikpapan and is rich in LNG resources.
Indonesia encourages foreign partners, particularly Korea in terms of technology and knowledge, to help create the new capital and the surrounding areas."
The envoy also mentioned a significant labor force of 144 million employed people out of a total population of 275 million. Korea will be the fourth-most popular destination for Indonesian workers as of 2022.
However, the ambassador stressed his intention to use the government-to-government Work Permit System and the private-to-private program to bring more young, hardworking Indonesians to Korea.
Adhyanti Wirajuda, Minister Counselor for Creative & Digital Economy,
Acceleration of Startups and Public Diplomacy Joannes Tandjung, Counselor for Investment and Trade Affairs Puji Basuki, Counselor for Political Affairs Sigit Aris Prasetyo.
And Director of the Indonesia Investment Promotion Center (IIPC), Seoul Reza Mawasthama was among a sizable delegation from the Indonesian Embassy who also attended the event.
Tandjung claimed that Korea 360, a center for promoting Korean culture, debuting at Lotte Shopping Avenue in Jakarta last December, is a huge hit with young Indonesians.
"If I may add one more thing, I believe a strong message is more important than attractive actors or actresses when it comes to Korean creative content. For instance, many young Indonesians listened to the well-known BTS song "Life Goes On" throughout the pandemic.
The song's message about how life would go on after the pandemic is incredibly powerful, "said he.
Tandjung added that his nation hopes to create an ecosystem for creative industries through such cooperative projects in addition to the ambassador's presentation on the possibilities for collaboration between the Korean wave and the I-wave (Indonesian wave).
In addition to creating another K-wave, Tandjung stated, "We are working hand in hand with K-wave to create this ecosystem and to comprehend that in Korea, stars go through a process called schooling."
President-Publisher Oh outlined how the international business club helps its members stay updated on the industry's most recent trends and advancements.
"The GBC's purpose is to keep a restricted group of privileged members up to date on world events. To enable the members to have larger perspectives on the world and decide appropriately when the time comes, whether in business or elsewhere, "explained Oh.
Throughout the year, the club intends to develop further international commercial opportunities for Korea, including those in Saudi Arabia, China, and Japan.
RELATED CTN NEWS:
Taliban Leaders Display Rare Public Division Over Bans
U.S. Response To Chinese Balloon Invasion Slammed By China