China's Population Plunges For The 1st Time Since 1961 As Births Drop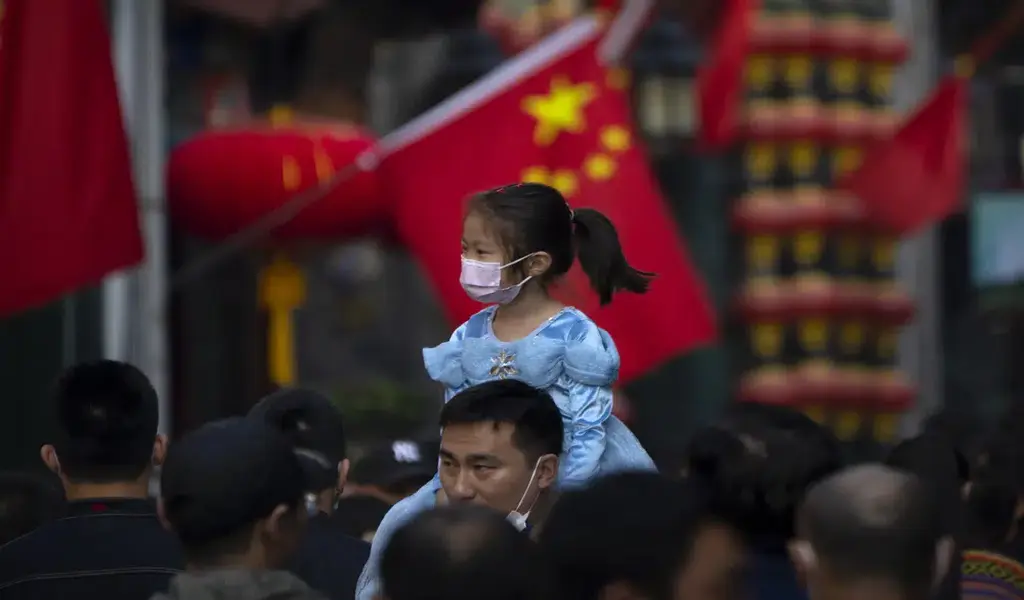 (CTN NEWS) – BEIJING –  Official statistics released on Tuesday revealed that China's population decreased for the first time in decades last year due to a sharp decline in the birthrate.
Adding to the strain on the country's authorities to maintain economic growth despite an ageing labor force and mounting tensions with the United States.
Despite the official statistics, some experts think China's population has been declining for a while. This would be a remarkable change for a nation that once attempted to regulate population growth by enforcing a one-child policy.
Many rich nations are grappling with how to deal with aging populations, which can hinder economic growth as dwindling workforces attempt to support rising older populations.
But a middle-income country like China, which lacks the means to care for an elderly population in the same way that a country like Japan does, would find it particularly challenging to handle the demographic transformation.
That might keep inflation higher in many developed economies over time and eventually slow its economy as well as the global one.
Yi Fuxian, a demographer and specialist in Chinese population trends at the University of Wisconsin-Madison, stated that China had aged before it had gotten wealthy.
If fewer chances fuel public unrest, a slowing economy might also be problematic politically for the Communist Party, which now holds power.
Late last year protests that sometimes demanded the resignation of leader Xi Jinping erupted out of resentment over the severe COVID-19 lockdowns, which were a drag on the economy and a rare frontal challenge to the party.
According to data released on Tuesday by the National Bureau of Statistics, the country had 850,000 fewer citizens by the end of 2022 than the previous year. The total population of mainland China is included; Hong Kong, Macao, and international inhabitants are not included.
According to government statistics, there were over 1 million fewer births than the previous year due to the faltering economy and widespread pandemic lockdowns. 9.56 million babies were born in 2022, according to the agency, while 10.41 million people died.
Following the relaxation of pandemic restrictions last month, it remained unclear whether a large COVID-19 outbreak impacted the population statistics.
Since early December, China has claimed 60,000 COVID-related deaths, but some experts think the authorities likely underreport this number.
The Great Leap Forward, a disastrous campaign for collective farming and industrialization started by then-leader Mao Zedong at the end of the 1950s, is thought to have caused the last population decrease in China.
Which resulted in a massive famine that killed tens of millions of people.
Yi, the demographer, claimed that China's population loss has started nine to ten years earlier than official estimates and United Nations projections.
With 1.4 billion people, the country has held the title of the most populated country in the world for a while, but if it hasn't already, India is predicted to overtake it soon.
China has worked to increase its population since the one-child ban was formally ended in 2016. Since then, with little success.
China has attempted to persuade people to have a second or even third child, following attitudes in much of east Asia where birth rates have sharply declined.
In China, the cost of raising kids in cities is frequently highlighted as a contributing factor.
Zhang Huimin lamented the "fierce rivalry" that young people nowadays face, which is a pretty normal perspective on having children among people in her age group.
The 23-year-old Beijing resident complained that it was difficult to obtain a job and that housing costs were exorbitant. "I like living alone. I like spending time with friends or having pets when I'm lonely."
The demographic situation is "far more severe" than previously believed, according to Yi, whose own data indicates that China's population has been dropping since 2018. According to him, only Taiwan and South Korea have lower fertility rates than the nation currently.
Yi told The Associated Press that this indicates that China is experiencing a "genuine demographic crisis that is beyond comprehension" and that all of its prior economic, social, defence, and foreign policies were founded on inaccurate demographic data.
According to Yi, the impending economic catastrophe will be worse than Japan's, where years of slow growth have been partially attributed to a declining population.
According to the statistics office, there were 209.78 million people 65 and older, or 14.9% of the overall population, and 875.56 million people between the ages of 16 and 59, or 62% of the working-age population.
Furthermore, it was revealed that China's economic growth dropped to its second-lowest level in at least 4 decades last year, however, activity has picked up since the COVID-19 travel ban that kept millions of people at home was lifted.
Any slowing has broader effects. In the early 2000s, China became a major manufacturing force.
China's seemingly limitless supply of cheap labor cut consumer prices worldwide for computers, smartphones, furniture, clothes, and toys as millions of its residents moved from the rural to its cities.
Its labour expenses have already started to climb, and shifting demographics will probably make this tendency more pronounced.
As a result, inflation may increase in nations that import goods from China, but production may already be shifting to Vietnam and other less expensive nations.
In addition to facing demographic issues, China is also facing growing economic competition from the U.S., which has restricted access to American technology for some Chinese businesses out of concern for national security and fair competition.
According to Stuart Gietel-Basten, a professor of social science at Khalifa University in Abu Dhabi, if handled properly, a shrinking population does not always result in a worse economy.
It's a serious psychological problem. The largest, most likely," Gietel-Basten added.
According to statistics, men outweighed women by 722.06 million to 689.69 million. The agency attributed this to the one-child policy and the customary desire for male progeny to carry on the family name.
The figures also showed a rise in urbanization in a historically predominately agrarian nation. The permanent urban population grew by 6.46 million people over 2022 to reach 920.71 million, or 65.22%.
The world's population, according to UN estimates from the previous year, hit 8 billion on November 15 and that India will overtake China as the world's most populated country in 2023.
In light of the pandemic, India's most recent census, which was slated for 2022, was delayed.
Gietel-Basten cited the growth of semiconductor manufacturing and the financial services sector as examples of how China has been reacting to demographic change for years by creating policies to drive its economic activity up the value chain of innovation.
"India's population is getting younger and is expanding. But there are a lot of factors to consider before you automatically stake your entire wealth on India, overtaking China economically shortly," the speaker warned.
The fact that India's female labor force participation is far lower than China's is one of the country's many problems, according to Gietel-Basten.
Regardless of the population, he continued, "it depends, to some extent, on what you do with it."
RELATED CTN NEWS:
Chinese Tourists Emptying Pharmacies of Cold Medicines
Nepal Crash Site Reveals Flight Data, Voice Recorders