China Govt. Suspends Issuing Visas In Japan & S.Korea In Response To COVID Curbs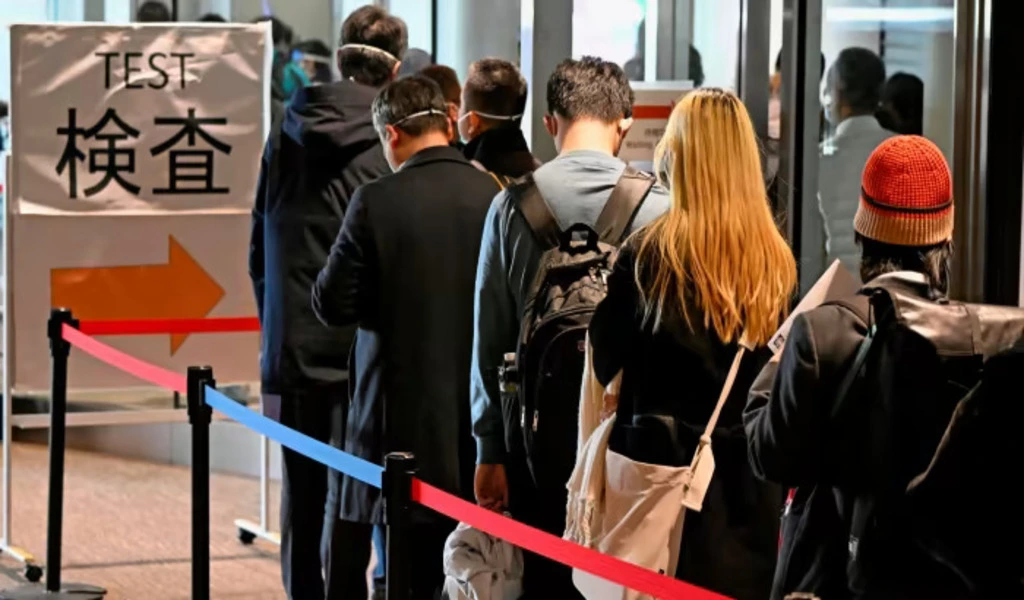 (CTN NEWS) – BEIJING –  On Tuesday, China halted the issuance of short-term visas for South Korea and Japan after warning that it would react against nations that required Chinese travelers to have negative COVID-19 tests.
Since Sunday, China has abandoned mandatory arrival quarantines and resumed allowing travel across its border with Hong Kong, lifting the last significant restrictions imposed by the "zero-COVID" regime.
Which it abruptly started to dismantle in early December in response to significant opposition to the curbs.
However, the virus is still growing unchecked among its 1.4 billion inhabitants, and concerns about the scope and impact of its outbreak have led Japan, South Korea, the United States, and other nations to demand negative COVID testing from visitors from China.
Although all visitors to China must undergo the same testing procedures, foreign ministry spokesperson Wang Wenbin told reporters on Tuesday that China would take "reciprocal measures" in response to the entrance restrictions placed on Chinese tourists.
The Chinese embassy in South Korea initially retaliated by ceasing to provide visitors from that country with short-term visas.
According to the embassy's official WeChat account, it would change the policy if South Korea's "discriminatory entry restrictions" against China were lifted.
Later, the Chinese embassy in Japan made a similar announcement, stating that the embassy and its consulates had stopped providing visas as of Tuesday. When they would resume was not specified in the embassy statement.
The action was launched shortly after Japan tightened COVID-19 regulations for travelers arriving directly from China.
Requiring both a negative test result from a PCR test conducted within 72 hours of departure and a negative test result from a test conducted upon arrival in Japan.
China has stopped disclosing daily infection totals since the virus was released.
Since the policy U-turn, it has been reporting five or fewer deaths per day, data that the World Health Organization has contested and that are incongruent with funeral homes' reports of rising demand.
According to international experts, a million deaths or more are expected in China this year, prompting some nations to express alarm about Beijing's data transparency.
Washington has also expressed worry about potential viral mutations in the future.
According to China, any future alterations are likely to be more contagious but less deadly, dismissing criticism of its data as politically motivated attempts to undermine its "success" in managing the pandemic.
Wang from the foreign ministry noted that China had maintained an open and transparent attitude since the outbreak.
Although illnesses are spreading rapidly throughout China's vast rural hinterland, many people, particularly elderly victims, are choosing not to get tested.
AFTER THE PIVOT
The state media understated the severity of the outbreak.
After China dropped the COVID-19 quarantine requirement for incoming travelers in Beijing, passengers push their bags through the international arrivals area of Beijing Capital International Airport.
According to many officials featured in a Health Times article published by People's Daily, the official newspaper of the Communist Party in power, infections have been dropping in Beijing and several other Chinese provinces.
On Tuesday, Shenzhen, a city known for its technological prowess in the south, announced that the city had reached its pinnacle as well.
Kan Quan, the director of the Office of the Henan Provincial Epidemic Prevention and Control, said that as of January 6, over 90% of the province's 100 million residents were afflicted.
The peak was achieved in the eastern province of Jiangsu on December 22, and in neighbouring Zheijiang province, "the initial wave of diseases has passed successfully," according to officials.
Financial markets viewed the latest border restrictions as a minor annoyance, and the yuan reached a nearly five-month high.
The promise of more Chinese tourists was welcomed by businesses throughout Asia, from South Korean and Japanese shop owners to Thai tour bus operators and K-pop groups, even though daily flights into and out of China are still only one-tenth of their pre-COVID levels.
Beijing's Daxing International Airport and Beijing Capital International Airport will start accepting international flights again on January 17 as a further gesture of opening up after a nearly three-year hiatus.
Before COVID, Chinese consumers sent $250 billion abroad each year.
PFIZER REVIEWS
There were other COVID disputes emerging in China besides the border regulations.
The cost of Pfizer Inc.'s (PFE.N) COVID treatment Paxlovid has been criticized by state media.
It is no secret that American capital forces have already amassed substantial wealth through the sale of pharmaceuticals and vaccinations worldwide.
And the American government has been cooperating the entire time, according to an editorial in the nationalist tabloid Global Times.
The price of Paxlovid was being discussed with Chinese officials, according to Pfizer's Chief Executive Albert Bourla, but not the licensing of a generic version in China.
Many hospitals were caught off guard by China's unexpected change in COVID policy, and smaller cities were left scrambling to obtain basic anti-fever medications.
Youcare Pharmaceutical Group Chairman Yu Weishi told Reuters that in the previous month, his company increased production of its anti-fever medications five times to one million boxes daily.
RELATED CTN NEWS:
Saudi Crown Prince 'Mohammed Bin Salman' Adds $50 Billion Diriyah As PIF's 5th Giga-Project