Nepal Crash Site Reveals Flight Data, Voice Recorders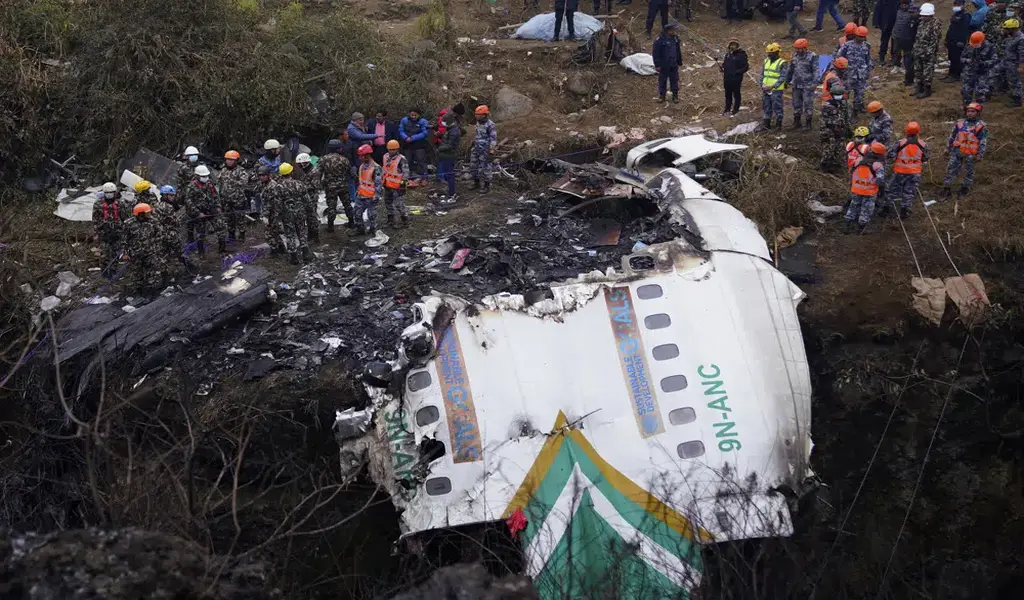 (CTN NEWS) – POKHARA, Nepal –  The flight data and cockpit voice recorders of a passenger plane that crashed into a ravine on approach to a new airport in the foothills of the Himalayas were found on Monday, according to officials.
As investigators sought to determine what caused Nepal's deadliest plane tragedy in 30 years.
Of the 72 persons aboard, at least 69 were killed, and authorities think the three missing people are also dead. Rescuers searched among the wreckage strewn down a gorge 984 feet deep and 300 meters deep for the victims.
The majority of passengers on the flight on Sunday were going back to Pokhara, though the city is also well-liked by tourists since it serves as the starting point of the Annapurna Circuit trekking circuit.
Some shouted at officials to expedite the postmortems so they could hold funerals for their loved ones as they gathered outside a nearby hospital on Monday evening. Some people did eventually receive their families' bodies.
The crash, which occurred on a calm day with minimal wind and less than a minute's flight from the airport, is still unknown.
Buildings, roads, and vegetation can be captured by a passenger looking out of a window as the aircraft comes in for a landing.
Following a sharp shock and a string of jerky pictures followed by screams, flames eventually engulf the screen in the video, which was shot by Sonu Jaiswal and confirmed by The Associated Press.
The aircraft last made touch with the airport, which only started operating two weeks ago, from a location close to Seti Gorge, according to Nepal's Civil Aviation Authority.
READ ALSO:   French ATR 72 Airplane Crashes in Nepal 68 Dead, 4 Missing
The jet appeared to be making a routine landing until it abruptly veered to the left, according to a witness who captured the fall on camera.
Diwas Bohora remarked, "I observed that and was shocked. I believed everything would be over here when it crashed today, and I would also perish."
Red flames appeared after it crashed, and the earth shook ferociously, according to Bohora. I was terrified after seeing that scenario, he continued.
A stall is a scenario in which a plane loses lift, which is particularly likely at low airspeeds, according to Amit Singh, an experienced pilot and the founder of India's Safety Matters Foundation. Bohora's video appears to illustrate one of these situations.
The 27-minute trip from the nation's capital, Kathmandu, to Pokhara, 200 kilometers (125 miles) to the west, was being completed by the twin-engine ATR 72 aircraft, which is flown by Nepal's Yeti Airlines.
According to a statement from Nepal's Civil Aviation Authority, it carried 68 passengers, including 15 foreign people and four crew members.
Five Indians, four Russians, and two South Koreans, each from Ireland, Australia, Argentina, and France, were among the outsiders.
According to authority spokesman Jagannath Niraula, the flight recorders will be given to the investigators. The cockpit voice recorder and the flight data recorder were both discovered, according to Pemba Sherpa, a representative for Yeti Airlines.
Eight of the fourteen highest mountains in the world, including Mount Everest, are found in Nepal.
The nature of the area, with its high peaks and constrained valleys, increases the risk of accidents and at times forces pilots to fly by sight rather than depending on instruments, according to a pilot who frequently flies an ATR 72-500 aircraft from India to Nepal.
The ATR 72-500 is an "unforgiving aircraft" if the pilot isn't highly skilled and acquainted with the topography and wind speeds of the area, according to the pilot, who works for a private Indian airline and insisted on being anonymous owing to company policy.
Hundreds of people have gathered outside the Pokhara Academy of Health and Science, Western Hospital, where the bodies are being stored.
When she learned that Tribhuban Paudel's jet had crashed, Bimala Bhenderi said she had plans to meet her friend that day. She sobbed, "I'm so heartbroken, I still can't believe it."
Bikash Jaiswal claimed that the only way to identify his wife's brother was by the ring he was wearing, and that he had not yet informed his wife—who had just given birth to their daughter.
To attend the birth, Sanjay Jaiswal, a marketing representative for a private pharmaceutical business in Kathmandu, was taking a flight to Pokhara.
His body was still at the hospital where his niece was delivered more than 24 hours after the collision.
Bikash stated, "He was a hard worker, and now there's no one left in his family to earn."
The demise of Arun Paudel and his daughter, Prasiddi, was reported on Monday by Park Dae-seong, a politician and representative of the Won Buddhist order.
Arun Paudel, 47, was a police officer in Nepal until his brother converted him to the faith. Before he was ordained as a minister in 2009, he spent years studying religion at a university in South Korea.
In 2013, he returned to Nepal and opened a school in the Lumbini region where students could learn English, Korean, and computer science.
According to Park, Paudel was going back to Nepal to work on projects for the Vishow Ekata Academy.
41 individuals have been identified, according to the Civil Aviation Authority. After postmortem results are completed, according to Gyan Khadka, a police spokeswoman for the area, the bodies will be given to the relatives.
Since the late 1980s, airlines all over the world have been using the ATR 72 type of aircraft for brief regional flights.
Due to two mishaps involving ATR 72-500 and ATR 72-600 aircraft in Taiwan in 2014 and 2015, the aircraft were temporarily grounded.
According to a tweet from ATR, an ATR 72-500 plane crashed on Sunday. The aircraft was 15 years old and "fitted with an obsolete transponder with poor data," according to plane monitoring information from flightradar24.com.
ATR has been informed that an accident occurred in Nepal involving an ATR 72-500. Our first thoughts are with all the individuals affected by this. The ATR specialists are fully engaged to support both the investigation and the customer.

— ATR (@ATRaircraft) January 15, 2023
According to data on Airfleets.net, it was formerly operated by Thailand's Nok Air and India's Kingfisher Airlines before Yeti took over in 2019. A request for comment from ATR has gone unanswered.
Data from the Safety Matters Foundation show that since 1946, there have been 42 fatal plane crashes in Nepal.
The incident on Sunday is the deadliest in the nation since a Pakistan International Airlines plane crashed into a mountainside while attempting to land in Kathmandu in 1992, killing all 167 persons on board.
Since 2013, the European Union has prohibited Nepali airlines from operating flights into the 27-nation bloc, alleging lax safety regulations.
Improvements in Nepal's aviation industry were noted by the International Civil Aviation Organization in 2017.
Although the EU is still pressing for administrative changes.
RELATED CTN NEWS:
Taliban Started To Buy Blue Ticks On Twitter
China's Liaoning Chemical Factory Explosion Leaves 5 Dead, 8 Missing
Pakistan Launches First Anti-Polio Campaign to Target 44mn Children