COVID-19 Spreads At Beijing, Leaving Hospital Beds Occupied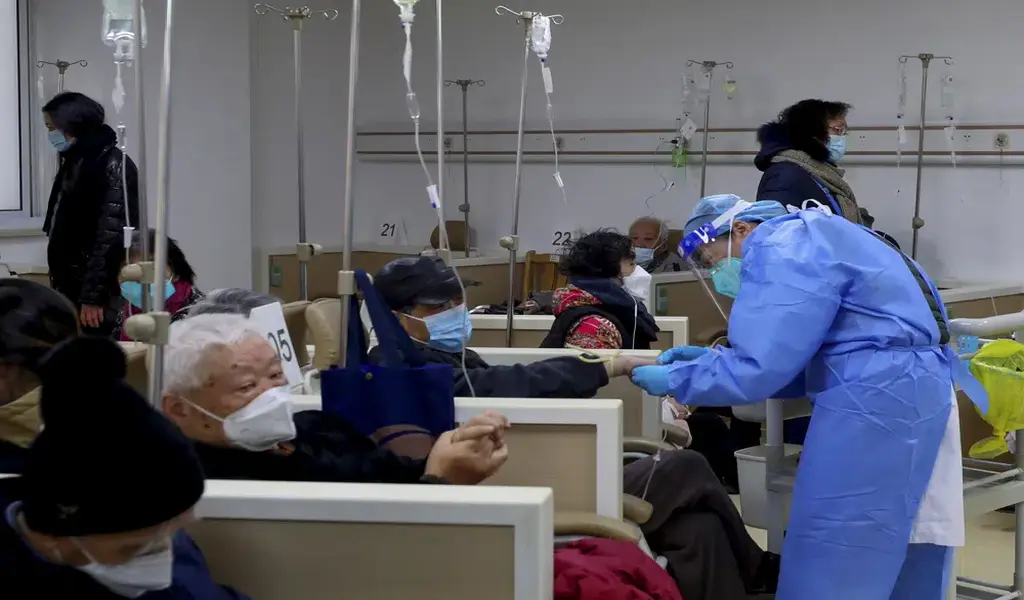 (CTN NEWS) – BEIJING – Most of the elderly, mask-wearing people slept upright in cramped waiting areas with numbered chairs, while others dozed on cots in the hallways. Others were given oxygen, while others received intravenous fluids.
There was a constant sound of coughing and the gurneys carrying new victims.
The COVID-19 outbreak, which is straining public health facilities in the country with the most people, was clearly visible on Thursday at the Chuiyangliu hospital in Beijing's east.
By midmorning, the crowded hospital was so full of patients that no more beds were available. In haste to triage the most critical cases, nurses and physicians took the information.
After nearly three years of lockdowns, travel bans, and school closures that had a significant negative impact on the economy and caused unusual street protests in a nation that suppresses political dissent,
China abandoned its most stringent pandemic restrictions last month, which was followed by the surge of people seeking hospital care.
Cities with a high population density seem to be where the pandemic started to spread the fastest. Authorities are now worried as it spreads to smaller towns and rural areas with less developed healthcare infrastructure.
As a result of ongoing concerns about opening up, several local governments started requesting citizens on Thursday not to travel home for the approaching Lunar New Year vacation.
Since the Chinese government is not providing enough information about the outbreak, an increasing number of foreign nations are requesting viral tests for Chinese citizens traveling there.
Although not all of its member states have implemented pre-departure COVID-19 testing, the European Union "highly recommended" it on Wednesday.
Italy became the first EU member to mandate tests for passengers from China last week, and France and Spain soon followed with their own procedures.
Italy was the first location in Europe where the pandemic exacted a major toll in early 2020.
Within 48 hours of departure, passengers from China must have a negative test result to enter the United States.
China has denounced the demands and threatened to act against those who impose them.
The leader of the World Health Organization, Tedros Adhanom Ghebreyesus, expressed alarm over the absence of epidemic information from the Chinese government on Wednesday.
During a daily briefing on Thursday, Chinese Foreign Ministry spokesperson Mao Ning stated that Beijing has continuously "shared information and data with the international community openly and transparently."
The COVID-19 issue in China is currently under control, according to Mao.
Many of the remaining restrictions—some of which are already being ignored—will be relaxed on Sunday.
In a notification dated Thursday, the authorities of Shaoyang county in Hunan province, central China, said that it "recommends that everyone not return to their hometowns during the peak of the outbreak, unless essential."
Avoid going to see family and moving across locations. Limit your travel.
Shouxian County in Anhui Province, southeast of Beijing, as well as the cities of Qingyang in Gansu Province, northwest, and Weifang in Shandong, east coast, all made similar petitions.
The appeals, which referred to the recent years of severe pandemic restrictions, revealed that some officials are still apprehensive about removing them too soon.
Residents should hold video and phone get-togethers to commemorate the holiday, according to a notification from the Weifang administration.
To protect yourself and others, avoid visiting family and friends.
Despite these worries, Hong Kong declared on Sunday that it would restore some of its border crossings with mainland China and permit tens of thousands of people to cross without being quarantined daily.
The reopening of the city's land and sea border checkpoints with the mainland, which have been mainly closed for almost three years, is anticipated to provide Hong Kong's tourism and retail industries a much-needed boost.
RELATED CTN NEWS:
Earthquake Of 5.8-Magnitude Strikes Pakistan
Iran Releases Famous Oscar-Winning Actress Detained Over Protests
"Deportation Will Not Stop Him": French-Palestinian Human Rights Lawyer