YouTube's Latest Measures Against Ad Blockers: What You Need To Know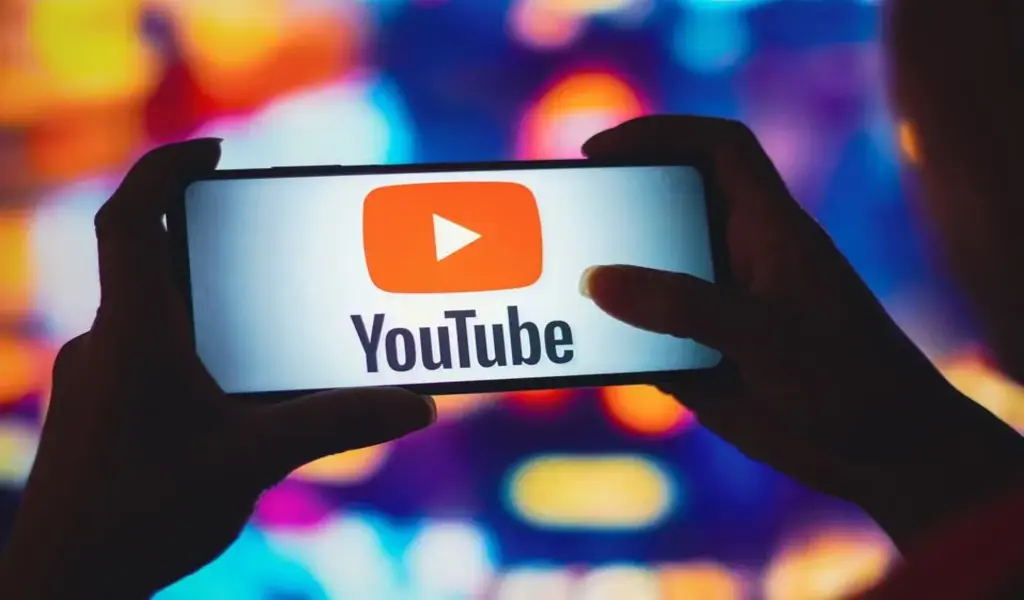 (CTN NEWS) – YouTube has recently taken steps to combat the use of ad blockers on its platform, prompting concerns among users.
The Google-owned video streaming service is now urging people to disable ad-blocking tools to access content.
Users on platforms like Reddit have reported videos being blocked if they refuse to watch ads on YouTube.
To address this issue, Google is offering an alternative solution, which is to subscribe to YouTube Premium at a cost of $13.99.
In essence, YouTube is pushing for users to engage with its advertising content, which is a significant source of revenue for the platform.
By blocking videos when ad-blockers are detected, YouTube aims to protect its ad-driven business model.
Here's what you need to know:
Ad Blockers: Ad blockers are browser extensions or software that prevent ads from displaying while you browse the internet. They are often used to enhance user experience by removing intrusive or irrelevant advertisements.
YouTube's Response: YouTube is now actively discouraging the use of ad blockers. If it detects an ad blocker in use, it may block the video and encourage users to disable the ad-blocking tool.
YouTube Premium: To maintain an ad-free viewing experience on YouTube, users can subscribe to YouTube Premium. This subscription service, priced at $13.99 per month, offers benefits such as ad-free content, offline viewing, and exclusive content.
Revenue Model: YouTube relies heavily on advertising revenue to sustain its platform and support content creators. By promoting YouTube Premium and discouraging ad-blocker use, they aim to safeguard this revenue stream.
User Preferences: The move has sparked discussions about the balance between user preferences for an ad-free experience and content creators' need for advertising revenue to sustain their work.
Ultimately, YouTube's approach is an attempt to ensure a sustainable and profitable platform while offering users choices about how they access content, with the alternative being a subscription-based model through YouTube Premium.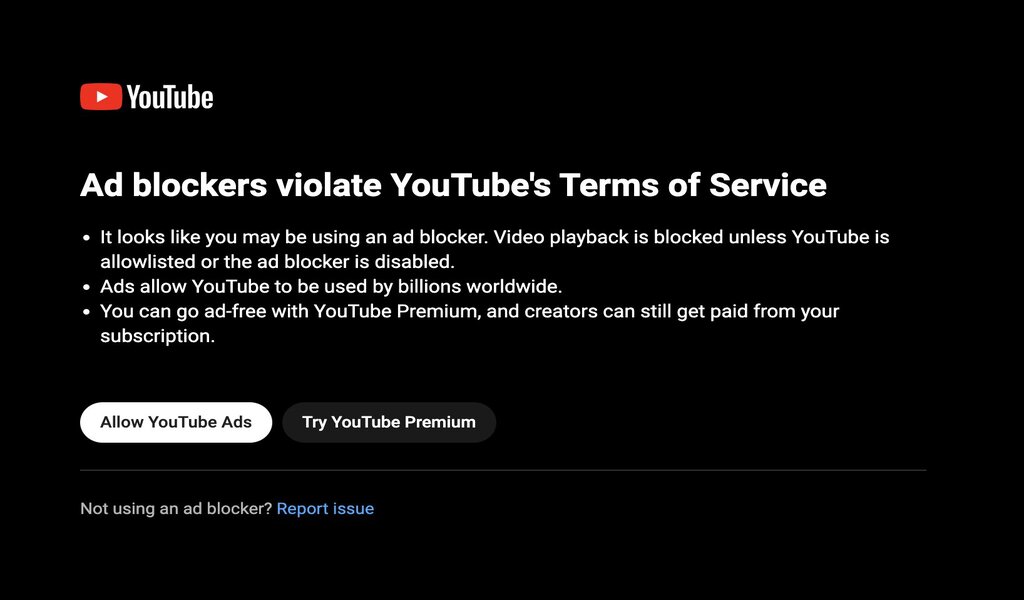 Why is YouTube Suddenly Cracking Down Ad-Blockers?
YouTube's crackdown on ad blockers may appear sudden, but it has been in the works for some time.
Testing of this approach began in June, as reported by tech site The Verge.
It has since evolved, and if YouTube detects the use of ad blockers, a pop-up message appears, stating, "Ad blockers are not allowed on YouTube."
The message goes on to explain the role of ads in keeping YouTube free for users and encourages people to consider signing up for YouTube Premium if they prefer an ad-free experience.
Ad-blocking detection is not a new concept, and many websites already employ similar measures.
YouTube's move aligns with its aim to maintain a sustainable ecosystem for content creators.
Ad revenue is a fundamental part of supporting creators worldwide and enabling free access to a wide range of content on the platform.
YouTube's terms of service expressly prohibit the use of ad blockers, and the platform is taking steps to ensure that viewers either enable ads on YouTube or explore YouTube Premium for an ad-free viewing experience.
This initiative underscores the importance of advertising in supporting content creators and ensuring that the platform remains accessible to a global audience.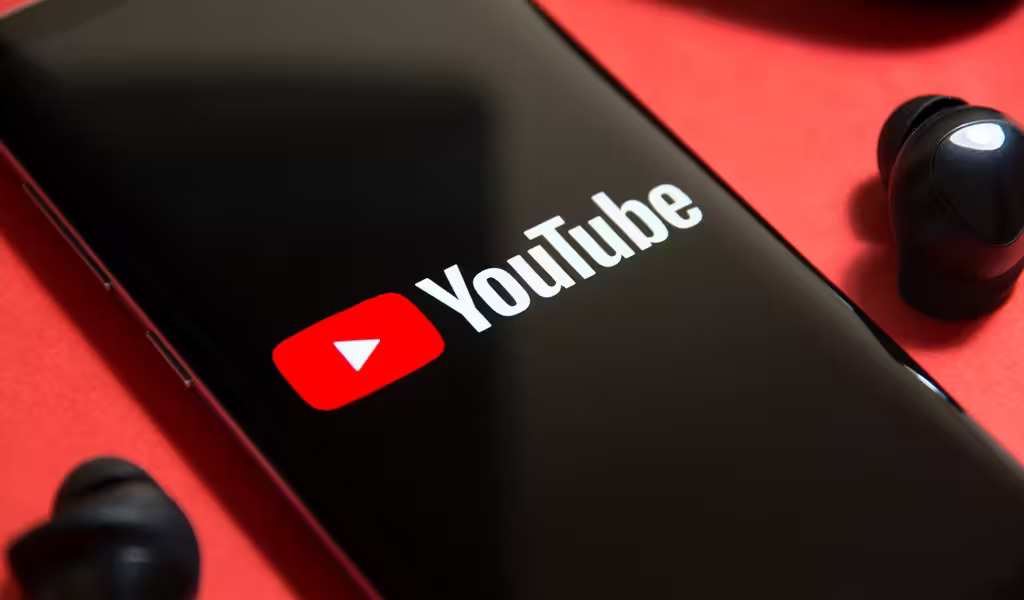 What Happens If I Continue To Use Ad-Blockers?
YouTube is taking a firm stance against attempts to circumvent its ad blocker ban.
Users who are found to be trying to work around this ban will receive multiple notifications urging them to enable ads on the platform.
If users persist in using ad blockers despite repeated requests to disable them, YouTube may ultimately disable video playback.
This strategy is consistent with how other publishers handle ad blocker use.
YouTube is actively discouraging the use of ad blockers to protect its ad-based revenue model, which supports content creators and ensures that the platform remains freely accessible to users.
The platform's approach aims to strike a balance between user preferences and the financial sustainability of the platform and its content creators.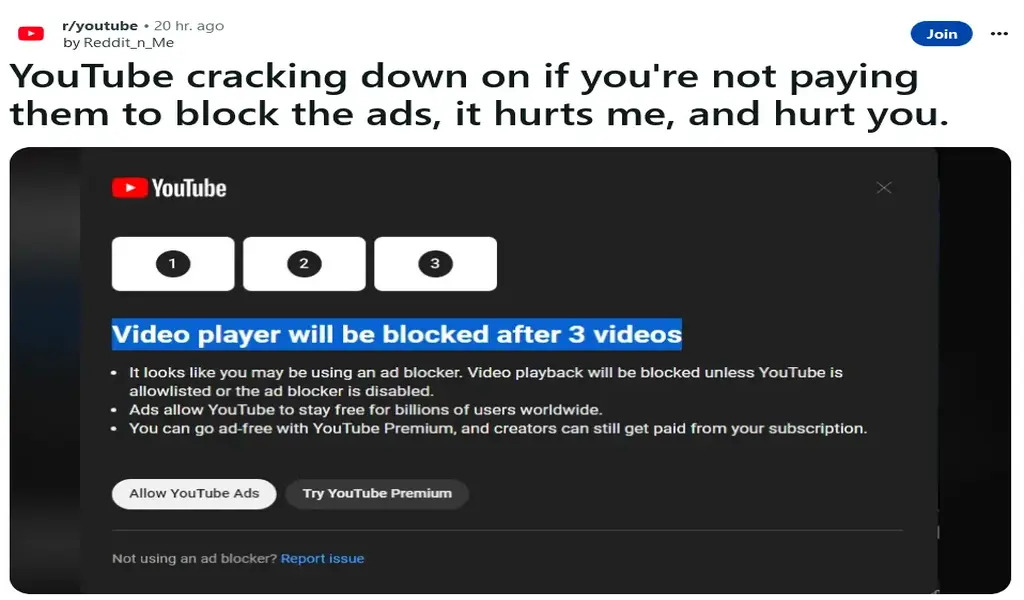 How Can I Watch Youtube Videos WIthout Ads?
YouTube employs advanced technology to detect ad blockers and request users to disable them. If you wish to continue using YouTube without disruption, there are a few strategies you can consider:
Allowlisting:
Many ad blockers offer a feature known as "allowlisting" or "whitelisting." This allows users to specify certain websites where ads are permitted to appear. By adding YouTube to your allowlist, you can watch content on the platform without encountering ad-blocking restrictions. While this means you'll see ads on YouTube, it's a way to support content creators and the platform while still enjoying their content.
Separate Browser:
Using a separate web browser for specific activities is a practical approach. You can have one browser with an ad blocker enabled for general web browsing while using another browser without an ad blocker for accessing websites like YouTube. This separation allows you to tailor your online experience based on your preferences.
YouTube Premium:
YouTube Premium is a subscription service offered by YouTube. By subscribing to YouTube Premium, you gain several benefits, including an ad-free viewing experience. This subscription service also includes other features like offline downloads and access to exclusive content.
Adblock Plus Recommendations:
Adblock Plus, an ad-blocking service, suggests a proactive approach. It recommends keeping your filter lists up to date, as these lists contain rules for blocking ads. By ensuring that your extension has the most recent filter lists, you can improve the effectiveness of your ad blocker.
Additionally, Adblock Plus advises adding YouTube to your Allow List, a feature available in some ad blockers.
By doing this, you can exempt YouTube from ad blocking, allowing you to watch content on the platform without interference.
This approach supports content creators while still benefiting from ad blocking on other websites to block pop-ups and other intrusive ads.
These strategies offer users options to manage their experience on YouTube, considering their preferences for ad viewing and the importance of advertising revenue for content creators and the platform itself.
Users can choose the approach that aligns best with their priorities and needs.
MORE RELATED VIDEOS:
What To Watch This Weekend: Best TV Series & Movies [Oct 13th – Oct 15th]
Best Buy To Cease Selling Physical Media, Including Video Games And Blu-Rays In 2024
Renowned British Filmmaker 'Terence Davies' Passes Away At 77