Repair Corrupt Excel Files Quickly with This File Repair Tool Now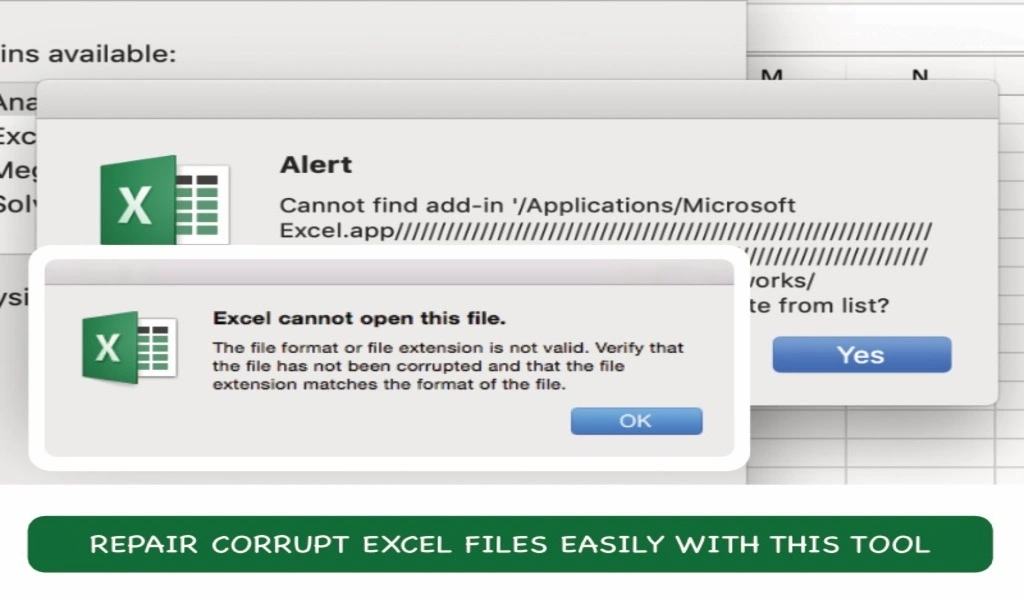 All day long, people stare at business documents comprising PDFs, Word documents, Excel files, PowerPoint presentations, and more. And, every day, people around the world suffer from corrupt and damaged files that refuse to open or work properly. They search for Word document repair tools, Excel file repair tools, even pdf repair tools online in a frantic bid to get the file to open and work as expected and carry on with their day. Would it not be nice to have an all-in-one file repair tool – the only file repair tool you will ever need to repair all kinds of files? Oh, yeah! Read on and find out about it!
Part I: Excel File Not Opening? Here's Why.
One search for how to repair excel file online, you come across all kinds of tools promising to work miracles for your files. But, nobody tells you why your Excel file refuses to open. This is important, since knowing the reasons why Excel file does not open may just help you avoid the situation in future. Here are few reasons why Excel files may have been damaged/ corrupted.
Excel File Damaged in Email or USB Drive
A lot many times, people, in a hurry, transfer files to flash drives and simply yank them out while rushing off to that meeting. Well, guess what? That is one of the most common reasons you end up with a damaged file. Same goes for sending emails with attachments and then closing the windows before everything is sent. The receiver receives a corrupt file and wonders what happened.
Virus and Malware Damage
Virus and malware can cause damage to not just your Excel files but the whole system in general if they can have at it, and while at it, take down files and data on any computer attached to the network as well. There's a reason why corporations and serious businesses invest in antivirus and malware solutions.
Converted Excel Files
CSV, XLS and XLSX are three most commonly used file formats in the Excel world. Normally you can simply save between these formats within Excel itself using the Save As option, but if someone used an online file converter or you did for some reason, that conversion might not have gone how Excel expects it to and could cause issues.
App and System Crashes
While working on files, if the app crashes, there is a high chance you will lose data and maybe the whole file will end up corrupted. There are redundancies built into software to prevent that from happening, but sometimes, things just happen. Same goes for system crashes; if your operating system crashed or froze and you had to hard reboot the system form the mains, chances are you may end up with corrupt files, especially the ones that were open when the system crashed.
Part II: The Ultimate File Repair Tool to Repair Corrupt Excel Files – Wondershare Repairit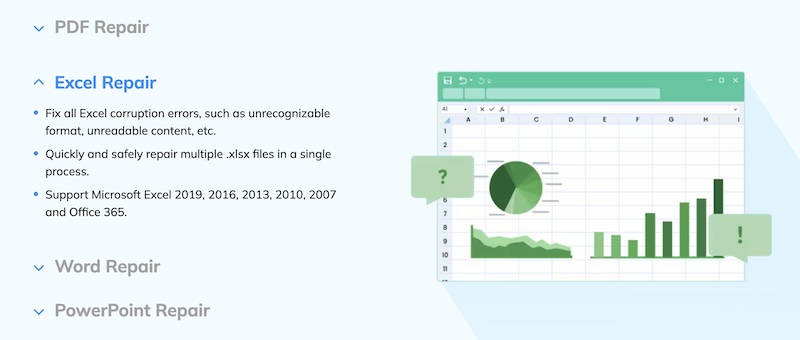 Wondershare Repairit is an all-purpose file repair tool that elevates your file repair experience in a way you never thought could be possible. Here is a tool that can repair any kind of file you throw at it, no discrimination between file formats! What's more, there are also special tools built in, designed to repair photos, videos, even audio files, and there is even a dedicated old photo restorer and colorizer!
Here are some Repairit features you will love:
– repairs any file format you can think of.
– has a Mac app, Windows app, and can even run in a web browser as a cloud app!
– has an easy-to-use interface people can use with minimal number of clicks and don't need a user manual to understand.
Here's how to use Wondershare Repairit and repair an Excel file.
Step 1: Launch Repairit and select More Types Repair > File Repair.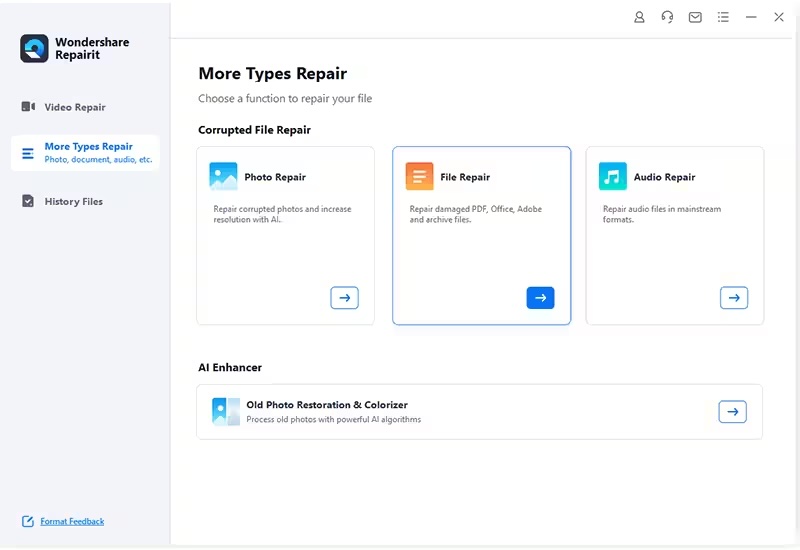 Step 2: Add the damaged Excel files in the app window by dropping the files into the app or browsing using the Add button.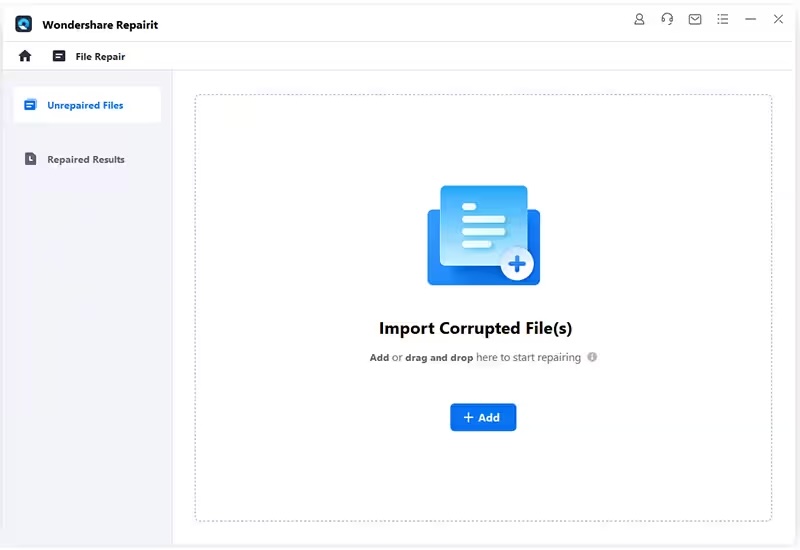 Multi-format Support and Batch Processing
Users will find that Repairit does not compromise on professional-grade features. You don't have to repair a single file per instance, you can queue files to repair and go grab that coffee you've been wanting to. And, what's more, you can also queue multiple file formats, so you can club DOCX, PPTX, PDF, JPG, MP4, any file format together and Repairit will repair it in the order they were queued.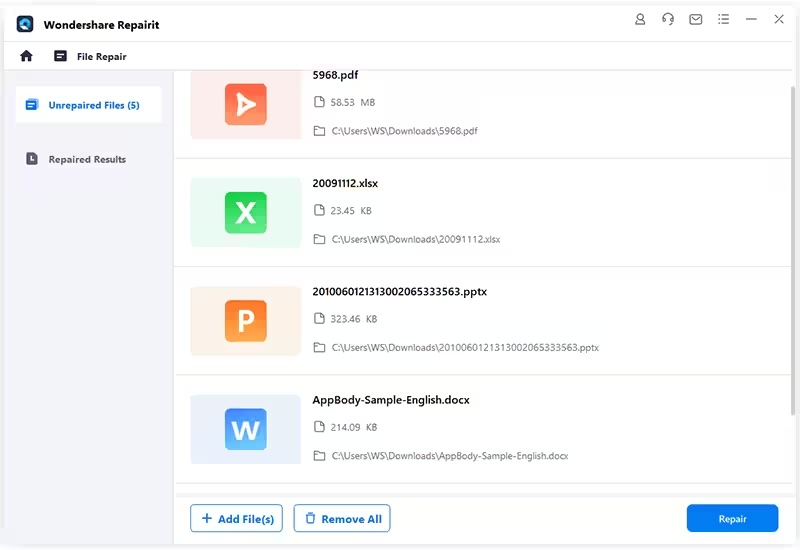 Repairit shows the location, size and file name when they are added.
Step 3: Click Repair.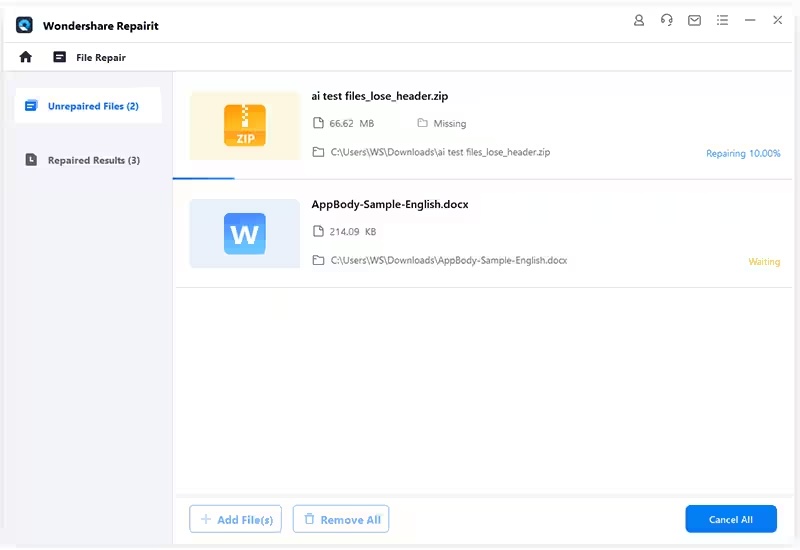 Real-time progress status is visible while Reparit repairs the files, and when the process is complete, click OK to end.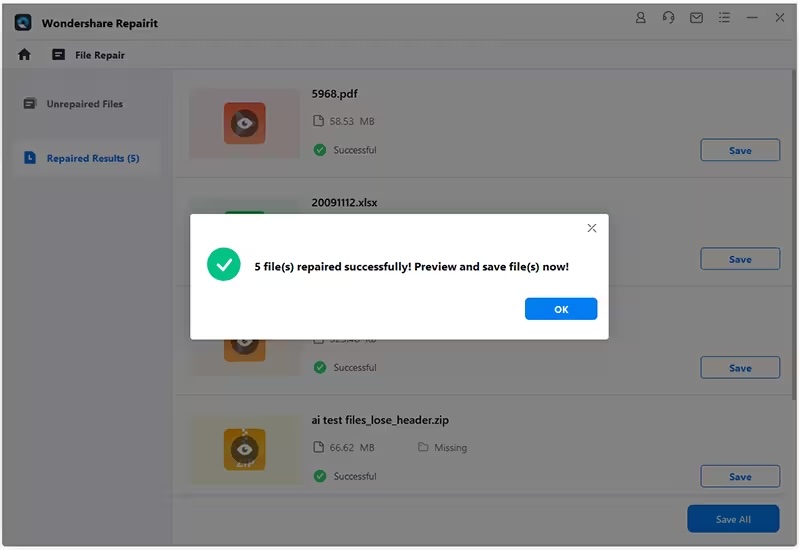 FILE PREVIEW FEATURE
Repairit includes a useful file previewer that you can use to view file contents before saving the file.
Step 4: Click Save All and choose the save location. If you are previewing a file, click Save instead.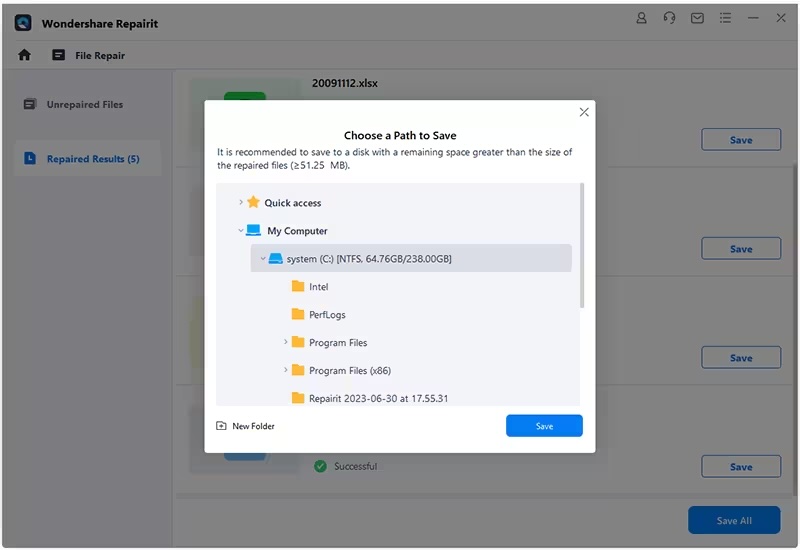 Click Save and then OK to finish repairing files with Wondershare Repairit.
Part III: File Handling Tips
Repairing an Excel file is cool, but you know what is even better? Not having to spend time repairing it! Here are some general file handing tips to ensure you do not cause data loss and corruption where you can avoid it!
Tip 1: Always Check Files on Location After Copying/ Moving
Whenever you copy or move a file from one location to another, what's the best way to check if the operation was successful? You simply open the file from the new location. If the file opens and works correctly, you know everything is alright. This is important for files transferred to USB drives for distribution to avoid nasty surprises during that important meeting!
Tip 2: Always Eject USB Drives from the OS
You might think it is okay to pull USB drives out of the computer once the files are transferred and it might have worked for you so far, but even the famed Irish luck can be pushed a little too far. Always eject an external drive from the OS before pulling it out physically.
Tip 3: Always Use an Antivirus/ Antimalware
Using an antivirus/ antimalware software not only prevents your data but also the data on other computers. If you transfer an infected file onto a USB drive and that drive is plugged in a laptop or computer that is either not protected or not updated to detect the infection, you will have caused data corruption and loss on that device, too. This is also incredibly unprofessional when running your own business and can greatly dent your image before your clients, especially ones who were at the receiving end of that infected file.
Closing Words
There are tools on the internet claiming to repair Excel files online, but do you really want to put your data, sensitive or not, online in the hands of an entity you do not know? How about instead of that you trust a company that has been in the business for nearly 30 years now, churning out a rich portfolio of software that is not only highly regarded by professional reviewer community but by millions of users who have benefitted from the software? Try Wondershare Reparit in case you need a file repair tool that repairs any file format you can think of.
Wondershare Repairit Free Download:
Click below to download Wondershare Repairit.
SEE ALSO: Microsoft Teams Unveils Revamped And Speedier Chat Client For Windows And Mac Users