Apple Introduces Innovative UV Light Verification System To Combat Counterfeit iPhone 15 Packaging
(CTN NEWS) – Apple has introduced enhanced security measures for the packaging of its iPhone 15. These measures provide a new way for both retail employees and customers to verify the authenticity of the device, though it does involve the use of a UV light.
This move is aimed at tackling the growing issue of counterfeit iPhones, which are frequently packaged in convincing replica boxes.
In essence, Apple has introduced a cutting-edge hidden watermark system for verifying iPhone 15 authenticity.'
The boxes of the new iPhone 15 are equipped with a security system that displays holograms under a UV light. This is a measure introduced by Apple to recognize real boxes and prevent people from being scammed pic.twitter.com/oBhQoc5IDI

— Majin Bu (@MajinBuOfficial) September 21, 2023
Verifying iPhone 15 Authenticity: A Closer Look at Concealed Watermarks and QR Codes
A video, initially shared by a leaker known as Majin Bu on X and originally posted on Weibo by user @Pengnone, demonstrates a unique process.
In the video, an individual employs a UV light to illuminate the iPhone 15 box, revealing concealed watermarks and a QR code designed to assist in verifying the authenticity of the device.
There is some concern that counterfeiters may attempt to replicate this watermark. However, the heightened security likely stems from the QR code itself, which presumably contains a system-verifiable code that would pose a significant challenge for scammers to duplicate.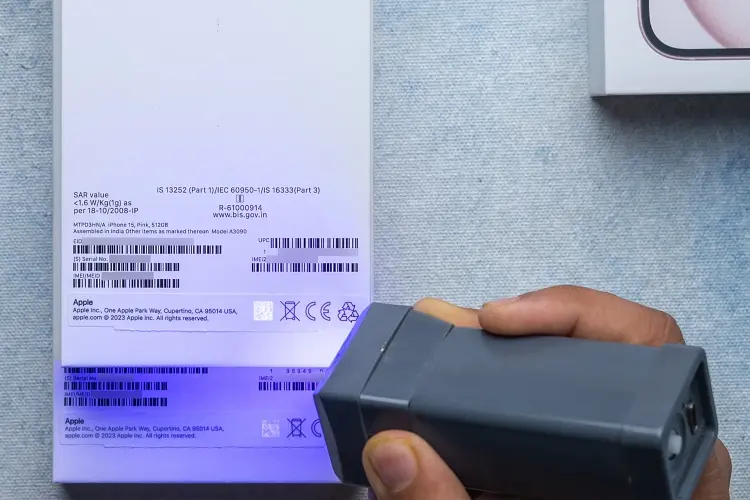 For customers purchasing their iPhones from reputable, well-established retailers, worries about device authenticity should be minimal. However, those involved in the resale market or buying from smaller vendors may face a greater risk of encountering counterfeit devices.
When uncertain, consumers are advised to cross-check the device's serial number with the information provided on the packaging.
Additionally, scrutinizing the box for any signs of tampering or manipulation can serve as an extra precautionary measure to detect potential scams.
The iPhone 15 lineup is currently available for pre-order and is set to hit stores on Friday, September 22. Given the high demand for these devices, it is imperative for buyers to stay vigilant, as scammers may be particularly active during the initial release phase.
RELATED CTN NEWS:
Rebranding: Facebook's Logo Gets A Modern And Sophisticated Revamp
Elon Musk Urges Taylor Swift To Release Music "Exclusively" on X, Prompting Swiftie Reactions
Toshiba's 74-Year Stock Market Era Comes To An End As Investors Secure Majority Stake