UCLA Defeats USC 38-20 In Caleb Williams' Final College Game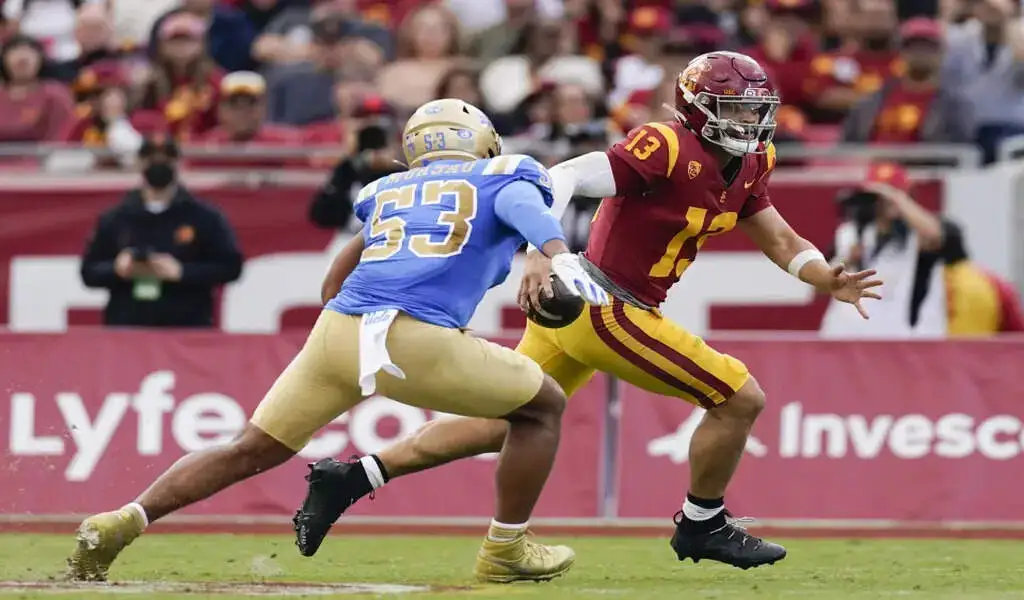 (CTN News) – The final game for Caleb Williams in a USC uniform did not go as planned.
The Trojans dropped to 7-5 on the season after being thrashed 38-20 by crosstown rival UCLA.
It was USC's regular-season finale since it started its season in Week 0. It remains to be seen if Williams – the reigning Heisman Trophy winner and potential No. 1 pick in the 2024 NFL Draft – will play in the bowl game.
Lincoln Riley's Trojans concluded a brutal second half of the season with Saturday's loss. To end the regular season, USC lost five of six games after starting 6-0. A one-point win over Cal was the only victory during that period. Besides the 50-49 victory in Berkeley, USC lost to Notre Dame, Utah, Washington, Oregon, and UCLA.
After Notre Dame's 48-20 loss on Saturday, the loss to UCLA on Saturday was the second-most lopsided of the season. Brenden Rice caught a 74-yard touchdown pass from Williams in the first half, but UCLA led 14-10 at halftime.
During the third quarter, the Bruins scored two touchdowns in 16 seconds to increase their lead from 14-10 to 28-10. Ethan Garbers' first touchdown pass was a seven-yard strike to T.J. Ethan Garbers' first touchdown pass was a seven-yard strike to T.J. On the ensuing possession, USC's MarShawn Lloyd fumbled and returned it for a touchdown.
The two-score deficit just couldn't be overcome against UCLA's stalwart defense. Despite a third-quarter field goal and a touchdown in the final minutes when the game was out of reach, the once-vaunted USC offense fell victim to the ferocious UCLA pass rush.
In the end, Williams completed 31 of 42 passes for 384 yards, but it wasn't enough.
Meanwhile, Garbers' sound decision-making and UCLA's bruising rushing attack allowed UCLA to extend its lead. Riley fired defensive coordinator Alex Grinch a few weeks ago, but the Trojans' defensive problems have not been resolved. Despite Garbers' three touchdown throws, UCLA rushed for 199 yards, making it the eighth time this season the USC defense has allowed 190 or more rushing yards.
USC's hiring of Riley from Oklahoma was a major coup, and he led them to the College Football Playoff last year with Williams winning the Heisman Trophy. In the 14 games since the 11-1 regular season record last fall, the Trojans have gone 7-7. For the first time as a head coach at both OU and USC, Riley has a three-game losing streak after Saturday's defeat to UCLA.
To get the Trojans back on track, Riley has a lot to figure out with a move to the Big Ten ahead. Williams won't be able to bail out the USC defense going forward, barring a massive surprise.
SEE ALSO:
QB Shedeur Sanders Leaves The Game Early Despite Another Defeat