Novak Djokovic Wins the US Open for His 24th Grand Slam Title
Novak Djokovic has won his 24th Grand Slam singles title by defeating Daniil Medvedev in the US Open final in New York. The 36-year-old Serb prevailed 6-3 7-6 (7-5) 6-3, but the straight-set scoreline hides how far he had to dig.
A relaxing first set was followed by a punishing second set that lasted one hour and 44 minutes. After exchanging breaks early in the third, Djokovic grabbed command and equaled Margaret Court's 50-year record.
"It obviously means the world to me," Djokovic said after winning his 24th major. "I'm living my childhood dream of competing at the highest level in this sport, which has given my family and me so much despite our difficult circumstances."
"I never thought I'd be here, but I thought I had a chance at history in the last couple of years." Why not seize it when it is offered?"
The second seed, Djokovic, was physically exhausted in the long second set, but he displayed all of the markers of greatness to win his fourth US Open title.
Djokovic, who broke Rafael Nadal's record of 22 men's major titles earlier this year, has equaled Australia's Court at the second attempt after losing the Wimbledon final in July.
Novak Djokovic Won Three Gran Slams in 2023
He has won three of the four Grand Slam championships in 2023, making him the first to accomplish this feat four times. Now, the incoming world number one has the opportunity to exceed Court in the Australian Open in January, where he has already won a record 10 titles.
It seemed fitting that Djokovic won another lengthy rally to set up championship point and, after being forced to wait to serve by boos from the crowd, sealed victory when Medvedev blasted a forehand into the net.
"I would sign the paper right away if someone told me I'd win three out of four and play in the Wimbledon finals this year," Djokovic remarked.
"I'm a little disappointed I didn't win the Wimbledon final." But I have many more reasons to be happy and content than to regret something."
Novak Djokovic demonstrates yet again why he should always be considered. When Djokovic lost in the Wimbledon final to 20-year-old Carlos Alcaraz, it felt like a change of guard in the men's game.
But, even at the end of his career, Djokovic has proven that he can never be written off. Novak Djokovic has won 8 of the last 12 majors he has competed in and will retake the world number-one spot from Alcaraz on Monday.
Get myself in the best shape possible
"It's not my interest or business to really review what everyone talks about or thinks, whether there is a passing of the torch, or whatever you want to call it, happening or not happening in the sport," he explained.
"I concentrate on what I need to do and how I can get myself in the best shape possible to win the biggest trophies in our sport." That is what I am concerned with."
Djokovic was on point from the start of the final on Sunday, playing calmly and perfectly to break for a 2-0 lead, with Medvedev looking tired as he fell 3-0 adrift. With Medvedev far behind the baseline while receiving, Djokovic wisely chose to serve-volley his way to 4-1, a move he used throughout, and demonstrated his all-around ability to close out the first set.
Novak Djokovic had only lost from a set up once in 73 prior appearances at the US Open, in the 2016 final against Switzerland's Stan Wawrinka.
At the start of the second set, Djokovic's persistent return continued to elicit errors from Medvedev, who was serving poorly and making careless errors.
The persistent pressure resulted in another break point for Djokovic in the seventh game, but Medvedev held as Djokovic collapsed on the Court following an energy-sapping 31-shot rally.
Djokovic appeared physically troubled as he held a long game for 4-4 and survived Medvedev's first break point of the match.
The Russian third seed was now sticking around longer in rallies, testing Djokovic and producing a set point at 6-5, which the Serb saved with another serve and volley.
But Djokovic eventually crossed the finish line, ensuring that a tie-break would decide a long set.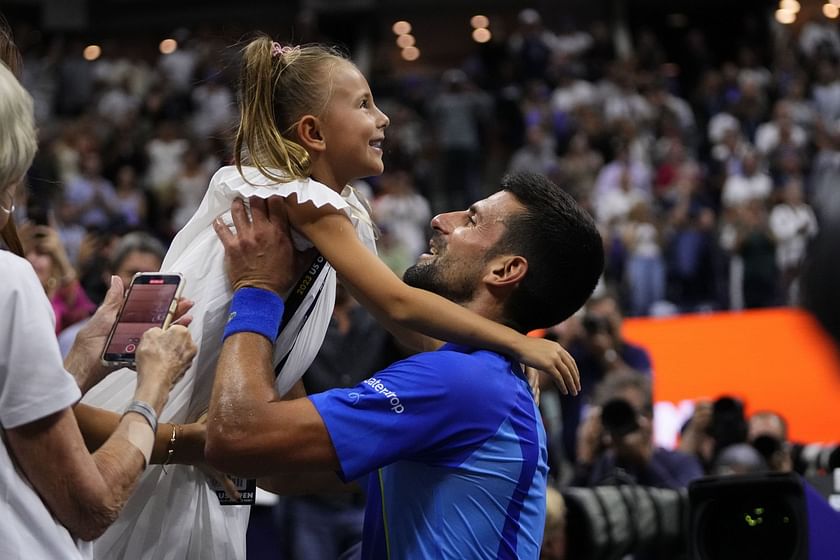 Djokovic thanked his family
Despite Novak Djokovic's tenacity, Medvedev led 5-4 when a spectacular 23-shot point finally went his way, only for the veteran to lock in and win the next three points for a two-sets-to-love advantage.
It was evident that Medvedev needed to even the match by winning the second set to have a realistic chance of winning, and the sense of impending doom was heightened by the Russian's need for treatment for a shoulder injury before the third set.
He put it back on serve at 3-2, but Djokovic broke again quickly and confidently claimed another legendary victory.
Djokovic's celebration of the milestone number 24
Novak Djokovic grieved as he knelt on the Court after shaking hands with his opponent before pulling out his daughter Tara from the audience.
More tears flowed as he celebrated with his family, including his parents, Srdjan and Dijana, wife Jelena, son Stefan – and Hollywood star Matthew McConaughey.
Novak Djokovic thanked his family for their "sacrifices" as a child growing up in war-torn Serbia in the 1990s.
"The odds were stacked against me and my family." "It wasn't easy or cheap, but I fell in love with tennis," he explained.
"No one in my family played tennis, but my family showed incredible resilience and belief."
"My wife, my kids, my team, this is your trophy just as much as it is mine."
Something incredibly special
Novak Djokovic also donned a T-shirt honoring NBA legend Kobe Bryant, a buddy who died in a helicopter crash in 2020 and wore the number 24 in his playing days. "When I was struggling with injury and trying to work my way back to the top, Kobe was a close friend, and we talked a lot about the winners' mentality."
"He was one of the people I relied on the most; he was always available for help in a friendly manner."
"His passing deeply hurt me, and 24 is the jersey he wore at the Lakers, so I thought it would be nice to acknowledge him."
Analysis of 'incredible moment' for super-human' Djokovic
Coco Gauff won her first Grand Slam women's singles victory on Saturday at the start of her thrilling career, while Djokovic's triumph generated passion for different reasons, with the Serb nearing the end of his.
Former British number one Annabel Croft said fans had witnessed "something incredibly special" as she praised Djokovic's feat.
"We saw him tie Margaret Court with 24 titles." It took him a while to get there, but he did. "Isn't he superhuman?" She stated this on BBC Radio 5 Live.
"To be able to do it, he had to put himself through the pain barrier." Medvedev couldn't have played much better. I like his character strength, but I also admire the layers he discovered in his game. It was flawless."
Former American player Jeff Tarango described the game as an "incredible moment" that "no one will ever see again."
"I don't think any other human could have done what he did in this second set, stumbling through it, falling over many times, and coming back again and again."
"He grew up playing tennis in an empty swimming pool and became the greatest tennis player of all time." You can try to psychoanalyze all you want, but the fact is that he has put all the puzzle pieces together. He's not going to get any better."