Sikkim Flash Floods: Search And Rescue Operation Underway For Over 100 Missing, 14 Dead In India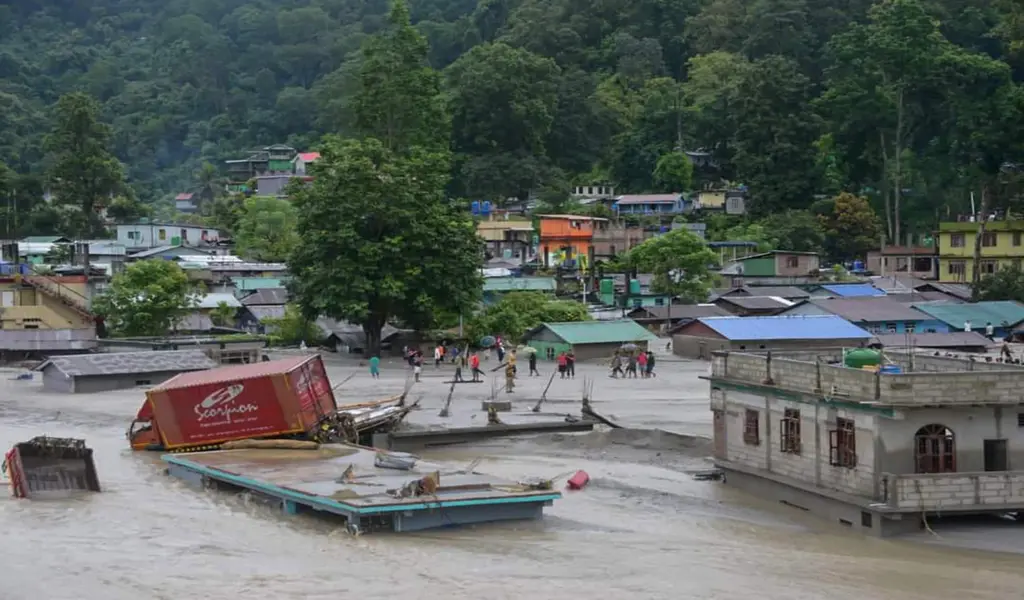 (CTN NEWS) – A search and rescue mission has been initiated to locate over 100 missing individuals in India's northeastern region, following a devastating flash flood that struck the Himalayan state of Sikkim on Wednesday.
This tragic event claimed the lives of at least 14 people, causing extensive damage to roads and bridges, as reported by the state government.
Sikkim, often referred to as the "roof of the world," is an ecologically sensitive area prone to frequent flash floods, landslides, and flooding, making such occurrences not uncommon.
However, scientists are unequivocal in their assertion that extreme weather events are growing both in frequency and intensity due to the accelerating climate crisis, largely driven by human activities.
The calamity was triggered by a sudden and destructive cloudburst over Lhonak Lake in the northern part of the state.
This abrupt deluge sent swiftly moving torrents of water coursing down the Teesta River in Sikkim's Lachen valley, causing water levels to surge to heights 15-20 feet above normal. A cloudburst is characterized by an exceptionally rapid and intense rainstorm.
Videos captured from the northern region of the state depict the muddy deluge swiftly inundating the river and engulfing homes, leaving them covered in mud and debris.
While search and rescue operations were ongoing, the Indian Space Research Organization (ISRO) released dramatic images illustrating the magnitude of water discharged from Lhonak Lake following the cloudburst.
Lhonak Lake, a substantial glacial lake resembling a bullet in shape, is situated at the base of a melting glacier.
Analysis of these images revealed that over 60% of the water within the lake had drained out as a consequence of the extreme rainstorm, prompting a glacial lake outburst.
This phenomenon occurs when a glacial lake becomes excessively full or when the surrounding land or ice gives way, leading to the abrupt release of water and debris down the mountainside.
One satellite image taken on September 28 showed the lake holding approximately 167.4 hectares of water, while another image from October 4 indicated that the lake had reduced by more than half, retaining around 60.3 hectares of water.
Accompanying the images, ISRO stated, "It is observed that the lake has burst, and about 105 hectares of the area has been drained out… which might have triggered a flash flood downstream in the Teesta River."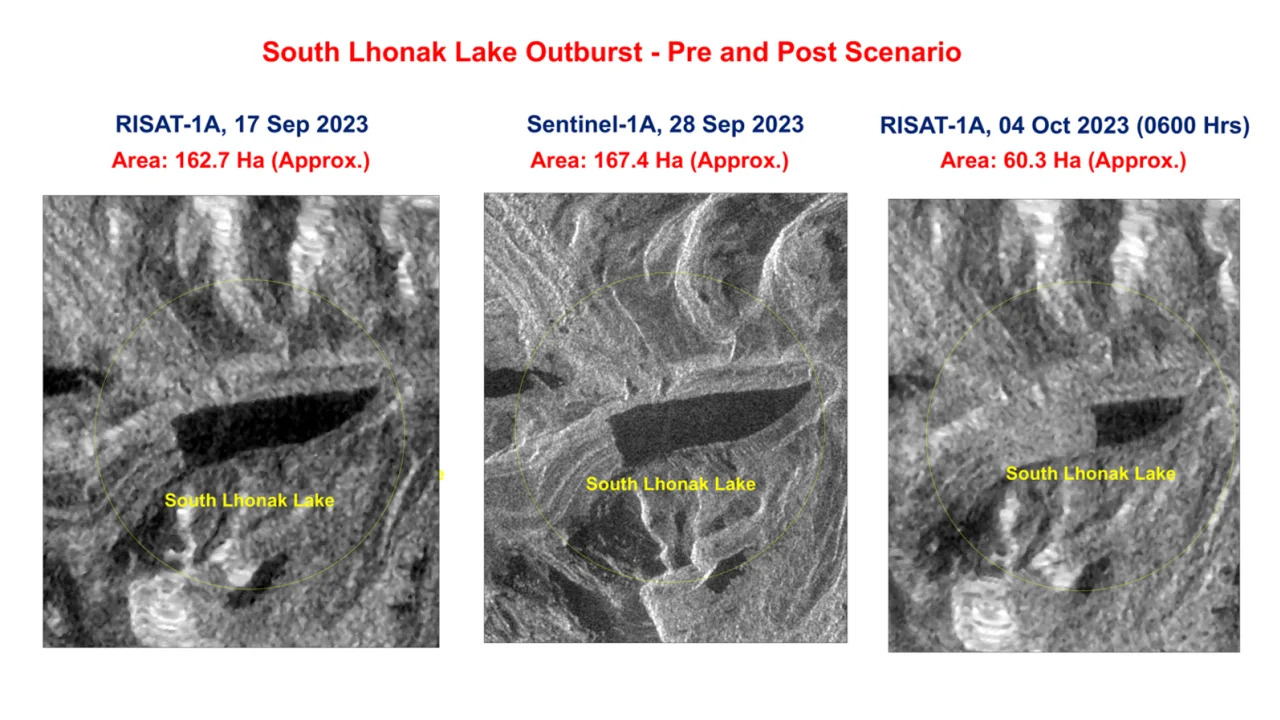 Persistent Heavy Rainfall Hampers Search and Rescue Efforts in Sikkim Amid Flash Floods
The relentless heavy rain is impeding search and rescue efforts in Sikkim, exacerbating the dire situation caused by flash floods. In Pakyong, a city in Sikkim, the floods claimed the lives of seven individuals, and 59 people are currently missing, according to the Sikkim government.
Among the missing are numerous members of the Indian Army, prompting the initiation of a massive search and rescue operation.
However, these efforts have been severely hindered by the continuous downpour and flooding that have rendered roads impassable and swept away bridges, as confirmed by the army.
As of now, one soldier has been successfully rescued and is in stable condition, but 22 others remain unaccounted for.
The flooding has also resulted in the collapse of at least 11 bridges, further complicating rescue operations and isolating remote areas, as reported by the government.
In Gangtok, the state capital and largest city, three fatalities have been confirmed, with 22 individuals still missing.
Over 2,000 people have been evacuated from the affected areas, and relief camps have been established across the state to assist more than 22,000 people who have been affected by the flash floods.
The India Meteorological Department has issued a forecast indicating that heavy rainfall is expected to persist in the eastern and northeastern regions of the country, including Sikkim, for the next two days.
Sikkim's Chief Minister, Prem Singh Tamang, has mobilized emergency services in the affected areas and conducted an assessment of the damages while engaging with the local community.
He mentioned visiting Singtam, a town situated about 30 kilometers (18 miles) from Gangtok, which has also been impacted by the flooding.
Indian Prime Minister Narendra Modi referred to the situation as an "unfortunate natural calamity" and pledged "all possible support in addressing the challenge."
In a message on X (formerly Twitter), he expressed his prayers for the safety and well-being of all those affected by the disaster.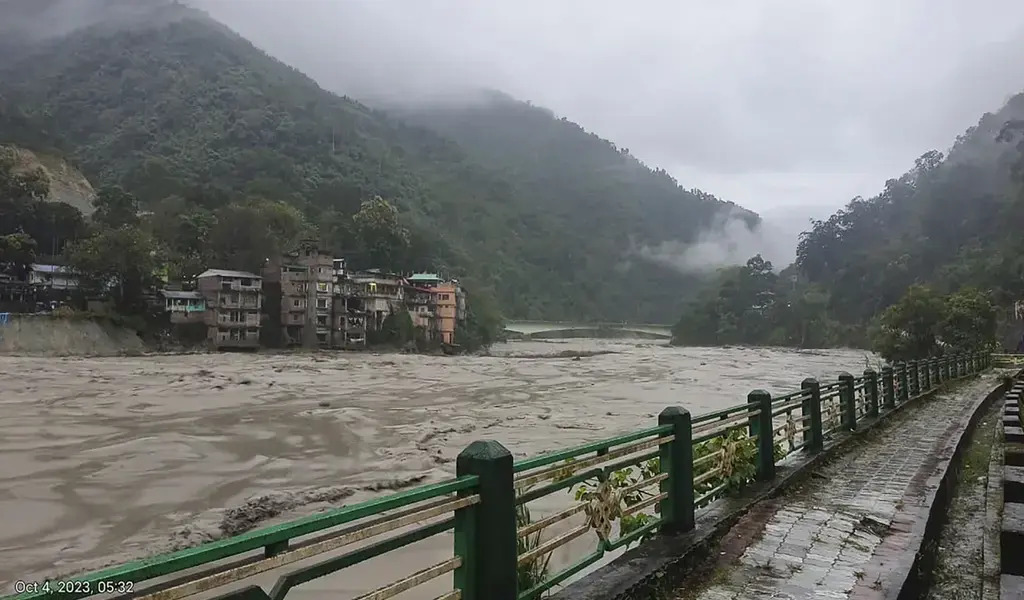 The imminent threat of glacial outbursts is poised to impact millions of people in the Himalayan region.
These glaciers play a crucial role in sustaining the freshwater supply for approximately two billion individuals, while numerous communities rely on glacial meltwater for crop irrigation.'
Himalayan Glaciers Face Alarming Threat: Up to 80% Ice Loss by 2100
However, a recent report has sounded an alarming warning, suggesting that the Himalayan glaciers could shed up to 80% of their ice by the year 2100 due to rising temperatures.
This heightened vulnerability to climate change significantly increases the likelihood of various disasters, including floods, landslides, avalanches, and droughts.
As glaciers across the globe continue to rapidly melt, approximately 15 million people residing near glacial lakes face the looming threat of catastrophic glacial lake outbursts.
A study earlier this year highlighted that more than half of these individuals are concentrated in just four countries: India, Pakistan, Peru, and China.
These outbursts, likened to an "inland tsunami," have devastating impacts akin to the sudden collapse of a dam, according to experts cited by CNN.
These destructive floods often occur with minimal warning, and past instances of glacial lake outbursts have resulted in the loss of thousands of lives and the destruction of property and critical infrastructure.
In 2021, a catastrophic event unfolded when a Himalayan glacier collapsed in Uttarakhand, unleashing an avalanche of water, dust, and rocks down a mountain gorge. It surged through two hydroelectric projects, leading to the tragic loss of at least 38 lives.
In the northern regions of India, communities have been sounding the alarm for decades regarding unregulated commercial development, deforestation, and the consecutive construction of dams in this fragile ecosystem.
These activities heighten the risk of disasters, including flooding and landslides, further underscoring the urgent need for responsible environmental stewardship in the region.
RELATED CTN NEWS:
Alleged Tupac Shakur 1996 Murder Mastermind Duane 'Keffe D' Davis Makes First Court Appearance
[WATCH] Biden Administration Approves $9 Billion In Student Loan Forgiveness For 125,000 Borrowers
Nobel Prize In Medicine Awarded To Pioneers Of mRNA Technology Behind COVID-19 Vaccines