Myanmar Military Shells Refugee Camp Killing 29 Women and Children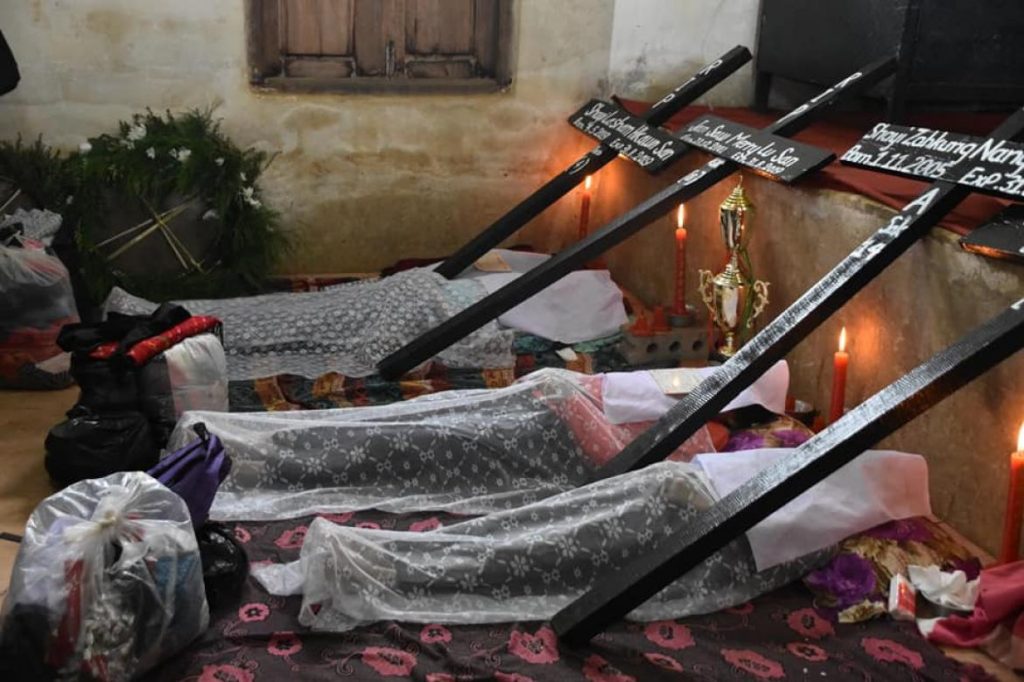 According to media and sources, an artillery strike on a refugee camp near Myanmar's border with China killed at least 29 people, including women and children, in one of the bloodiest strikes on civilians since the resumption of military authority.
Following a coup in 2021, Myanmar has been mired in a deadly battle in numerous regions, with ethnic minority armies and a resistance movement seeking to destabilise military control following a fierce crackdown by security forces.
Sources, notably the alternative National Unity Government (NUG), blamed the military for the shelling, which occurred near midnight on Monday in Kachin State.
According to a Myanmar's military junta official, they were not to blame.
"We're looking into it." "We always take care of border peace situations," Zaw Min Tun told People Media, adding that the explosion could have involved an ethnic rebel group's own armaments.
According to sources, artillery struck a camp for internally displaced people around 5 kilometres (3 miles) from a post in the border town of Laiza run by the Kachin Independence Army (KIA), which has been at odds with Myanmar's military for years.
According to Reuters, 30 people died. The death toll could not be independently verified by Reuters, and KIA spokespersons could not be reached for comment immediately.
The NUG decried what it called a barbaric onslaught on civilians and demanded that the international community intervene to stop the atrocities and bring Myanmar's generals on trial.
"This act of the military council is a war crime and a crime against humanity," NUG spokesperson Kyaw Zaw said, adding that an attack on the Chinese border demonstrated the junta's disregard for its neighbor's call for peace and stability.
Myanmar Ethnic Groups Fighting Junta
The United Nations in Myanmar expressed its serious worry about the incident on Facebook, stressing that "civilians should never be a target."
The Chinese Foreign Ministry did not react quickly to a request for comment.
Laiza is the capital of KIA, one of the most populous of the hundreds of ethnic groups that have been fighting the military for decades.
It is located near the Chinese border and is home to many civilians who live in and around the town in displacement camps. According to the UN, the violence in Myanmar has displaced over one million people.
According to a student activist who is currently in Laiza, the explosion "shaken" the entire town, and residents were evacuating.
"We're on high alert because we're concerned about a second bombing," said Justin, who declined to give his last name. "The locals are worried about that and so people are relocating now."
Kachin media released a number of horrific photographs of destruction on Facebook, which Reuters could not immediately confirm. One image showed fatalities on the ground, while another showed more than a dozen corpse bags lined up. Others showed guys in military uniforms rummaging amid ruins and a man holding a young child's body.
The incident was the bloodiest since an April air attack in Myanmar's dangerous Sagaing area killed dozens of people, including civilians.
Khon Ja, a local activist with the Kachin Peace Network Civil Society group, told Reuters that when she visited the local hospital, she was told that 29 people had died and 59 had been injured.
The 2021 Myanmar coup d'état occurred on February 1, 2021, when the military, known as the Tatmadaw, seized control of the country in a coup. Myanmar, commonly known as Burma, has been undergoing a shaky transition to democracy since 2011, when the country's long-ruling military junta began to relinquish control. The National League for Democracy (NLD) of Aung San Suu Kyi had achieved a landslide win in the 2020 general elections, which were largely interpreted as an indication of the people's support for ongoing democratic reforms.
However, the military falsely claimed significant voter fraud in the elections and arrested Aung San Suu Kyi and other government members on February 1, 2021, announcing a state of emergency and seizing control of the country. They justified the coup by alleging that the elections were not fair.
The coup provoked huge protests and civil disobedience activities across Myanmar, with people demanding the reinstatement of civilian authority and the liberation of political detainees. The military retaliated with a bloody crackdown, deploying security troops to quell unrest. This led in several civilian casualties and violations of human rights.
The world community condemned the coup and urged Myanmar to return to democracy. The military junta was sanctioned, and diplomatic efforts were made to find a peaceful end to the problem. Despite these attempts, Myanmar remained in a state of political turbulence and unrest as of my latest knowledge update in September 2021, with ongoing protests and a humanitarian crisis.
"The bomb was too strong … the village was totally destroyed and disappeared," she went on to say.