Chinese Fans Hit With Rubbish at Fifa 2026 World Cup Cup Qualifier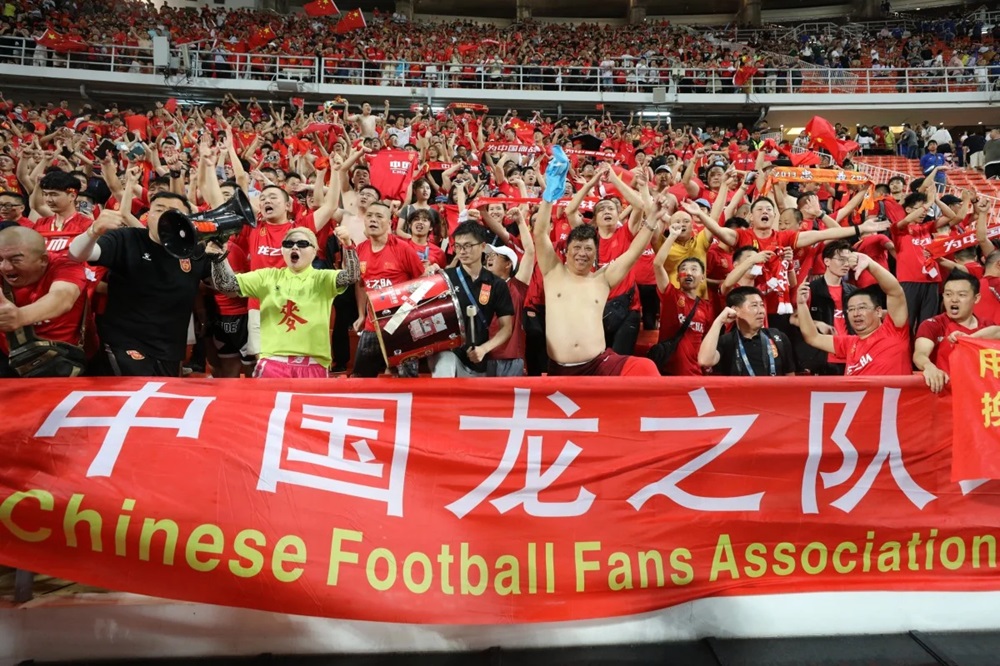 Chinese fans hit by water bottles and garbage from Thailand fans as security step in after the Fifa 20260 World Cup Cup qualifier match at Rajamangala National Stadium in Bangkok. China's men's national football team began their Fifa 2023 World Cup qualifying campaign with a 2-1 away victory over Thailand.
Unfortunately, there were unpleasant scenes at the final whistle at Bangkok's Rajamangala National Stadium, when China came from behind to win all three points in their group C match, as the second phase of Asian qualification for the 2026 championships began.
Sarach Yooyen scored from long range for the world No 112-ranked hosts after 23 minutes, but Wu Lei equalized with a tap-in just six minutes later. In the 74th minute, substitute Wang Shangyuan headed home the winner for Aleksandar Jankovic's visitors.
As China's players said their goodbyes to the visiting fans and exited the field, television footage showed home supporters throwing trash and unfinished drinks bottles into the away section while also attempting to irritate them with physical gestures.
The China NT's 2:1 comeback victory over Thailand in Bangkok marks a significant step towards their aim of qualifying for the next round; however, there were reports of alleged attacks on their fans by the home supporters in the stadium. pic.twitter.com/oua7Y8YurD

— China Sports Vision 2050 (@CSV2050) November 16, 2023
As the Chinese fans celebrated their team's victory, some Thai fans appeared to attempt to scale the fence separating the sections.
Security personnel intervened to attempt to calm them down, as several Chinese supporters began throwing objects back into the Thai section.
The United States, Canada, and Mexico will host an expanded FIFA  2026 World Cup with 48 teams from June 11 to July 19, 2026.
The top two clubs from each of the nine Asian Football Confederation groups will advance to a third round of qualification, with an unprecedented eight direct slots and one intercontinental play-off position available.
The 23rd edition of football's top of the line tournament will be jointly hosted by Canada, Mexico and the United States of America. In the upcoming edition, the total number of teams will be expanded to 48 in comparison to last edition's 32 teams.
36 Asian teams have been drawn into nine groups of four, to play home-and-away round-robin matches. The qualifiers will begin on November 16. On that note, let us take a look at all the things that you need to know about the FIFA 2026 World Cup Qualifiers (Asia).
FIFA 2026 World Cup Teams Qualifiers
Group A: Qatar, India, Kuwait, Afghanistan
Group B: Japan, Syria, North Korea, Myanmar
Group C: South Korea, China, Thailand, Singapore
Group D: Oman, Kyrgyzstan, Malaysia, Chinese Taipei
Group E: Iran, Uzbekistan, Turkmenistan, Hong Kong
Group F: Iraq, Vietnam, Philippines, Indonesia
Group G: Saudi Arabia, Jordan, Tajikistan, Pakistan
Group H: United Arab Emirates, Bahrain, Yemen, Nepal
Group I: Australia, Palestine, Lebanon, Bangladesh
2026 World Cup Format
A total of 36 teams have been drawn into 9 groups of 4 teams each. The teams will play round-robin matches in a home-and-away format. The 36 teams include 26 teams who have received byes to the second round, and the 10 winners from the first round.
The winners and runners-up of each group will advance to the third round and qualify for the 2027 AFC Asian Cup. And the third and fourth place teams will advance to the third round of the 2027 Asian Cup qualification.
2026 World Cup Fixtures
Group A
November 16
Qatar vs Afghanistan — 9:15 PM IST
Kuwait vs India — 10:00 IST
November 21
India vs Qatar — 7:00 PM IST
Afghanistan vs Kuwait — 10:30 PM IST
March 21, 2024
Afghanistan vs India – TBD
Qatar vs Kuwait –  TBD
March 26, 2024
India vs Afghanistan – TBD
Kuwait vs Qatar TBD
June 6, 2024
Afghanistan vs Qatar – TBD
India vs Kuwait – TBD
June 11, 2024
Qatar vs India – TBD
Kuwait vs Afghanistan – TBD
Group B
November 16, 2023
Japan vs Myanmar
Syria vs North Korea — 10:30 IST
November 21, 2023
Myanmar vs North Korea — 3:00 PM IST
Syria vs Japan — 8:15 PM IST
March 21, 2024
Myanmar vs Syria – TBD
Japan vs North Korea – TBD
March 26, 2024
Syria vs Myanmar – TBD
North Korea vs Japan – TBD
June 6, 2024
Myanmar vs Japan – TBD
North Korea vs Syria – TBD
June 11, 2024
Japan vs Syria – TBD
North Korea vs Myanmar – TBD
Group C
November 16, 2023
South Korea vs Singapore
Thailand vs China — 6:00 PM IST
November 21, 2023
China vs South Korea — 5:30 PM IST
Singapore vs Thailand — 5:30 PM IST
March 21, 2024
South Korea vs Singapore – TBD
Thailand vs China – TBD
March 26, 2024
China vs Singapore – TBD
Thailand vs South Korea – TBD
June 6, 2024
Singapore vs South Korea – TBD
China vs Thailand – TBD
June 11, 2024
South Korea vs China – TBD
Thailand vs Singapore – TBD
Group D
November 16, 2023
Malaysia vs Kyrgyzstan — 6:30 PM IST
Oman vs Chinese Taipei — 8:30 PM IST
November 21, 2023
Chinese Taipei vs Malaysia — 4:30 PM IST
Kyrgyzstan vs Oman — 7:30 PM IST
March 21, 2024
Chinese Taipei vs Kyrgyzstan – TBD
Oman vs Malaysia- TBD
March 26, 2024
Kyrgyzstan vs Chinese Taipei – TBD
Malaysia vs Oman – TBD
June 6, 2024
Chinese Taipei vs Oman – TBD
Kyrgyzstan vs Malaysia – TBD
June 11, 2024
Oman vs Kyrgyzstan – TBD
Malaysia vs Chinese Taipei – TBD
Group E
November 16, 2023
Turkmenistan vs Uzbekistan — 7:30 PM IST
Iran vs Hong Kong — 8:00 PM IST
November 21, 2023
Hong Kong vs Turkmenistan — 5:30 PM ISTUzbekistan vs Iran — 6:30 PM IST
March 21, 2024
Hong Kong vs Uzbekistan – TBD
Iran vs Turkmenistan – TBD
March 26, 2024
Uzbekistan vs Hong Kong – TBD
Turkmenistan  vs Iran – TBD
June 6, 2024
Hong Kong vs Iran – TBD
Uzbekistan vs Turkmenistan – TBD
June 11, 2024
Iran vs Uzbekistan – TBD
Turkmenistan vs Hong Kong – TBD
Group F
November 16, 2023
Philippines vs Vietnam
Iraq vs Indonesia — 8:15 PM IST
November 21, 2023
Philippines vs Indonesia — 4:30 PM IST
Vietnam vs Iraq — 5:30 PM IST
March 21, 2024
Indonesia vs Vietnam – TBD
Iraq vs Philippines – TBD
March 26, 2024
Vietnam vs Indonesia – TBD
Philippines vs Iraq – TBD
June 6, 2024
Indonesia vs Iraq – TBD
Vietnam vs Philippines – TBD
June 11, 2024
Iraq vs Vietnam – TBD
Indonesia vs Philippines – TBD
Group G
November 16, 2023
Tajikistan vs Jordan — 6:30 PM IST
Saudi Arabia vs Pakistan — 10:00 IST
November 21, 2023
Pakistan vs Tajikistan — 2:30 PM IST
Jordan vs Saudi Arabia — 9:30 PM IST
March 21, 2024
Pakistan vs Jordan – TBD
Saudi Arabia vs Tajikistan – TBD
March 26, 2024
Jordan vs Pakistan – TBD
Tajikistan vs Saudi Arabia – TBD
June 6, 2024
Pakistan vs Saudi Arabia – TBD
Jordan vs Tajikistan – TBD
June 11, 2024
Saudi Arabia vs Jordan – TBD
Tajikistan vs Pakistan – TBD
Group H
November 16, 2023
UAE vs Nepal — 9:15 PM IST
Yemen vs Bahrain — 11:30 IST
November 21, 2023
Nepal vs Yemen — 6:45 PM IST
Bahrain vs UAE — 9:15 PM IST
March 21, 2024
United Arab Emirates vs Yemen – TBD
Nepal vs Bahrain – TBD
March 26, 2024
Bahrain vs Nepal – TBD
Yemen vs United Arab Emirates – TBD
June 6, 2024
Nepal vs United Arab Emirates – TBD
Bahrain vs Yemen – TBD
June 11, 2024
United Arab Emirates vs Bahrain – TBD
Yemen vs Nepal – TBD
Group I
November 16, 2023
Australia vs BangladeshLebanon vs Palestine — 7:30 PM IST
November 21, 2023
Bangladesh vs Lebanon — 5:15 PM ISTPalestine vs Australia — 7:30 PM IST
March 21, 2024
Bangladesh vs Palestine – TBD
Australia vs Lebanon – TBD
March 26, 2024
Palestine vs Bangladesh – TBD
Lebanon vs Australia – TBD
June 6, 2024
Bangladesh vs Australia – TBD
Palestine vs Lebanon – TBD
June 11, 2024
Australia vs Palestine – TBD
Lebanon vs Bangladesh – TBD
FIFA 2026 World Cup Standings
Group A
| | | | | | | |
| --- | --- | --- | --- | --- | --- | --- |
| Position | Country | MP | W | L | D | Points |
| 1 | Qatar | 1 | 1 | 0 | 0 | 3 |
| 2 | India | 1 | 1 | 0 | 0 | 3 |
| 3 | Kuwait | 1 | 0 | 1 | 0 | 0 |
| 4 | Afghanistan | 1 | 0 | 1 | 0 | 0 |
Group B
| | | | | | | |
| --- | --- | --- | --- | --- | --- | --- |
| Position | Country | MP | W | L | D | Points |
| 1 | Japan | 1 | 1 | 0 | 0 | 3 |
| 2 | Syria | 1 | 1 | 0 | 0 | 3 |
| 3 | North Korea | 1 | 0 | 1 | 0 | 0 |
| 4 | Myanmar | 1 | 0 | 1 | 0 | 0 |
Group C
| | | | | | | |
| --- | --- | --- | --- | --- | --- | --- |
| Position | Country | MP | W | L | D | Points |
| 1 | South Korea | 1 | 1 | 0 | 0 | 3 |
| 2 | China | 1 | 1 | 0 | 0 | 3 |
| 3 | Thailand | 1 | 0 | 1 | 0 | 0 |
| 4 | Singapore | 1 | 0 | 1 | 0 | 0 |
Group D
| | | | | | | |
| --- | --- | --- | --- | --- | --- | --- |
| Position | Country | MP | W | L | D | Points |
| 1 | Oman | 1 | 1 | 0 | 0 | 3 |
| 2 | Malaysia | 1 | 1 | 0 | 0 | 3 |
| 3 | Kyrgyzstan | 1 | 0 | 1 | 0 | 0 |
| 4 | Chinese Taipei | 1 | 0 | 1 | 0 | 0 |
Group E
| | | | | | | |
| --- | --- | --- | --- | --- | --- | --- |
| Position | Country | MP | W | L | D | Points |
| 1 | Iran | 1 | 1 | 0 | 0 | 3 |
| 2 | Uzbekistan | 1 | 1 | 0 | 0 | 3 |
| 3 | Turkmenistan | 1 | 0 | 1 | 0 | 0 |
| 4 | Hong Kong | 1 | 0 | 1 | 0 | 0 |
Group F
| | | | | | | |
| --- | --- | --- | --- | --- | --- | --- |
| Position | Country | MP | W | L | D | Points |
| 1 | Iraq | 1 | 1 | 0 | 0 | 3 |
| 2 | Vietnam | 1 | 1 | 0 | 0 | 3 |
| 3 | Philippines | 1 | 0 | 1 | 0 | 0 |
| 4 | Indonesia | 1 | 0 | 1 | 0 | 0 |
Group G
| | | | | | | |
| --- | --- | --- | --- | --- | --- | --- |
| Position | Country | MP | W | L | D | Points |
| 1 | Saudi Arabia | 1 | 1 | 0 | 0 | 3 |
| 2 | Jordan | 1 | 0 | 0 | 1 | 1 |
| 3 | Tajikistan | 1 | 0 | 0 | 1 | 1 |
| 4 | Pakistan | 1 | 0 | 1 | 0 | 0 |
Group H
| | | | | | | |
| --- | --- | --- | --- | --- | --- | --- |
| Position | Country | MP | W | L | D | Points |
| 1 | UAE | 1 | 1 | 0 | 0 | 3 |
| 2 | Bahrain | 1 | 1 | 0 | 0 | 3 |
| 3 | Yemen | 1 | 0 | 1 | 0 | 0 |
| 4 | Nepal | 1 | 0 | 1 | 0 | 0 |
Group I
| | | | | | | |
| --- | --- | --- | --- | --- | --- | --- |
| Position | Country | MP | W | L | D | Points |
| 1 | Australia | 1 | 1 | 0 | 0 | 3 |
| 2 | Lebanon | 1 | 0 | 0 | 1 | 1 |
| 3 | Palestine | 1 | 0 | 0 | 1 | 1 |
| 4 | Bangladesh | 1 | 0 | 1 | 0 | 0 |
Keywords: 2026 fifa world cup qualification, fifa world cup 2026 qualifiers, 2026 world cup stadiums, 2026 world cup format, 2026 world cup dates