U.S. Warns Ceasefire In Gaza May Aid Hamas, While Humanitarian Concerns Mount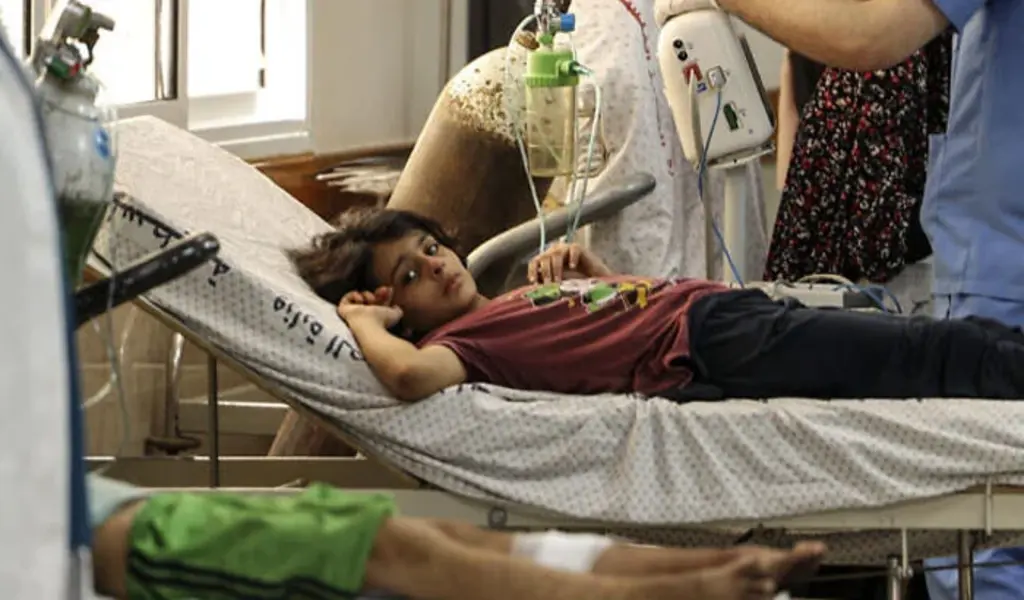 (CTN NEWS) – On Monday, the United States issued a warning that a potential ceasefire in Gaza could play into the hands of Hamas by affording the group an opportunity to recuperate, rearm, and prepare for future attacks against Israel.
State Department spokesman Matthew Miller elaborated on these concerns, stating that a ceasefire might give Hamas the time it needs to regroup, refit, and resume launching terrorist attacks.
He highlighted the intolerable situation Israel faces, given its history of enduring brutal terrorist attacks and ongoing threats at its borders.
Miller emphasized that the United States is actively working on delivering humanitarian relief to Gaza.
David Satterfield, a U.S. envoy, is on the ground, intensively focused on aid efforts to alleviate the dire humanitarian situation in the region.
Gaza's health ministry reported on Monday that Israeli airstrikes have resulted in a substantial number of casualties.
To date, over 5,087 Palestinians, including 2,055 children, have lost their lives since the conflict began following the October 7 Hamas attack on Israel, which claimed 1,400 lives.
In addition to the staggering death toll, more than 15,000 individuals have sustained injuries during this period.
With the conflict now extending beyond two weeks, concerns about the worsening humanitarian crisis in Gaza are growing.
European Union foreign policy chief Josep Borrell revealed that EU leaders are considering supporting a call for a temporary ceasefire to facilitate the delivery of humanitarian aid and provide shelter for displaced individuals.
This decision reflects a shared international commitment to addressing the escalating humanitarian catastrophe in Gaza while ensuring regional stability.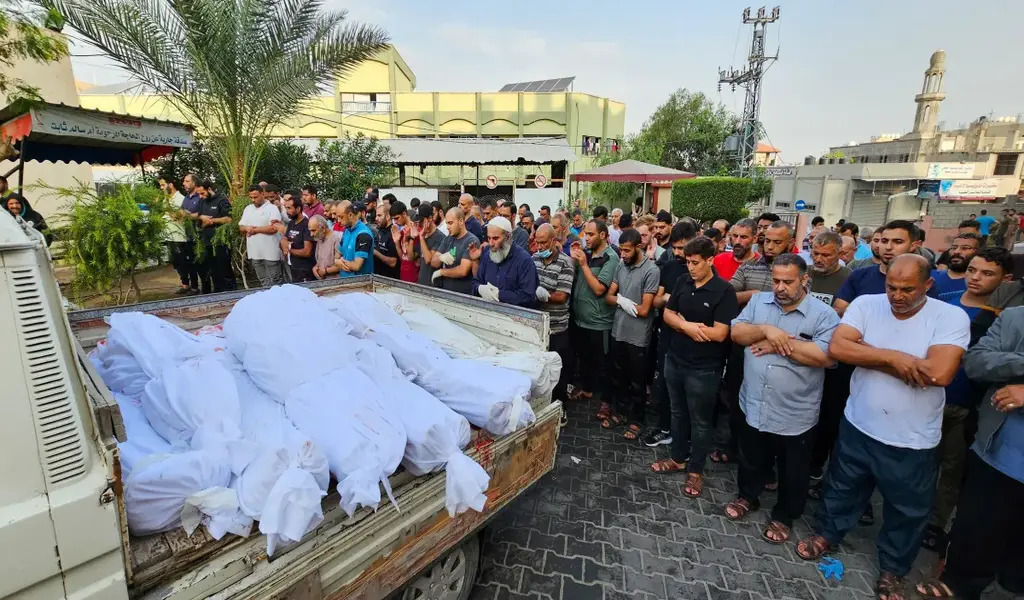 Israel-Hamas Urban Warfare Intensifies Following 300 Strikes on Gaza in 24 Hours
In the last 24 hours, Israel has reported over 300 airstrikes in the Gaza Strip, leading to dozens of casualties, according to Hamas, the governing authority in the besieged Palestinian territory.
Israel has also claimed to engage in ground clashes with Hamas.
A third aid convoy, consisting of around a dozen trucks carrying much-needed supplies, entered Gaza from Egypt on Monday via the Rafah crossing, which is not under Israeli control.
The United States, which has been involved in facilitating the entry of aid convoys, has promised to ensure a continuous flow of humanitarian goods into Gaza.
The region has been facing shortages of water, food, power, and fuel due to Israel's restrictions.
Fighting has persisted despite Israeli Prime Minister Benjamin Netanyahu's repeated vow to "eliminate Hamas," and there is the looming threat of a full-scale ground invasion.
Gaza's government media office, controlled by Hamas, reported that more than 60 people were killed in the overnight airstrikes, with 17 deaths in a single strike on a house in northern Gaza.
At least 10 more people were killed in new strikes on Monday morning.
The Israeli military claimed to have targeted "over 320 military targets in the Gaza Strip" in the 24-hour period leading up to Monday.
These targets included tunnels housing Hamas fighters, operational command centers, military compounds, and observation posts used by the militant group Islamic Jihad.
Residents in Rafah described moments of terror, with a thick smoke clouding the area after airstrikes.
Israeli forces have gathered near the Gaza border, with smaller units conducting limited incursions in the hope of rescuing hostages, estimated to be 222 by Israel.
During one such operation, a 19-year-old Israeli soldier was killed, and three others were wounded.
The tank operation aimed to "dismantle terror infrastructure, locate missing persons and bodies."
Tensions have also flared in the occupied West Bank, where clashes involving Israeli security forces or settlers have resulted in the deaths of 95 Palestinians since the conflict began in Gaza, according to the health ministry in Ramallah.
Meanwhile, Israel continues to evacuate southern communities near Gaza.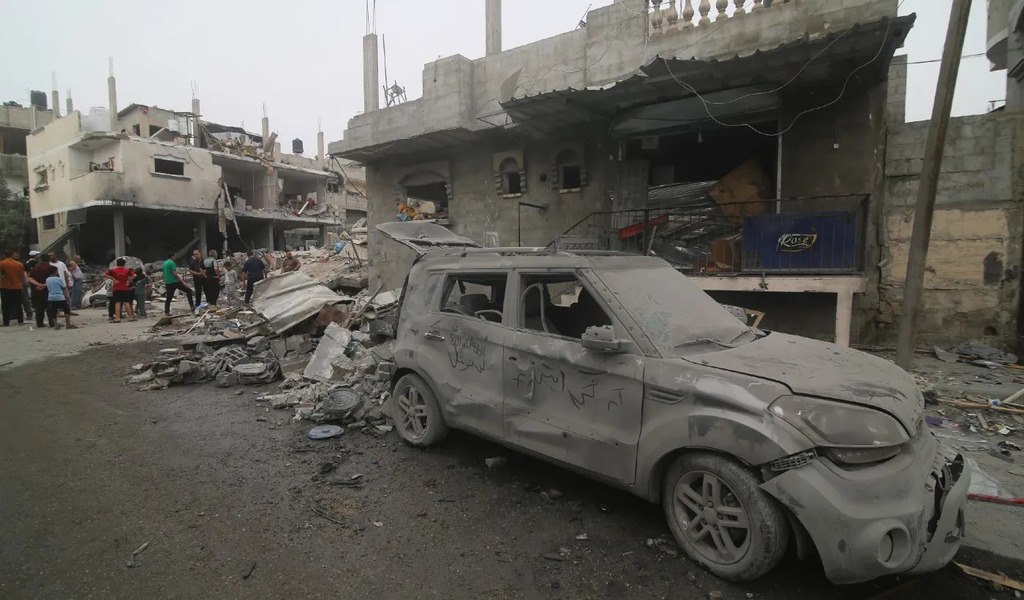 Dire Need In Gaza
Hamas militants launched a major attack on southern Israel from Gaza on October 7, marking one of the worst incidents in Israel's 75-year history.
The attack primarily targeted civilians, and it resulted in deaths, injuries, and the burning of many bodies, according to Israeli officials.
Concerns have been mounting over the dire humanitarian needs of the 2.4 million civilians trapped in the densely populated 40-kilometer-long coastal strip.
Even before the conflict, Gaza was facing severe blockades and economic challenges.
In the southern city of Khan Yunis, children killed in an Israeli airstrike were laid to rest, while in Rafah, people resorted to filling containers with portable water.
Last week, US President Joe Biden facilitated the entry of humanitarian aid convoys into Gaza through negotiations with Egyptian and Israeli leaders.
However, the United Nations estimates that Gaza requires approximately 100 truckloads of relief supplies daily.
Martin Griffiths, the UN's aid chief, referred to Sunday's delivery of food, water, and medical supplies as "another small glimmer of hope for the millions of people in dire need of humanitarian aid."
Still, he emphasized that more significant efforts were necessary.
Israel has refrained from allowing fuel into Gaza due to concerns that Hamas could use it for weapons and explosives.
As a result, Gaza's ambulances, hospital incubators, and water desalination plants face the risk of ceasing operations.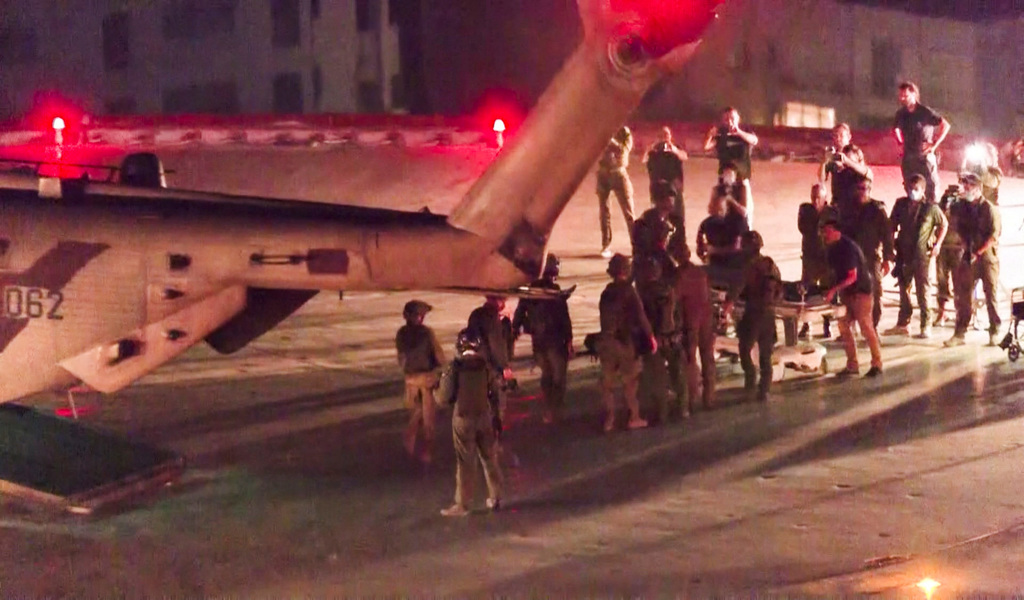 Nearly 20,000 Displaced in Lebanon Following Border Clashes with Israel
As tensions rise along the Lebanese-Israeli border in the aftermath of the Gaza conflict, a significant humanitarian concern has emerged.
The International Organization for Migration reported on Monday that nearly 20,000 people have been internally displaced within Lebanon since early October.
This internal displacement crisis began on October 8, a day after a Hamas militant attack on Israel and Israel's subsequent military incursion into Gaza.
Most of these displaced individuals come from southern Lebanon, an area that has seen a significant movement of people fleeing the conflict.
While the majority are from southern Lebanon, there have also been reports of people relocating from other areas in response to the ongoing crisis.
In addition to this internal displacement, Israeli authorities have initiated evacuation measures for various cities and localities in the northern region of the country.
The situation along the Lebanese-Israeli border has escalated into one of the most intense exchanges of fire between Israel and Lebanon's heavily armed Hezbollah militia since their conflict in 2006.
The humanitarian impact of this displacement is substantial, with families and communities being uprooted from their homes, schools, and workplaces.
Addressing the urgent needs of these displaced individuals, including shelter, food, clean water, and medical assistance, is a critical challenge that requires swift and coordinated efforts from humanitarian organizations and governments.
The situation highlights the broader repercussions of conflicts in the region and underscores the necessity for diplomatic efforts to achieve lasting peace and stability in the Middle East.
The plight of those affected by the conflict in Lebanon serves as a poignant reminder of the importance of finding peaceful solutions to regional disputes to prevent further suffering and displacement.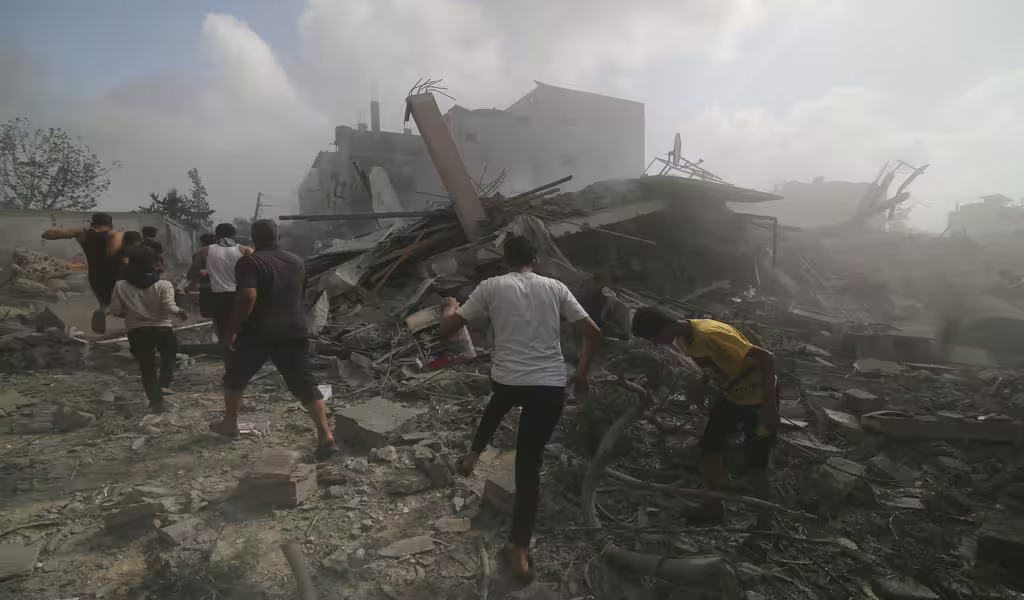 Hezbollah Warning
Throughout the world, both Israel's allies and adversaries have expressed concerns about the Gaza conflict escalating into a broader regional crisis.
Iran, a longstanding adversary of Israel, has repeatedly cautioned against further escalation.
Armed groups allied with Iran, such as Lebanon's Hezbollah, have engaged in cross-border exchanges of fire with Israel, adding to the concerns of a wider conflict.
On the domestic front, Israeli Prime Minister Benjamin Netanyahu issued a stern warning.
He stated that if Hezbollah became more deeply involved, it would be a grave mistake on their part.
He emphasized that Israel would respond with overwhelming force, resulting in dire consequences for both Hezbollah and Lebanon.
In a joint statement, President Joe Biden and leaders from Western countries emphasized the importance of preventing the conflict from spreading and maintaining stability in the Middle East.
Reports have emerged of Israeli airstrikes targeting two airports in Syria, a mosque used by groups considered as terrorists in the West Bank city of Jenin, and military infrastructure linked to Hezbollah within Lebanon.
These actions have raised concerns about potential further escalation and the involvement of various regional actors.
Hamas, Hezbollah, and the Syrian government all have the backing of Iran, a nation that vehemently opposes Israel's existence.
Iran has warned that the situation in the region could spiral "out of control," underscoring the potential for a broader and more devastating conflict.
The United States has also expressed its readiness to act in case of any escalation.
The Pentagon recently announced increased military readiness in the region.
U.S. Defense Secretary Lloyd Austin advised against any group or country seeking to expand the conflict, emphasizing the need for restraint and diplomacy during this challenging period.
MORE RELATED NEWS:
US rejects Israel-Gaza ceasefire as Hamas released 2 female hostages
LEGEND LOST: Veteran Indian Spinner Bishan Singh Bedi Died at the age of 77
Israeli and Hamas Troops Clash on the Ground as the Death Toll in Gaza Rises to 5,087