Deadly Israeli Airstrikes Devastate Gaza Strip, 400 Palestinians Killed In 24 Hours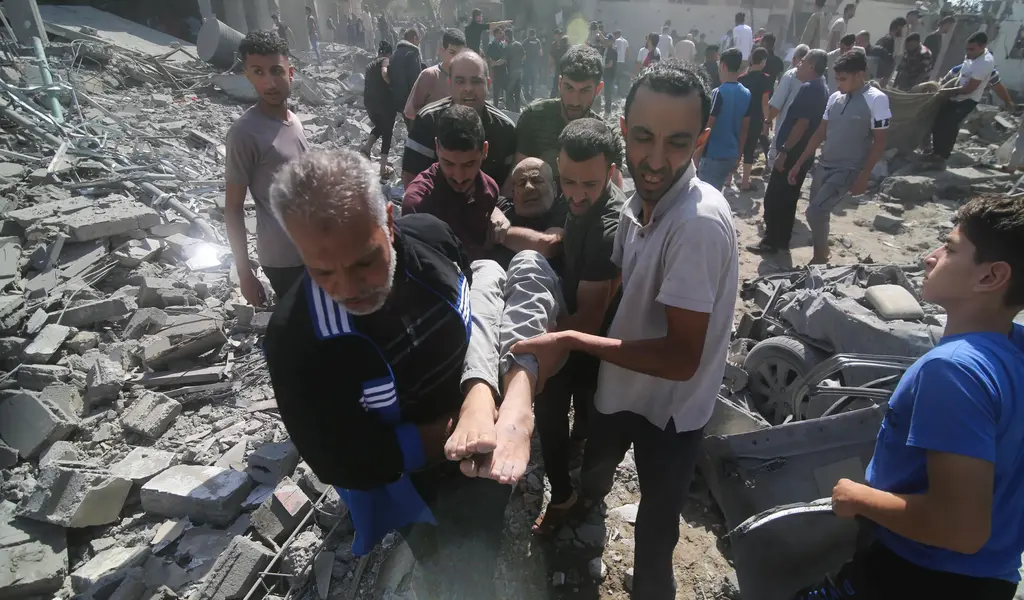 (CTN NEWS) – The blockaded Gaza Strip experienced one of the deadliest nights of Israeli airstrikes in the ongoing conflict with the Palestinian militant group Hamas.
At least 400 Palestinians were killed in the last 24 hours, according to the Hamas-run health ministry, with 70 fatalities occurring overnight during bombardments in Jabalia refugee camp and near hospitals in Gaza City.
Significant damage has been inflicted on residential areas across Gaza, including zones designated as safe by the Israel Defense Forces (IDF).
Roughly half of the housing in the strip has been reduced to rubble and dust.
Hamas announced the release of two elderly Israeli women, Yokheved Lifshitz and Nurit Yitzhak (also known as Nurit Cooper), for humanitarian reasons, following mediation efforts by Qatar and Egypt.
At the same time, reports suggest that the US and Qatar are working to secure the release of around 50 individuals held by Hamas and other groups in Gaza, who possess foreign or dual nationality.
It was also revealed that the US had urged Israel to postpone its expected ground offensive in Gaza to allow more hostages to be released and additional aid to reach the besieged territory.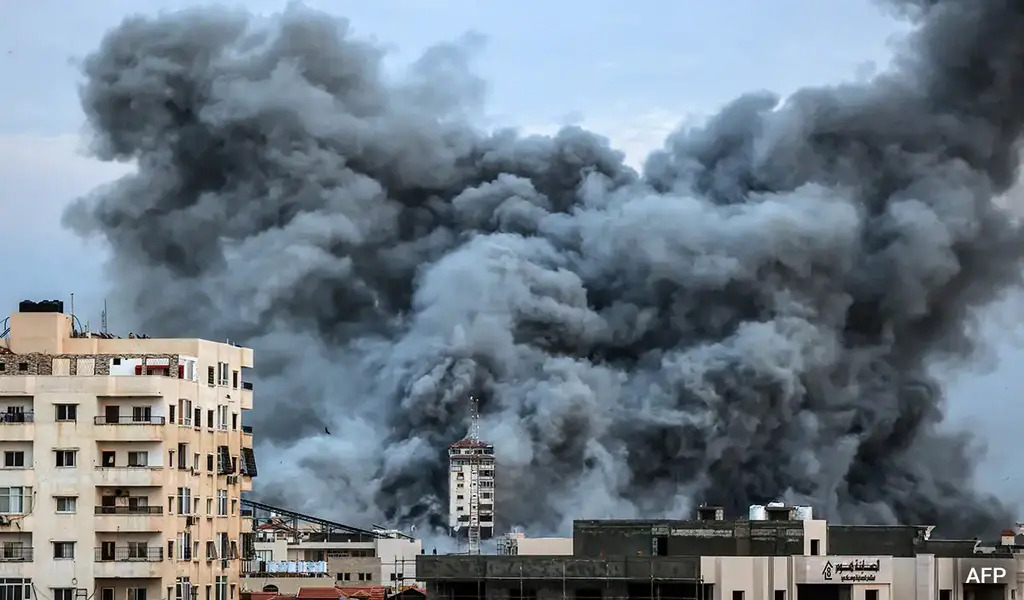 Israeli Prime Minister Benjamin Netanyahu and his military leaders are reportedly in disagreement over the timing of a potential ground invasion into Gaza.
According to unnamed senior Israeli officials, Netanyahu is holding off on a ground assault while there's still a chance to secure the release of captives held by Hamas.
The current phase of the Israeli offensive, which involves airstrikes, is seen as "not yet exhausted," as per the reports.
However, Netanyahu's office issued a statement denying these reports and stating that there is close cooperation and trust between the Prime Minister, Defense Minister, and the IDF Chief of Staff.
The United Nations' human rights chief, Volker Türk, has called for an immediate ceasefire and the swift and effective delivery of humanitarian aid to Gaza.
Joe Biden, the President of the United States, has indicated that discussions about a ceasefire could only occur if Hamas releases all the captives taken on October 7.
The situation continues to escalate along the Israeli-Lebanese border as cross-border exchanges of fire between Israel and Hezbollah have increased, leading to thousands of people evacuating their villages in southern Lebanon.
Gaza's health authority reports a death toll of at least 5,087 people due to Israel's two-week bombardment, with many of the casualties being women and children.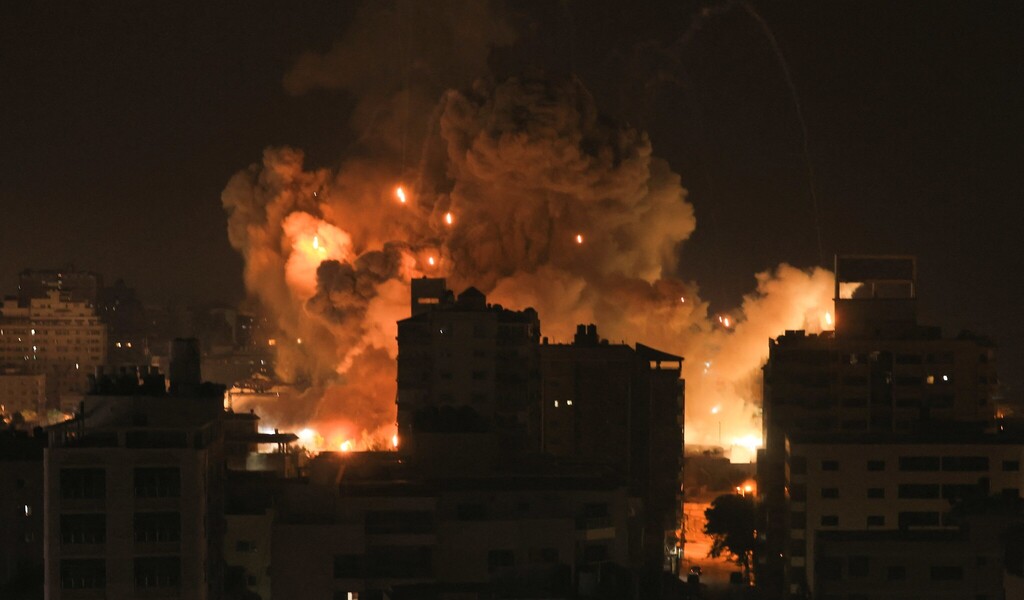 HAMAS
The situation in Gaza and southern Israel has stabilized into a deadly cycle of aerial attacks, but the conflict is now showing signs of spreading to northern Israel.
Cross-border exchanges of fire between Israel and the Lebanese militia Hezbollah along the Blue Line, which separates the two countries, have been increasing.
This has led to nearly 20,000 people fleeing their villages in southern Lebanon, as reported by the UN's International Organization for Migration.
Gaza's health authority has reported that at least 5,087 people have been killed in Israel's two-week bombardment, with many of the casualties being women and children.
This recent conflict, the fifth since Hamas took control of Gaza in 2007, erupted after Palestinian militants attacked southern Israeli communities on October 7, resulting in 1,400 deaths and 222 people taken as hostages.
The Israeli military has reported hitting more than 320 "military targets" in the last 24 hours, with limited ground raids aimed at neutralizing gunmen and rescuing hostages.
On the other side, Hamas claimed to have destroyed an Israeli tank and two armored bulldozers within Gaza.
Additionally, two drones launched from Gaza toward Israel were shot down.
The situation is becoming increasingly challenging for rescue operations due to the extensive destruction and restricted access, according to Mahmoud Basal, a spokesperson for the strip's civil defense unit.
As a result, the chances of finding survivors are diminishing.
A glimmer of hope came with the arrival of a third aid convoy, consisting of 20 trucks, through the Rafah crossing with Egypt on Monday.
This is a welcome development for Gaza's 2.3 million people, who are trapped, running low on food and clean water, and facing severe shortages of medicines and fuel.
The UN has stressed the urgent need for a much higher volume of aid, with at least 100 trucks a day required to prevent the healthcare system from collapsing.
HAMAS
The shortage of fuel, which Israel has not allowed into Gaza, has severely disrupted electricity supply and water and sanitation services.
Dr. Hatem Edhair, head of the neonatal unit at Nasser Hospital in Gaza City, warned, "We have eight babies in intensive care and 10 babies in the neonatal department.
Half of these children are on CPAP [continuous positive airway pressure] and oxygen machines.
We have about 48 hours of fuel left. If the hospital runs out of fuel, half of these babies will die in less than 24 hours."
The EU's foreign policy chief, Josep Borrell, called for faster aid deliveries to Gaza and stated that the EU was considering advocating for a "humanitarian pause" in the conflict.
The recent release of hostages, including two US-Israeli citizens, Judith and Natalie Raanan, on Friday, has given hope to the families of those still missing, including several foreign and dual nationals.
There is optimism that more hostages could be rescued before the window for negotiations closes with the onset of a ground offensive.
According to Israel's Kan Radio, Hamas warned through intermediaries that a ground invasion would reduce the likelihood of releasing hostages.
In a joint statement released on Sunday, the leaders of the US, Canada, France, Germany, Italy, and the UK urged Israel to adhere to international humanitarian law and protect civilians.
They also underscored their support for Israel's right to defend itself.
These statements come amid growing fears that the conflict could escalate into a broader Middle East crisis.
The Palestinian Hamas leader, Ismail Haniyeh, and the Iranian foreign minister, Hossein Amir-Abdollahian, held a phone conversation on Sunday to discuss ways to halt Israel's "brutal crimes" in Gaza, as reported by Hamas.
On Monday, Israeli aircraft targeted two cells of the Iran-backed Hezbollah group in Lebanon, according to the Israel Defence Forces.
With rising violence near its heavily fortified borders, Israel expanded its evacuation contingency plan in the north of the country by adding 14 communities close to Lebanon and Syria to the list.
MORE RELATED NEWS:
US rejects Israel-Gaza ceasefire as Hamas released 2 female hostages
LEGEND LOST: Veteran Indian Spinner Bishan Singh Bedi Died at the age of 77
Israeli and Hamas Troops Clash on the Ground as the Death Toll in Gaza Rises to 5,087