Nepal Crash Passenger's Video Captures Last Moments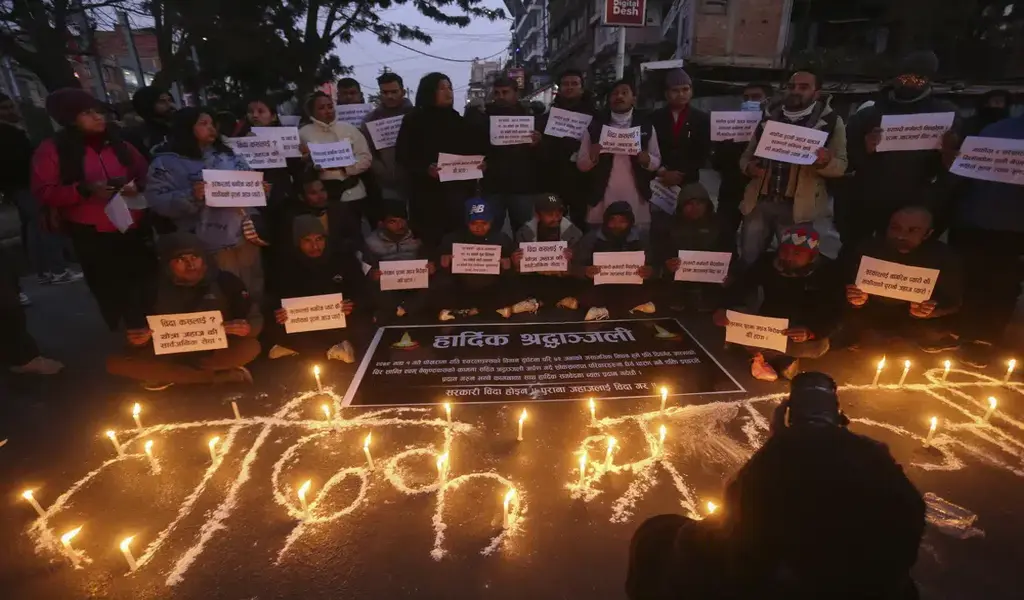 (CTN NEWS) – POKHARA, Nepal –  Sonu Jaiswal, a passenger, captured the 90-second flight on his smartphone. As the jet approached the ground, it flew above buildings and verdant fields over Pokhara, a city in Nepal at the foot of the Himalayas.
As Jaiswal's broadcast on Facebook switched from the magnificent sights viewed from the plane's window to other passengers laughing, everything appeared as usual.
Finally, Jaiswal turned the camera to himself and grinned while donning a yellow sweater.
Then it took place.
Jaiswal's smartphone momentarily recorded passengers' cries as the jet appeared to swerve toward the left.
The video began to shake shortly after, and an engine's shrieking noise could be heard. Massive flames and smoke filled the frame toward the end of the video.
Anju Khatiwada co-piloted the Yeti Airlines flight from Kathmandu that crashed into a canyon on Sunday, killing all 72 people on board.
She had spent years receiving her pilot's license in the United States after her husband perished in a plane tragedy while working for the same company in 2006.
Her coworkers characterized her as an accomplished pilot who was highly driven.
The deaths of Khatiwada, 44, and Jaiswal, 25, are part of a tragic trend in Nepal, a nation that has experienced numerous air mishaps over the years, partly because of the country's challenging terrain, unfavorable weather, and aged fleets.
Authorities said they were transferring the ATR 72-500 aircraft's data recorder to France to study what caused the tragedy on Tuesday and started returning some identified dead to families.
Nearly 430 kilometres (270 miles) south of the accident site in Nepal, in the Indian city of Ghazipur, Jaiswal's family was inconsolable and still awaiting the identification of his remains.
READ ALSO: Nepal Crash Site Reveals Flight Data, Voice Recorders
Rajendra Prasad Jaiswal, his father, had left for Kathmandu in a car on Monday evening and was scheduled to arrive in the Nepali capital late Tuesday.
Brother of Jaiswal, Deepak Jaiswal, remarked, "It's a difficult wait."
"Only a few minutes after the incident, news networks started airing pictures of the aircraft's damaged wreckage, still burning and billowing thick grey smoke, Deepak recalled.
At that point, the news of Jaiswal's plane crashing in Pokhara had reached his home.
The family was still hoping for his survival and unwilling to accept the bad news.
But by Sunday night, everything had become obvious. One of the first members of his family to watch the video that has now gone popular online was Deepak, who provided The Associated Press with confirmation of the legitimacy of Jaiswal's Livestream.
Until we viewed the footage, he claimed we couldn't believe the news. "It hurt a lot."
Father-of-three Jaiswal works at a neighborhood liquor store in the Ghazipur district of Uttar Pradesh's Alawalpur Afga hamlet.
Deepak claimed that his brother had traveled to Kathmandu to pray for a son at the Hindu shrine known as Pashupatinath and then traveled to Pokhara with three other buddies to go sightseeing.
Deepak stated, "He was not simply my brother. "In him, I have lost a buddy."
53 passengers were natives of Nepal, where the tragedy was keenly felt.
At a nearby hospital on Tuesday, hundreds of the victim's friends and family consoled one another. Some victims' families organised funerals for their loved ones whose bodies had been found and identified.
However, the co-pilot Khatiwada's colleagues were still in shock.
READ ALSO: French ATR 72 Airplane Crashes in Nepal 68 Dead, 4 Missing
Khatiwada was an extremely skilled and knowledgeable pilot, according to Pemba Sherpa, a spokesperson for Yeti Airlines.
In 2020, Khatiwada started flying for Yeti Airlines, four years after the death of her spouse Dipak Pokhrel in an accident.
He was piloting a DHC-6 Twin Otter 300 aircraft for the same company when it crashed and caught fire in Nepal's Jumla area, killing all nine people inside. Later on, Khatiwada remarried.
Sherpa described Khatiwada as a "talented pilot" with a "friendly disposition" who had attained the rank of captain after logging thousands of hours in the air since joining the company in 2010.
Sherpa remarked, "We lost our best.
RELATED CTN NEWS:
Chinese Tour Agent Falls to His Death in Pattaya, Thailand
Oil Tanker Explodes South of Bangkok, 1 Dead, 4 Injured, 7 Missing