Gaza Ceasefire Pressure Grows As Israel-Hamas Conflict Enters Fifth Week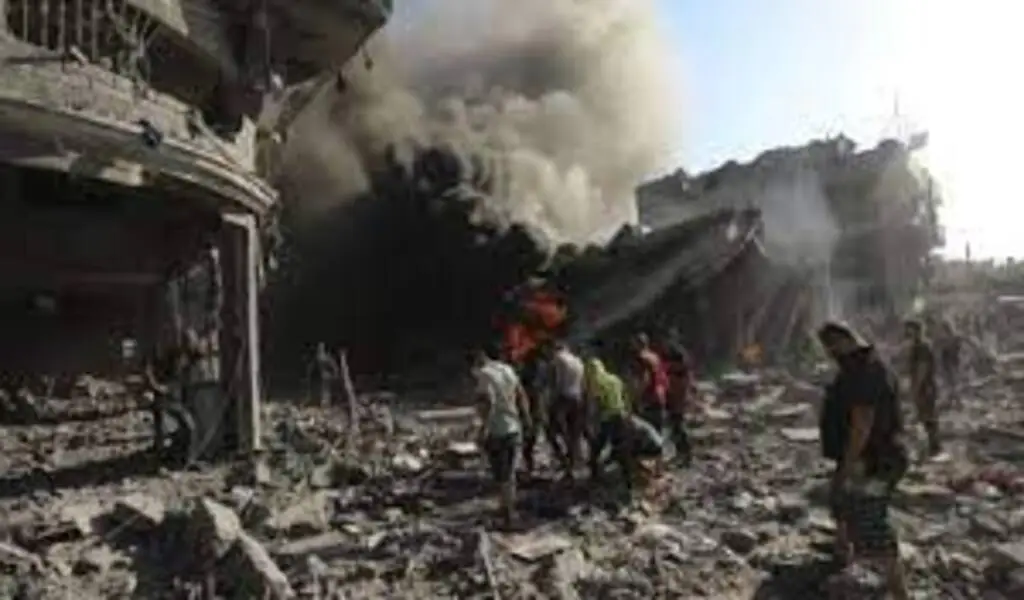 (CTN News) – Despite growing global anger over the increasing death toll among Palestinian civilians in Gaza, Arab allies appear divided over calls for a ceasefire in Israel's offensive against Hamas..
As part of a meeting with Secretary of State Antony Blinken on Saturday, several Middle Eastern foreign ministers urged the US to persuade Israel to agree to a ceasefire. A top US diplomat, however, dismissed the idea, saying it would only benefit Hamas by enabling it to regroup and attack again.
In central Gaza, a strike has killed more than 30 people in a refugee camp, prompting more diplomatic wrangling.
On Saturday evening, Palestinian news agency Wafa reported the bombing at Gaza's Maghazi refugee camp. The health ministry in controlled by Hamas said Israel attacked the camp, killing mostly women and children.
The Israeli military is investigating whether the Israeli Defence Forces were in the area during the bombing, according to a spokesperson.
A UN-run school serving as a shelter in northern Gaza was struck by Israeli fire earlier on Saturday.
Witnesses said the strike struck the al-Fakhoura school in Jabalia, where thousands of evacuees were living. Gaza health ministry official Mohammad Abu Selmeyah reported 15 deaths and dozens of injuries.
Over 1,400 people, mostly civilians, were killed by the October 7 attack on Israeli communities near Gaza's border. The attack also abducted more than 240 Israelis and foreigners.
In Gaza, the health ministry reports more than 9,480 people have been killed by Israeli strikes and the intensifying ground campaign.
Increasing civilian casualties have prompted international calls for a ceasefire. Despite US attempts to convince Netanyahu to accept localized truces, the Israeli prime minister said Friday that hostages must be released before there can be a "temporary truce."
More than 60 hostages being held in Gaza have gone missing after Israeli airstrikes, Hamas officials said on Saturday. During strikes on Gaza last month, Hamas claimed to have killed 50 captives.
The Israeli military's chief of staff, Lt Gen Herzi Halevi, visited troops inside after they had encircled Gaza City, according to Israel's defence minister, Yoav Gallant.
Gaza City is described by the Israeli military as "the heart of Hamas terror," but David Satterfield, the U.S. special envoy for aid assistance, estimates that 350,000 to 400,000 civilians remain there.
Key regional powers, including Turkey, have protested the ongoing fighting, recalling their ambassadors from Israel in the hours before Blinken was due to meet with local officials in Ankara.
The Turkish president told reporters that he held Netanyahu personally responsible for the growing death toll in Gaza. A spokesman for the Israeli foreign ministry said the move was "another step which sides with Hamas".
Protests took place outside Netanyahu's residence on Saturday. With Israeli flags waving and chants of Jail now!, hundreds pushed through police barriers and were held back by police.
According to a poll, more than three-quarters of Israelis believe Netanyahu should resign as prime minister.
In Tel Aviv, thousands marched, waving flags and holding pictures of the hostages, with slogans like "Release the hostages now at all costs" while crowds chanted "bring them home now".
A ceasefire was demanded by Palestinian protesters in many cities around the world on Saturday, including London, Berlin, Paris, Istanbul and Washington.
SEE ALSO:
Police Seize 12 Million Meth Pills in Northern Thailand