Police Seize 12 Million Meth Pills in Northern Thailand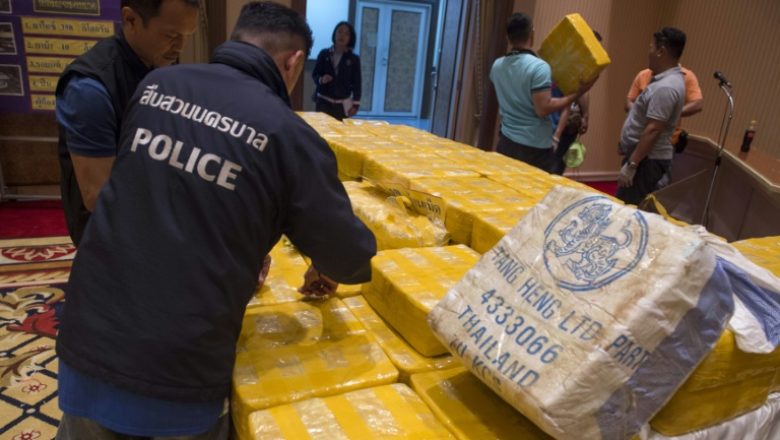 Authorities in northern Thailand have seized 12 million meth pills in two separate police actions in Chiang Mai and Chiang Rai provinces, with a total of 7 dug couriers being arrested.
On Saturday that six drug couriers were apprehended with 7 million speed pills recovered from their pickup truck in Chiang Saen, Chiang Rai.
The arrests happened when narcotics officers heard that a trafficking ring from Saraburi province's Phra Phutthabat district was planning to smuggle significant amounts of drugs from the Thai-Myanmar border in Chiang Rai.
On Friday, investigators saw a pickup truck going along the Chiang Saen-Chiang Rai road that they suspected was carrying drugs. They followed the car to a rented residence in San Makhed village, Chiang Saen's border district.
Inside the house, there were three males and three women. They had two firearms taken from them.
A search revealed 35 fertiliser sacks, each containing approximately 200,000 speed pills, for a total of approximately 7 million pills in the pickup.
Arthit, 39, Chakkraphan, 27, Supamas, 25, Kaweewan, 26, Pratthana, 24, all from Saraburi's Phra Phutthabat district, and Nakharit, 40, from Sa Kaeo province, were named as suspects.
During questioning, the suspects allegedly told the arresting authorities that they had hired the residence to store drugs before delivering them to sellers in the country's interior.
The suspects admitted to making three previous deliveries. They have been taken into police custody pending additional legal proceedings.
Meanwhile, Chiang Mai police intercepted a pick-up truck in the northern province's Muang district on Wednesday night and discovered 5 million methamphetamine pills hidden behind bags of herbal plants. Three alleged narcotics couriers were apprehended.
The operation was prompted by an intelligence report that a large quantity of meth pills were being brought through the heart of Chiang Mai in an Isuzu pick-up truck loaded with bags of snow lotus herbal plants.
Region 5 police stopped the vehicle under the Patan bridge over the second ring road in tambon Chang Phueak on Wednesday night.
Under the bags of bua hima plants, the cops discovered 25 straw bags, each holding 200,000 meth pills, for a total of 5 million.
Nathapol, 32, Napat, 32, and Prasit, 29, three men suspected of being drug couriers, were detained and charged with possessing illicit substances with intent to sell.
The drugs and suspects were turned over to Chang Phueak police for prosecution.