Calls For Action: School Teacher's Disturbing Actions Towards Muslim Student Spark Outrage In India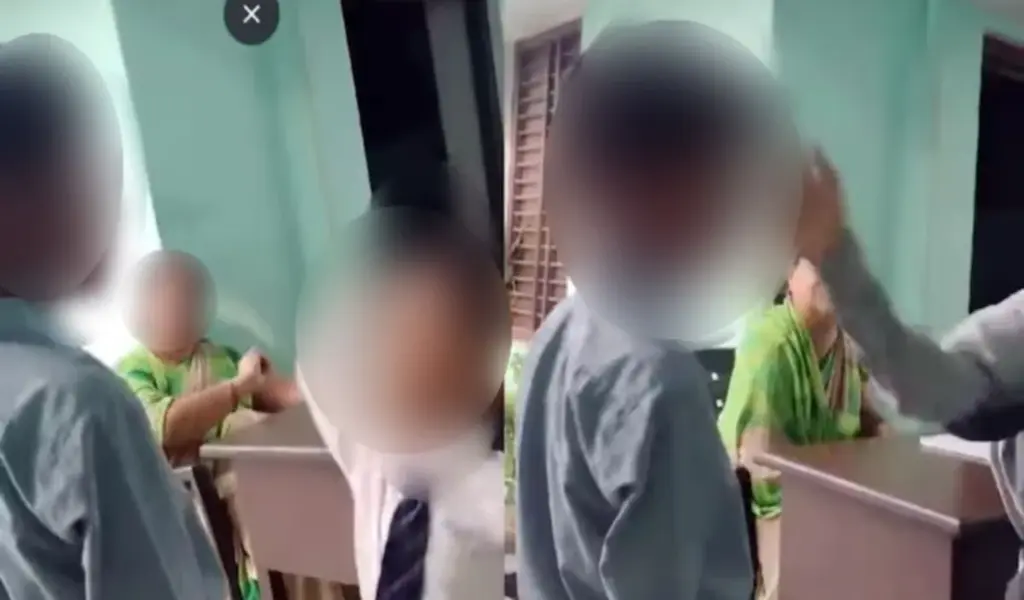 (CTN NEWS) – On Saturday, Indian authorities pledged to take decisive action following an incident where a primary school teacher instructed her students to take turns slapping a seven-year-old Muslim classmate.
The incident, captured in a video that circulated online, has ignited strong public indignation.
Human rights organizations assert that incidents of hate crimes and violence against India's substantial Muslim minority have surged since the appointment of Hindu-nationalist Prime Minister Narendra Modi in 2014.
The video footage from Thursday's occurrence features a teacher from a private school in Uttar Pradesh state directing students to strike the seven-year-old student, supposedly as a consequence of his errors in memorizing multiplication tables.
During the video, the teacher can be heard saying, "Why are you hitting him so lightly? Hit him hard," as the distressed boy stands in tears. She further adds, "Start hitting him on the waist… His face is turning red, hit him on the waist instead."
Police superintendent Satyanarayan Prajapat verified the authenticity of the video and stated, "Departmental action will be taken against the teacher," in a video message shared on social media.
India may have made it to the moon but millions of Muslims still don't have basic rights as Muslims are lynched in public sight.

In this school the teacher asks Hindu children to slap a Muslim child, even berating them if they don't slap hard enoughpic.twitter.com/ci0YVgDpl2

— muslim daily (@muslimdaily_) August 25, 2023
Controversy Erupts as Victim's Father Files Police Complaint in Muzaffarnagar District India
The father of the victim lodged a complaint with the police in the Muzaffarnagar district, where the incident occurred, as stated by the magistrate in a separate video declaration.
The disturbing video footage triggered widespread consternation on the internet, with opposition leader Rahul Gandhi accusing the ruling Bharatiya Janata Party (BJP) of fueling religious intolerance in the predominantly Hindu nation.
He shared on X, formerly known as Twitter, "Planting the seeds of prejudice in the minds of innocent children, transforming a sacred institution like a school into a breeding ground of animosity."
He further remarked, "A teacher cannot engage in a more detrimental act against the nation. This is the same divisive ideology promoted by the BJP that has ignited turmoil in every corner of India."
Since 2017, Uttar Pradesh has been under the governance of the BJP, who appointed Chief Minister Yogi Adityanath, a saffron-clad Hindu monk considered a potential successor to Modi.
Throughout his tenure, Hindu mobs have initiated a series of assaults under the guise of "cow protection," an animal considered sacred by many Hindus, and have perpetrated various other hate crimes that have instilled fear within the Muslim population of the state.
RELATED CTN NEWS:
Trump's Campaign Garners $20 Million Amid Legal Challenges And Indictment Controversy
Putin's Directive: Wagner Fighters Ordered to Sign Oath of Allegiance
Toronto Program Encourages Hijab-Wearing Women to Embrace Two-Wheeled Freedom