Boost Your Twitter Experience: The Ultimate Guide to Twitter Downloader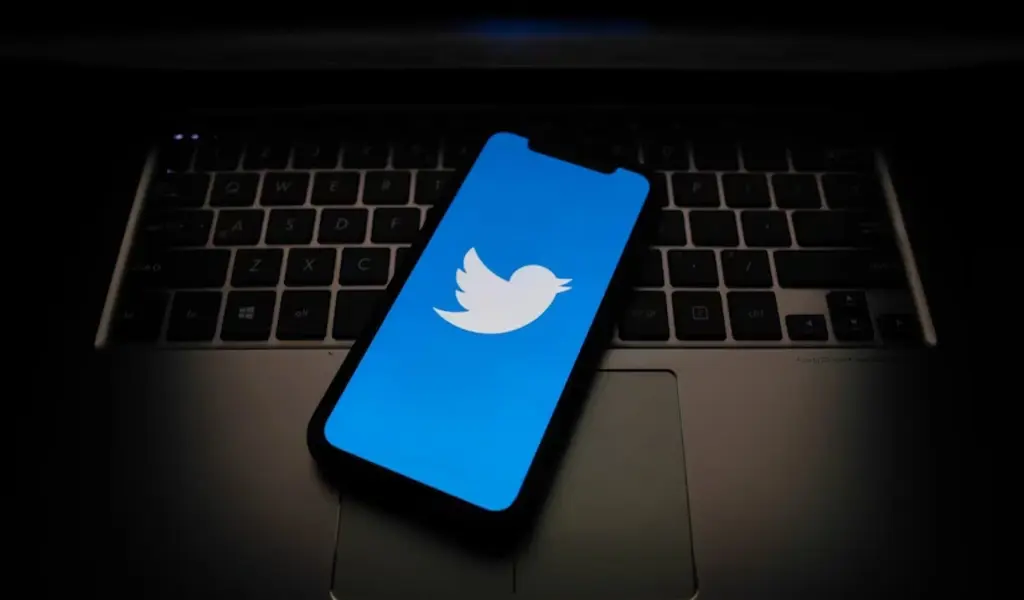 Twitter, with its vast array of media content, is a hub for engaging videos, images, and GIFs. While the platform allows easy viewing of media within tweets, there are times when you might want to download these visuals for personal use or share them outside the platform. A Twitter downloader is a handy tool that enables you to save videos, images, and GIFs from tweets onto your device.
In this comprehensive guide, we'll explore the different types of Twitter downloaders available, their usage, and the top 2 popular Twitter downloaders to ensure a smooth and responsible downloading experience.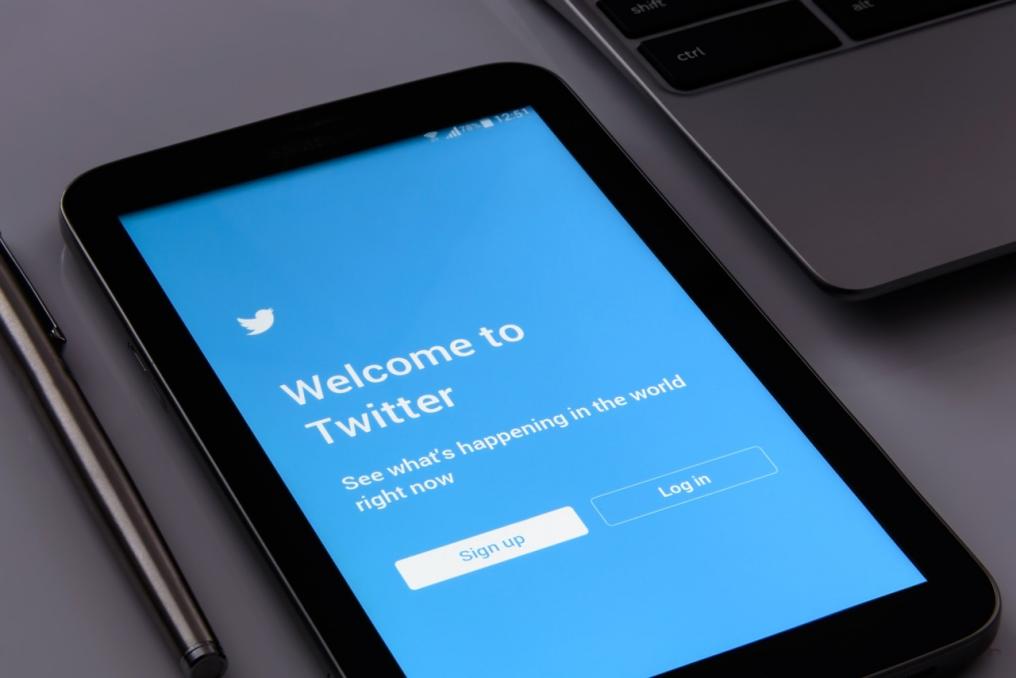 Understanding Twitter Downloaders and How They Work
A Twitter downloader is a software application or online service that allows users to extract media content from tweets and save it to their devices. These downloaders operate by accessing the tweet's media URL and fetching the corresponding video, image, or GIF file from Twitter's servers. While some downloaders require installation, others can be used directly from web browsers without the need for software installation.
Types of Twitter Downloader Tools
Web-Based Twitter Downloader Tools
Web-based Twitter downloader tools are accessible through web browsers without requiring any software installation. They typically involve pasting the tweet's URL into the downloader's website to initiate the download process. Web-based downloaders are user-friendly and compatible with different operating systems.
Browser extensions for Twitter downloads are small add-ons that integrate directly into web browsers. Once installed, these extensions add a download button below tweets containing media content. Users can click the download button to save the media files directly to their devices.
Twitter Downloader Applications
With Twitter Downloader Applications, you can download high-quality trailers, movies, and podcasts hosted by your favorite bloggers and view them offline while driving or flying if you use any of these apps for saving Twitter videos. Usually, the Twitter applications have more functions, such as batch downloading or editing videos after downloading.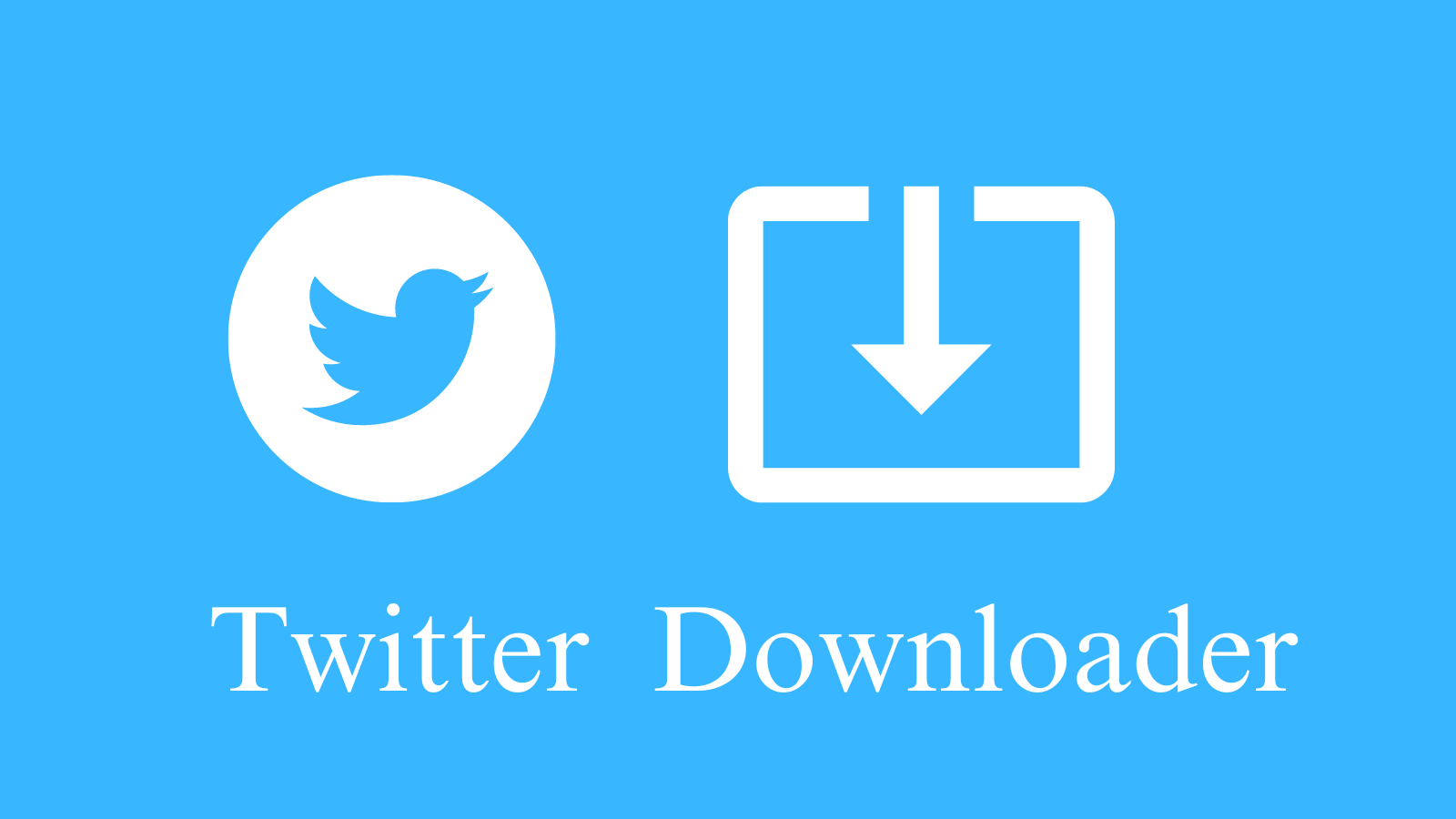 Top 2 Popular Twitter Downloaders
Videodownloaded Twitter video downloader
Videodownloaded is a well-known web-based Twitter downloader that enables users to download videos from tweets. On this popular social networking website, everything submitted can be downloaded quickly and easily. There is no better service than Videodownloaded for downloading videos from Twitter. You can download videos with a resolution of up to 4K. Additionally, since there is no registration required, using our online tool is risk-free.
Pros:
User-friendly interface: Videodownloaded has a straightforward and easy-to-use interface, making it accessible to users of all technical levels.
Multiple video formats and resolutions: Users can download videos in different formats and resolutions, providing versatility for various devices and preferences.
No installation is required: As a web-based tool, Videodownloaded doesn't require any software installation, making it accessible across different operating systems.
Multiple platforms are supported: Android, iOS, PC Windows, macOS, etc.
Cons:
No-trim: You can't trim the video after downloading.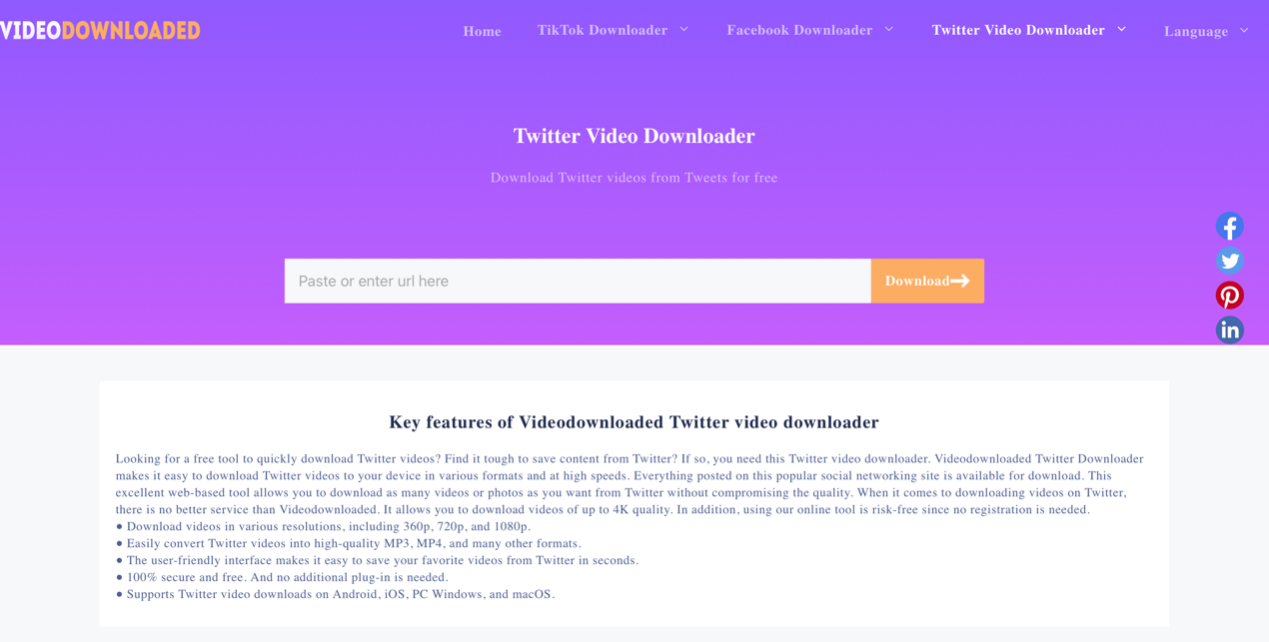 Video Downloader for Twitter (Browser Extension)
Video Downloader for Twitter is a popular browser extension available for various web browsers. It integrates directly into the browser and adds a download button below tweets with media content.
Pros:
Direct integration: The browser extension seamlessly integrates into the browser, making it convenient to download media without leaving the Twitter platform.
Real-time downloads: Users can initiate downloads with just one click, streamlining the process of saving media content.
Supports various media types: The extension supports downloads of videos, images, and GIFs from tweets, providing a comprehensive downloading experience.
Cons:
Limited to specific browsers: Video Downloader for Twitter may not be available for all web browsers, limiting its accessibility for some users.
Dependence on browser updates: Compatibility issues or browser updates may affect the extension's functionality.
Conclusion
With the help of a reliable Twitter downloader, you can take full control of your Twitter experience. Downloading tweets, images, and videos empowers you to access, share, and manage your favorite content effortlessly. Remember to choose a trusted downloader. Here, we strongly recommend to try Videodownloaded to download Twitter videos for free. Enhance your Twitter journey today with a powerful Twitter downloader!
SEE ALSO: Samsung Galaxy Unpacked 2023: How To Watch The Live Stream & What To Expect?