Barcelona Team Survives The Villarreal Classic To Win The League Title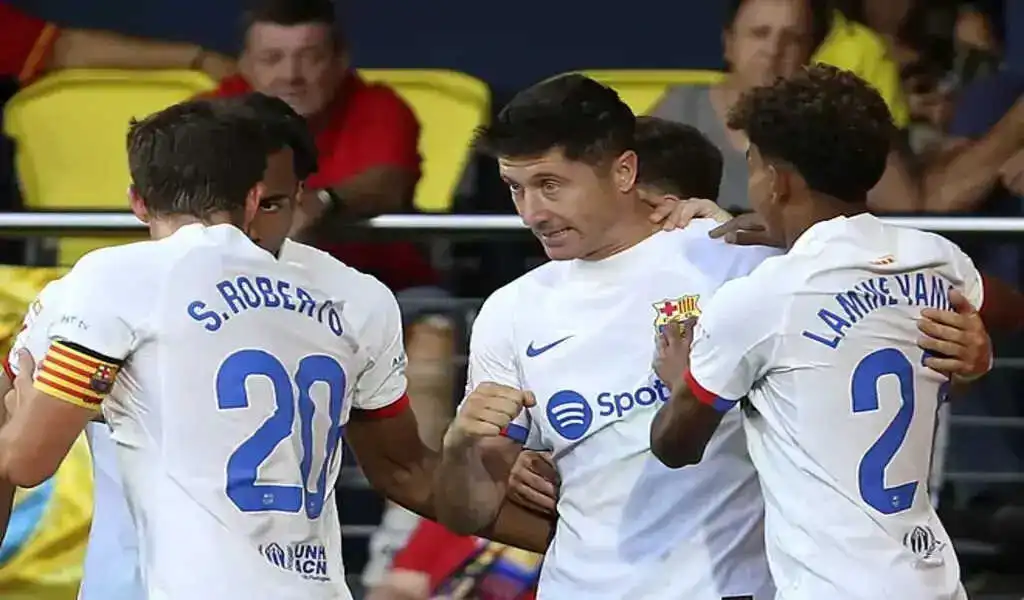 (CTN News) – In one of the best matches of the season to date, Barcelona continued their quest for a second consecutive LaLiga EA Sports title with a 4-3 victory over Villarreal in one of the moving see Real Madrid continue their flawless start to the season on Friday evening, arost exciting matches of the season.
Barcelona had to respond with an away trip to the Estadio de la Ceramica on Sunday afternoon.
With Gavi opening the scoring after 12 minutes of play, Los Cules got off to the perfect start with their first goal of the season. In the next three minutes, Frenkie de Jong doubled the lead with a clever finish and it looked as if Barcelona were going to have a breeze in their favor.
Although Xavi's charges had scored early goals, it appeared that they had become complacent following their success. As a result, Villarreal was able to get back into the game completely.
As a result of Juan Foyth's bullet header in the 26th minute, the hosts were able to get one back, and this gave them a boost of confidence.
Just before half-time, Alexander Sorloth made it 2-2 with a header. As a result of an Alvaro Pedraza cross, the former Crystal Palace forward linked up with Alberto Moreno and put the ball into the net at the back-post.
The Barcelona fans were stunned by the event
As if things could not get any worse for the defending champions, the visitors were stunned by the fact that they surrendered a 2-0 lead in just the first half.
Within just five minutes of the start of the second half, Alex Baena scored the goal that put Villarreal 3-2 up. Taking advantage of Ter Stegen's mistake, he curled a beautiful shot into the corner of the net.
Taking advantage of some excellent work done by Gavi on the right side of the field, Ferran Torres scored an equalizer in the 68th minute.
The 71st minute of the game saw Barcelona Robert Lewandowski score what would turn out to be the winning goal in what turned out to be a rather manic game.
After the ball rolled across the Villarreal penalty area, it struck the post initially, but the rebound fell kindly into the hands of the Pole on the rebound.
In spite of the fact that Barcelona had completed a turnaround after their own collapse, they still faced another scare in the 96th minute when Ben Brereton Diaz struck a low shot just wide of the post.
SEE ALSO:
Silva Says Man City Won't Be Affected By Guardiola's Absence
Tickets For AEW All In 2023: How Much Do They Cost?