Teacher Shot By 6-Year-Old Boy In Virginia Elementary School Is In Stable Condition: Mayor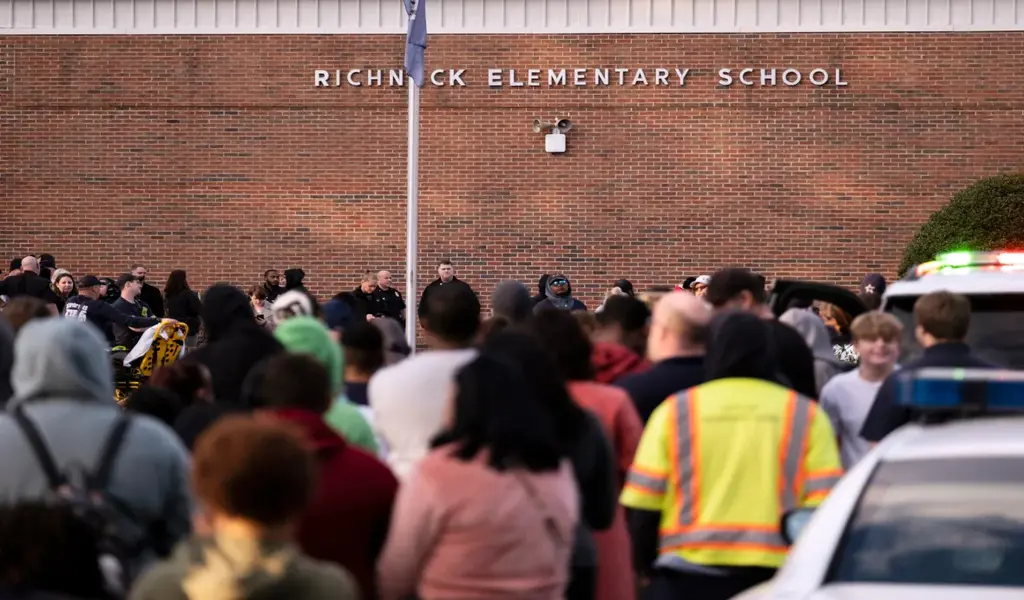 (CTN NEWS) – RICHMOND, Va. – According to the city's mayor, investigators are still perplexed as to how a child so young could have been involved in a school shooting. A Virginia teacher wounded by a six-year-old student in Newport News, Va., is improving.
The instructor, a 30-year-old woman, is still hospitalized, but Newport News Mayor Phillip Jones said her health is "moving in a healthy manner."
According to a news release, the teacher and her family met with Newport News Police Chief Steve Drew on Saturday morning. The release stated that she had improved and was now stable.
According to investigators, the youngster shot the teacher in the first-grade classroom at Richneck Elementary School on Friday.
Police Chief Steve Drew stated that the shooting was not unintentional and resulted from a fight but didn't go into greater detail. No college students were hurt.
Jones declined to provide more information on what precipitated the altercation on Saturday, citing the ongoing police investigation. Additionally, he declined to comment on the boy's access to the gun or its owner.
"This is a warning sign for the nation," Jones added. There will be a national conversation about how these kinds of things may be stopped following this incident.
According to experts specializing in gun violence, the incident is a very unusual instance of a young child bringing a gun to school and injuring a teacher.
According to researcher David Riedman, creator of a database that chronicles American school shootings from 1970, "it's incredibly rare and it's not something the legal system is intended or positioned to deal with."
In the period he has studied, he claimed on Saturday that he is only aware of three prior shootings in which pupils under the age of six were involved.
These include the shooting death of a fellow student in Michigan in 2000 and shootings that resulted in injuries to other students in Texas and Mississippi in 2011 and 2021, respectively.
According to Riedman, only one other case of a pupil younger than that producing gunfire at a school occurred in 2013 when a five-year-old student took a gun to a Tennessee school and unintentionally fired it. In that situation, nobody was hurt.
Daniel W. Webster, a Johns Hopkins University professor researching gun violence, concurred that it is exceedingly unusual for a six-year-old to kill a teacher in a classroom.
But he claimed that his data indicates a rise in the unintended shootings of self or others by young children acquiring loaded weapons in households or other places.
Sadly, he wrote in an email, "a six-year-old getting access to a loaded gun and shooting him/herself or someone else is not that rare."
Police Chief: "The shooting Was Not An Accident."
Drew, the police chief, stated on Friday that the shooting in the Newport News case didn't seem to be an accident and that it was specific to the one victim. He claimed that the student and teacher had become acquainted in a classroom context.
Drew said, "There was no circumstance where someone was evading the school shooting."
Investigators are attempting to determine how the youngster came into possession of the handgun he had in the classroom, the man claimed.
According to a Facebook post from Newport News Public Schools, parents and students met up at a gym.
The police chief was unwilling to detail how detectives got in touch with the boy's parents.
To help us provide this young kid with the greatest services possible, Drew stated, "We have been in communication with our commonwealth's attorney [local prosecutor] and some other institutions."
A city of around 185,000 people in southeast Virginia, Newport News is well-known for its shipyard, where the country's aircraft carriers and other U.S. navy vessels are made.
According to the website of the Virginia Department of Education, roughly 550 kids are attending Richneck who are in kindergarten through fifth grade.
According to Jones, the school will be closed on Monday and Tuesday.
George Parker III, the superintendent of Newport News public schools, remarked, "Today our pupils learned a lesson in gun violence." "And what weapons can do to destabilize a family, a community, not just an educational environment," the speaker continued.
Six-year-olds cannot be tried as adults in Virginia under the law.
A six-year-old is also too young to be placed in the Department of Juvenile Justice's care if found guilty.
The Department of Social Services would be in charge of the child if a juvenile judge decided to revoke a parent's custody.
RELATED CTN NEWS:
Saudi Crown Prince 'Mohammed Bin Salman' Adds $50 Billion Diriyah As PIF's 5th Giga-Project
Thai Princess Bajrakitiyabha Remains Unconscious After Collapsing 3 Weeks Ago Due To Heart Problem
Iran Executes 3 More Over Amini Protests