Nighttime Fire Leaves 74 Dead in South Africa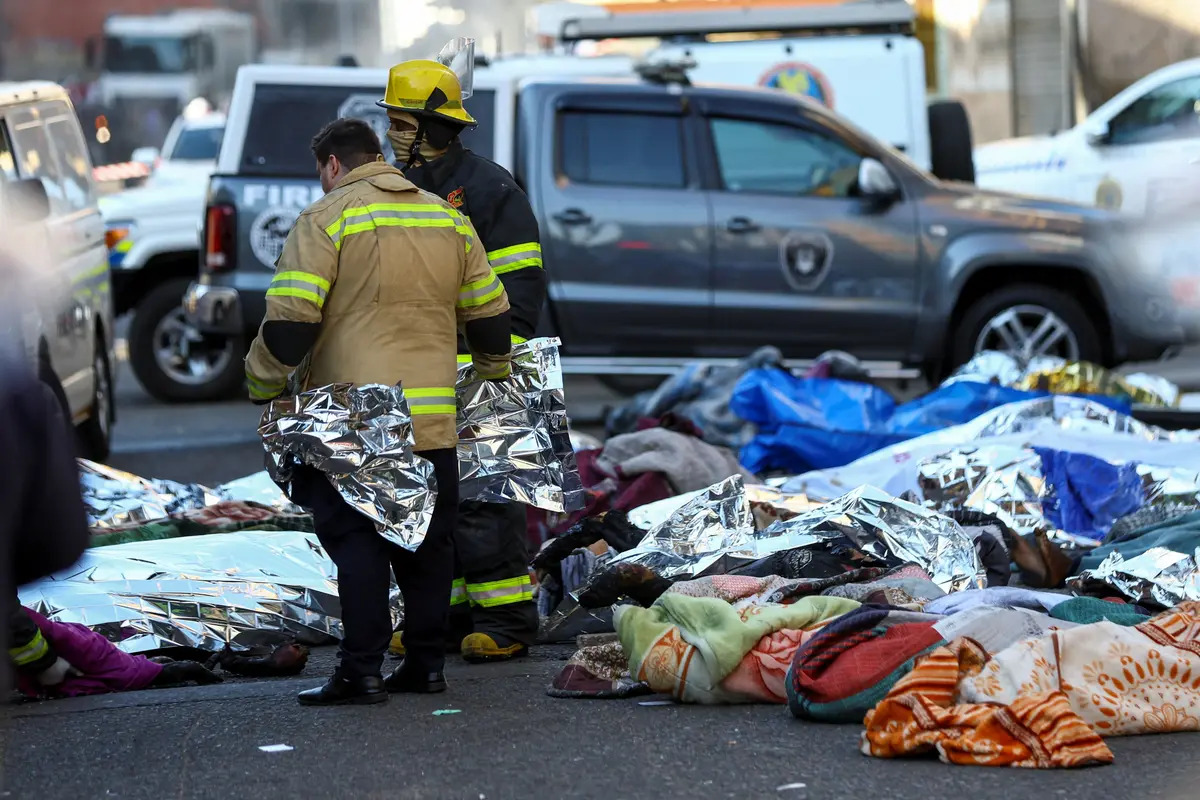 A raging fire raced through a decrepit apartment block in Johannesburg early Thursday, killing at least 74 people, officials said. Witnesses reported that in the frenzied hurry to evacuate, several people threw babies out of third-story windows to those waiting below.
According to local and medical officials, at least 12 of those deceased were youngsters, with the youngest being a one-year-old. At a press conference, they stated that an undetermined number of individuals were still missing, and that many of the bodies retrieved had been charred beyond recognition.
More than 50 individuals were hurt, with six of them in critical condition at the hospital. Officials from the emergency services had already warned that the death toll may grow as they continued to explore the site more than 12 hours after the fire broke out about 1 a.m.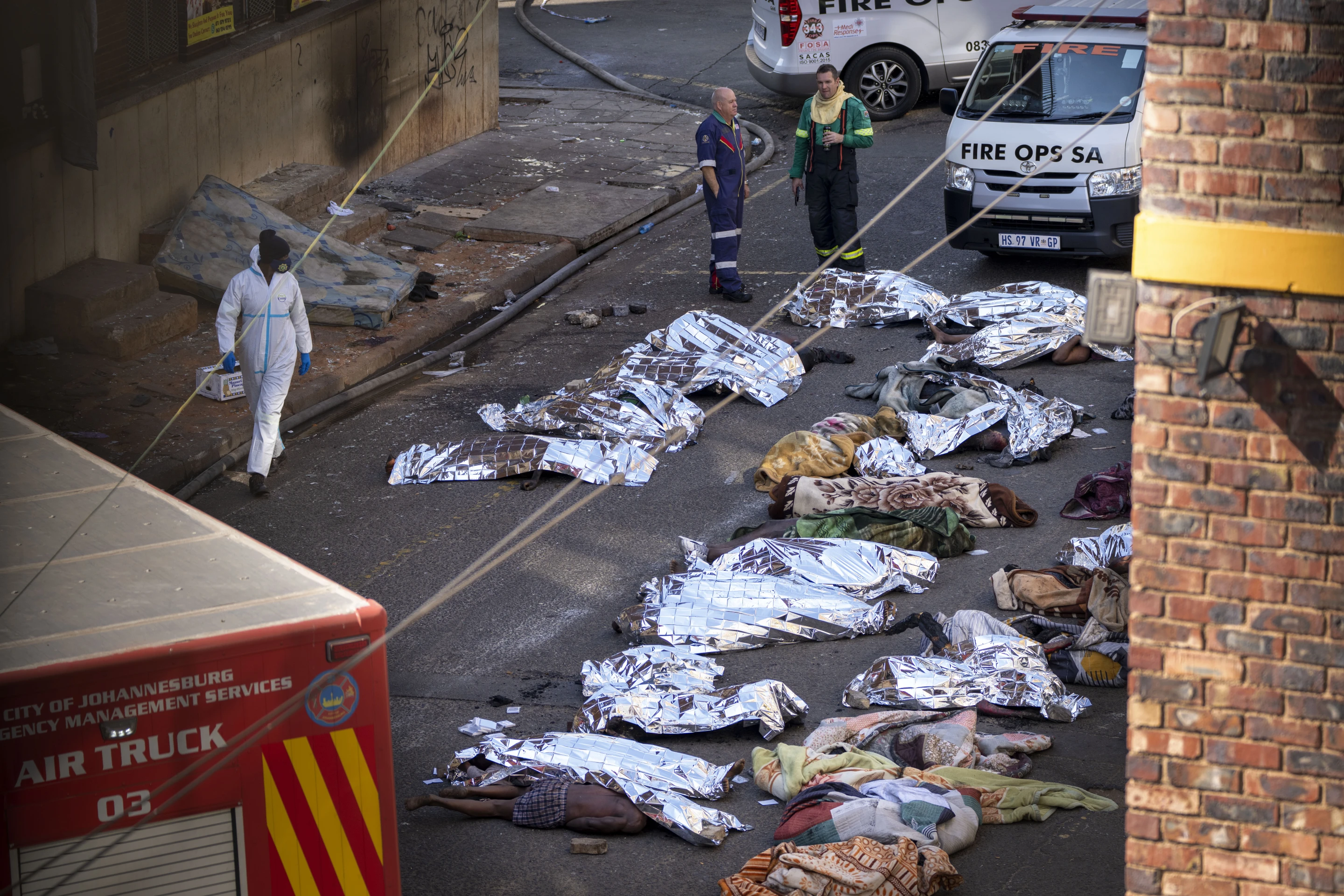 Dozens more victims were discovered on a side road outside the apartment complex, some in body bags, some wrapped in silver sheets or blankets after the body bags ran out. They were eventually removed from the scene in pathology department vehicles.
"I've never seen anything like this in my 20 years of service," Johannesburg Emergency Services Management spokesperson Robert Mulaudzi said.
Authorities had not determined the source of the fire, but Mgcini Tshwaku, a local government official, said preliminary evidence suggested it began with a candle. He claimed that residents relied on candles and fireplaces for light and warmth throughout the winter months.
Hours after the fire was put out, firefighters were still working their way through the shacks and other improvised constructions that littered the inside of the dilapidated five-story building in Johannesburg's core business district.
Even though the fire was out, smoke poured out of the burned building, and twisted blankets and sheets hung like ropes from smashed windows, indicating how individuals had used them to escape the flames.
Some of the survivors recalled jumping out of windows after tossing their children to those below.
"Everything happened so fast, and I only had time to throw the baby out," said Adam Taiwo, who managed to save himself and his 1-year-old son. "I also followed him after they caught him downstairs." Taiwo stated that he had no idea where his wife, Joyce, was.
According to a witness who lives across the street, others were also throwing babies out of the blazing building, and at least one man died when he leapt from the third level and hit the concrete sidewalk 'head first'.
Another witness, who did not provide his name, told the television news channel eNCA that he lived in the block next door and heard people yelling for help and saying, "We're dying in here."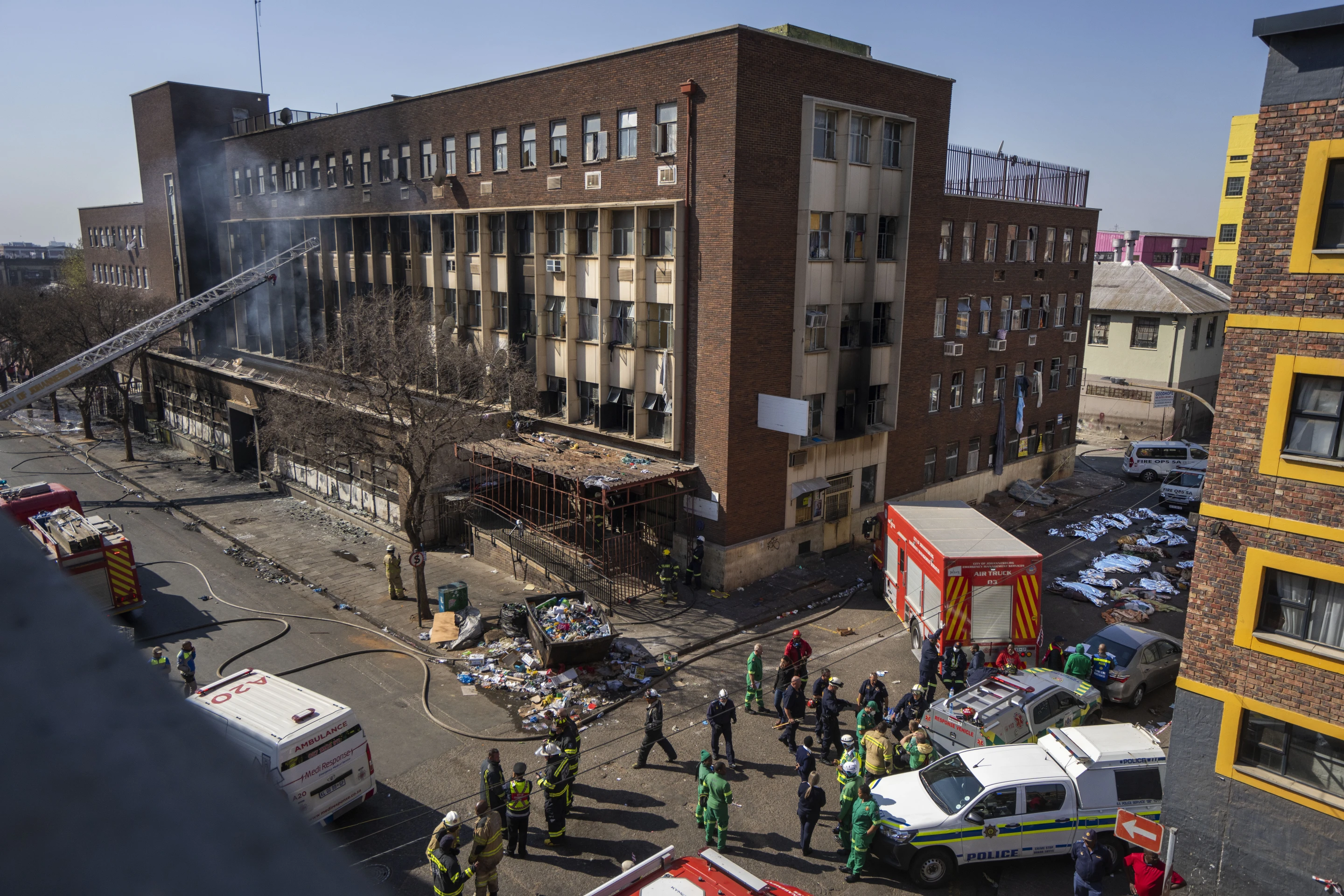 According to local official Tshwaku, as the fire spread, several inhabitants became trapped behind locked gates at the exits, and there were no suitable fire escape routes.
"People couldn't get out," he said, adding that some of the victims may have died as a result of jumping from the building.
According to witnesses, more than 200 individuals were living in the structure, including in the basement, which was supposed to be utilised as a parking garage. Others predicted a bigger number of occupants.
Johannesburg mayor Kabelo Gwamanda said 141 families had been touched by the tragedy, but he couldn't determine how many people were in the building when the fire broke out.
He claimed that many of those inside were foreign immigrants. Other officials noted that this could make identifying victims and tracing the missing difficult because many were likely in South Africa illegally.
A woman who requested anonymity said she resided in the building and escaped with her grown son and a 2-year-old child. She stayed outside for hours with the youngster, saying she had no idea what had happened to her family's other two children.
"I just saw smoke everywhere and ran out with this baby," the mother explained. "I don't have a place to live, and I'm at a loss for what to do."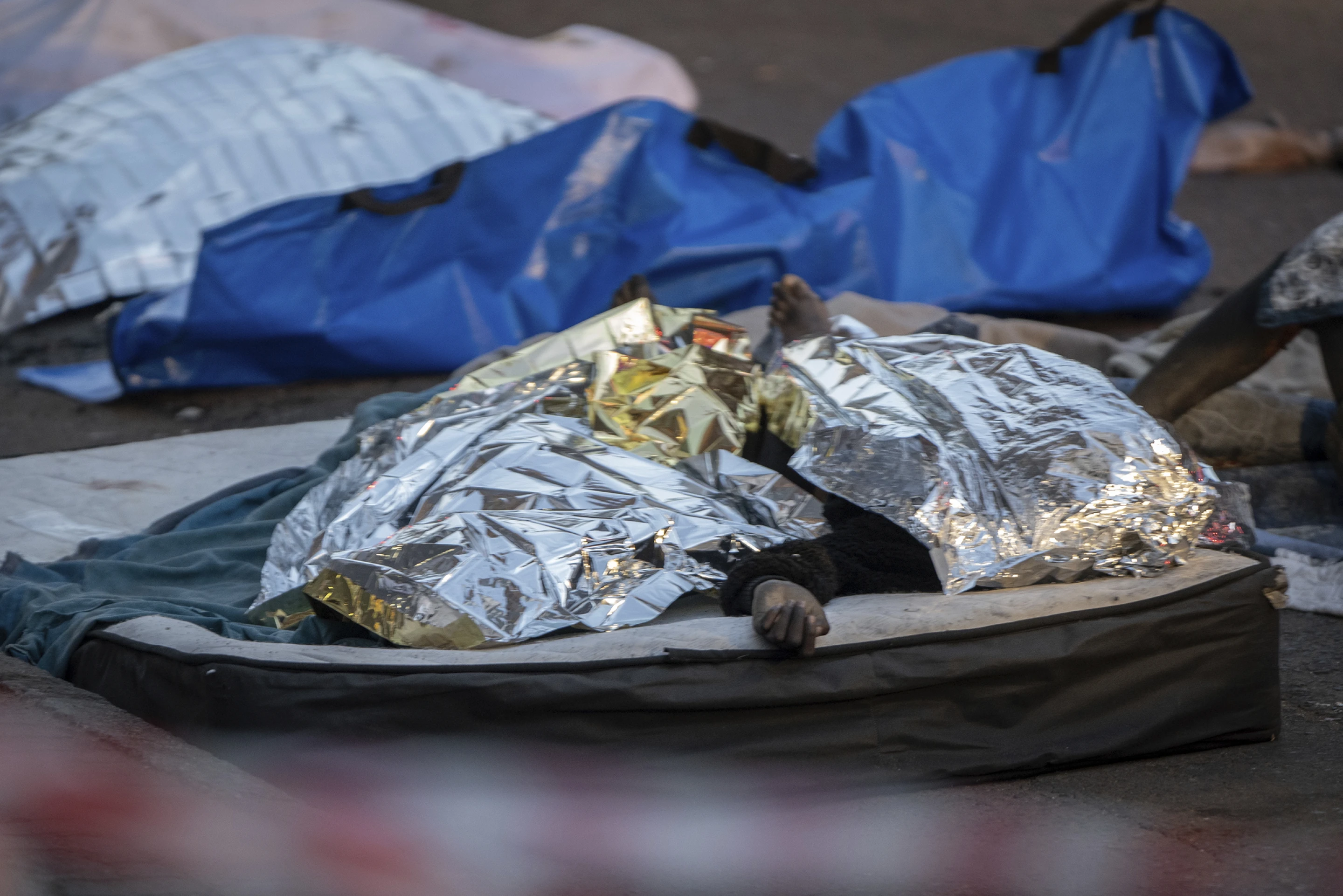 South African President Cyril Ramaphosa said in a statement that "this is a great tragedy felt by families whose loved ones perished in this awful manner, and our hearts go out to every person affected by this event."
A Ramaphosa official said the president had offered the national disaster management agency's assistance if needed, and the president later visited the area after cancelling a Thursday evening televised address on the BRICS economic meeting in Johannesburg last week.
The fire, according to Ramaphosa, was terrible and a "wake-up call" for South Africa's economic powerhouse to address its inner-city housing crisis.
"We are not here to blame anyone," Ramaphosa stated outside the burnt-out structure. "This is going to be a difficult lesson for all of us."
Johannesburg is Africa's richest city, yet its centre is run-down and sometimes neglected. People desperate for shelter exploit abandoned and broken-down buildings.
The structures are known as "hijacked buildings" by city officials, and they have been an issue for years, if not decades.
While local officials bore much of the guilt for the deaths, they admitted that it was frequently difficult to obtain courts to issue orders evicting the homeless from such structures.
The building in question is said to be owned by the city of Johannesburg and is a heritage site, although it is not administered by the city. According to a blue historical plaque hanging at the entrance, it was previously the location of South Africa's notorious "pass" office, which regulated the movement of Black people under the discriminatory apartheid system.
"Denied a place in the city, many were ordered to leave Johannesburg," according to the plaque.
Decades later, the fatal fire turned the structure into a modern symbol of Johannesburg's marginalisation of impoverished people.
Lt. Gen. Elias Mawela, the police commissioner for Gauteng province, said at the scene that the police were aware of around 700 decrepit and abandoned structures in central Johannesburg. He encouraged local officials to act and to keep squatters out of the burned-down building in the future.
"Turn it off. That structure." Mawela stated.
Meanwhile, Mulaudzi, the emergency services spokeswoman, stated that the fire took three hours to put out and that it took firemen a long time to work their way through all five stories.
He claimed there were "obstructions" everywhere that would have made it difficult for residents to flee the horrific blaze and hampered rescue services searching the area.
The chances of finding anyone else alive hours after the fire started were "very slim," Mulaudzi said.
15 People Dead After Firefighters Went to the Wrong Address
According to a fire official, a fire killed 15 people Thursday in a tiny garment factory in a Philippine residential area, where firefighters were delayed by going to the wrong address, flooding and traffic.
The majority of the victims looked to be industrial workers and carpenters who were sleeping in rooms when the fire broke out. The factory owner and his child were among the deceased, according to Bureau of Fire Protection Chief Superintendent Nahum Tarroza.
According to Tarroza, three persons survived with injuries after jumping from the second level of the two-story factory in panic. The three were sent to the hospital.
The firemen' arrival was delayed by about 14 minutes because a monsoon-season downpour and wind produced flooding and traffic bottlenecks, and the firefighters were given the erroneous address, according to Tarroza.
Tarroza stated that he would launch an investigation on the firefighters' tardy response.
The Pleasant View residential enclave in Tandang Sora village, Quezon City's suburbs, was extinguished in two hours. Officials said an inquiry was underway to determine the reason and whether the factory owner violated any safety regulations.
According to village officials, the factory kept combustible materials and textile used in the production of apparel, as well as printed designs on shirts used for commercial advertising.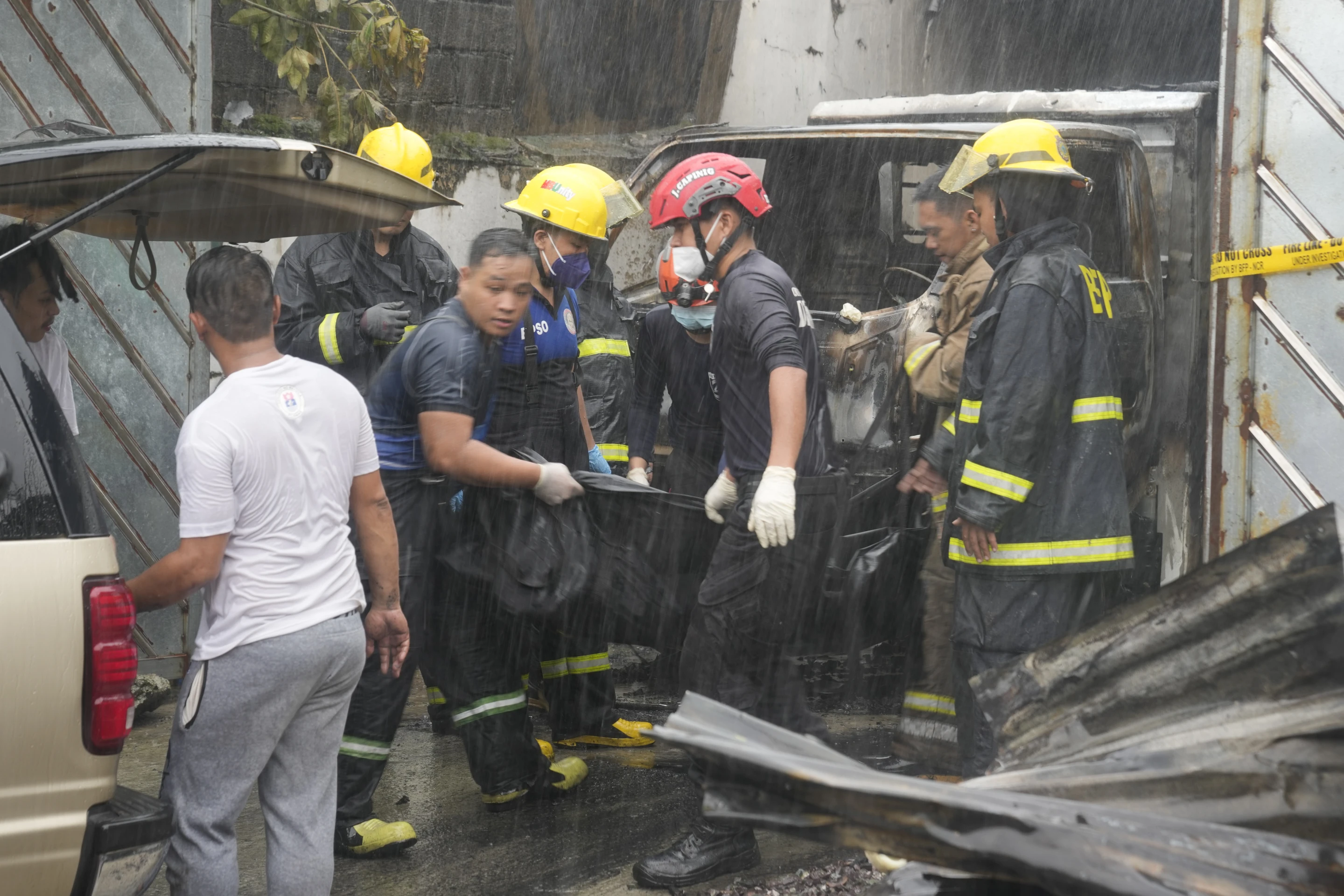 Buildings and residential enclaves that do not meet safety requirements, as well as low enforcement of safety norms, have already resulted in fatal fires in the Philippines.
In 1996, a nightclub fire in Quezon City killed 162 people, the majority of them were students celebrating the end of the school year.
When the fire broke out, almost 400 people were crowded into the Ozone disco, but many were unable to leave since the emergency exit was covered by a new building next door.
The blaze, one of the world's largest nightclub fires in recent decades, injured 93 people.
A nocturnal fire raced through a decrepit flat block primarily occupied by homeless people and squatters in Johannesburg early Thursday, killing at least 74 people, according to the Associated Press.
Witnesses reported that in the frenzied hurry to evacuate, several people threw babies out of third-story windows to those waiting below.