Indonesia Fair Ignites Three-Month Series Of Trade, Cultural, And Diplomatic Activities In Thailand
(CTN NEWS) – Indonesia has initiated an extensive three-month series of initiatives in Thailand, with the purpose of strengthening trade connections, cultural bonds, and tourism, while also fostering people-to-people diplomacy.
This strategic plan, meticulously crafted by the Indonesian Embassy in Bangkok, was unveiled by Ambassador Rachmat Budiman during the Indonesia Fair: Know Indonesia Better event.
Hosted at the Central Court within Central World over the weekend, the event not only served as a platform to exhibit premium Indonesian goods but also featured a captivating array of offerings such as batik textiles, clothing, woven fabrics, traditional crafts, and delectable culinary delights.
This showcase was an integral part of the Indo Trade, Tourism, Investment, and Culture Forum.
The embassy's efforts transcend the domains of trade and tourism, encompassing a broader spectrum of engagements. A notable highlight is the Indonesia-Thailand Business Forum, slated for September 15 at the Centara Grand in CentralWorld.
This forum has been designed to entice investors and invigorate economic interactions between the two nations.
Furthermore, it will act as a catalyst for Thai investors to explore prospects within Indonesia's emerging capital city, Nusantara, strategically situated in East Kalimantan on the island of Borneo.
Ambassador Budiman underlined that the targeted investment sectors encompass fundamental infrastructure as well as medical and wellness domains.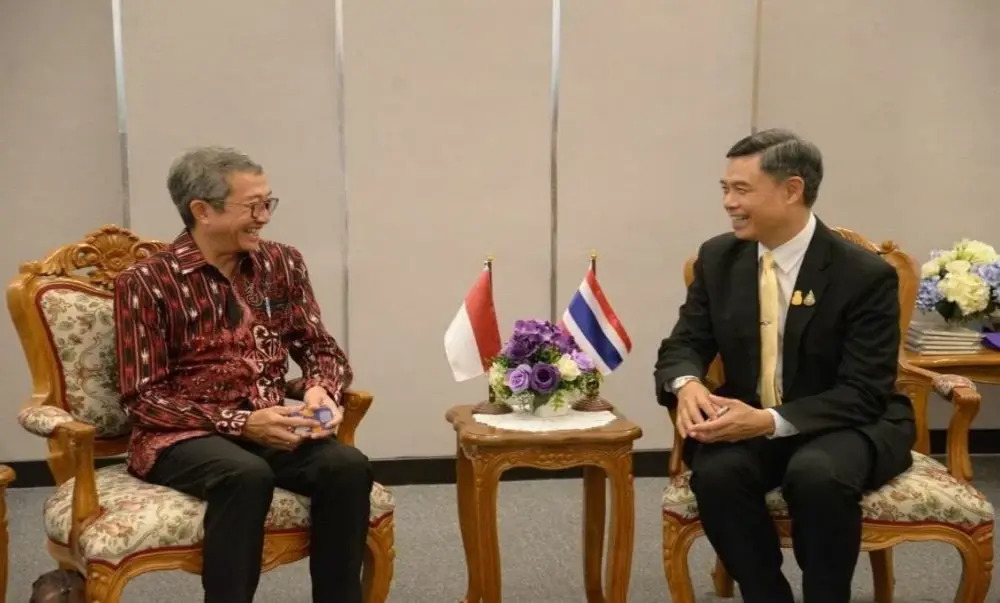 Cultural Exchange: Strengthening Bonds and Forging Connections between Indonesia and Thailand
Cultural exchange forms a pivotal pillar of the three-month blueprint as well. On September 17, the Pic Ganesha Theatre at Siam Square will take center stage, featuring an array of captivating Indonesian cultural performances and exhibitions.
Additionally, a collaborative Indonesia-Thailand Painting Exhibition is scheduled to grace the National Gallery on Chao Fa Road in Bangkok from October 4 to 29, as reported by the Bangkok Post.
Ambassador Rachmat expressed his aspirations for the series of initiatives, articulating,
"I anticipate that this sequence of programs will effectively serve their purpose by forging connections and further solidifying trust, confidence, and people-to-people interactions between our two countries, ultimately yielding reciprocal advantages for our societies."
This endeavor highlights Indo's unwavering commitment to nurturing robust cultural bonds with Thailand, fostering shared progress and cultural comprehension.
In a bid to fortify cultural affiliations, the chairman of Saudi Arabia partook in a dialogue with former Prime Minister Prayut Chan-o-cha.
The discourse was centered around exploring avenues for collaboration in the domains of tourism and investment within Thailand's Eastern Economic Corridor.
RELATED CTN NEWS:
Thailand's Pilatus Marine Expands Overseas Operations With Acquisition Of 3 Liquid-Carrying Vessels
U.S. Judge To Determine Start Date For Trump's Trial On Charges Of Election Interference
Delayed Lunar Ascent: Japan's Inaugural Moon Mission Postponed Due To Strong Winds