Gaza Death Toll Reaches 10,812 As Aid Agencies Call For Ceasefire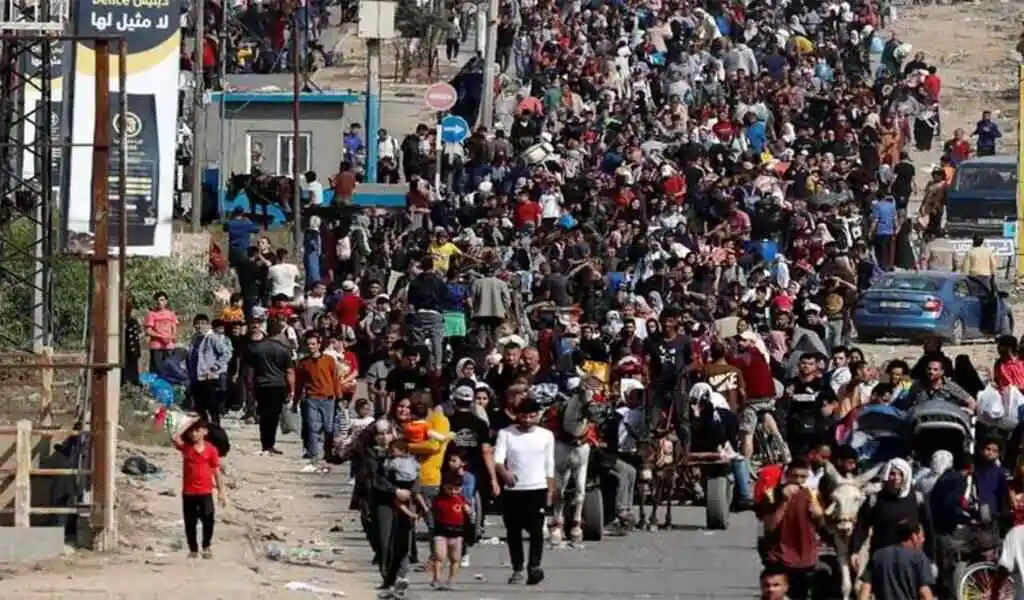 (CTN News) – In the Gaza Strip on Thursday, Israeli forces in Hamas fought militants among ruined buildings, adding 10,812 deaths.
Residents report that thousands of Palestinians have fled from the embattled north to the south along a perilous frontline path. The Al Shifa Hospital and the Al Quds Hospital are housing many Palestinians while ground battles rage around them. Hospitals are embedded with Hamas command centers, says Israel.
Aid to Gaza was coordinated by over 80 countries and organizations in Paris to help wounded civilians escape. The United Nations called for an immediate ceasefire. Israeli actions are a "collective punishment," said Norwegian Refugee Council Secretary General Jan Egeland. Human lives will continue to be lost unless there's a ceasefire, a lifting of the siege, and an end to indiscriminate bombardment and warfare."
UN and International Red Cross echoed his calls, but Isarel and the United States reject a full ceasefire. On Oct. 7, Israel attacked Gaza in response to a Hamas raid on southern Israel. 1,400 civilians were killed. As a result, Hamas was condemned by the international community and Israel received sympathy and support. As a result of Israel's retaliation, a humanitarian catastrophe has developed in the Hamas-ruled enclave.
The numbers of Gaza residents killed in air and artillery strikes reach 10,569, 40% of whom are children. Israeli tanks were stationed around Gaza City, a Hamas stronghold. In intense street battles, both sides suffered heavy casualties. During the ground operation into Gaza City, Israel, which has vowed to wipe out Hamas, has lost 33 soldiers.
After 10 hours of combat with Hamas and Islamic Jihad militants, Israeli forces have secured Compound 17 in Jabalya in northern Gaza. There were dozens of militants killed, weapons seized, tunnel shafts exposed, and a Hamas weapons factory found in Sheikh Radwan.
As soldiers walked through rubble from a building where one wall had been destroyed, they discovered weapons-manufacturing equipment and instructions. There was a girl's room nearby with pink walls, pink wardrobes, and three little beds.
The Hamas armed wing destroyed tanks, bulldozers, and other vehicles, saying it killed more Israeli soldiers than the military reported. Anti-tank rockets are fired and hit vehicles directly.
THERE IS NOWHERE TO RUN
Thousands of Palestinians have sought refuge at Al Shifa Hospital in Gaza City after Israel ordered the evacuation of the area. Tents are erected on hospital grounds and they say they have nowhere else to go.
According to OCHA, Israeli authorities again told residents in the north to move southward, opening a four-hour corridor for the fifth day in a row. According to the report, about 50,000 people left the area on Wednesday. Evacuees were put at risk by clashes and shelling around the main road, according to the OCHA. In addition to corpses lying alongside the road, most evacuees were walking since the Israeli military ordered them to leave their vehicles.
One resident, who asked not to be named, said he had crossed into Gaza City with his wife and six children, including two adult daughters, after originally taking shelter in Beit Hanoun near the Israeli border. As you walk past the Israeli tanks, raise your ID card and look for a lift," he said.
The south of Gaza is already crammed with displaced people from Gaza's 2.3 million residents. Israeli forces may need to evacuate civilians who ignored warnings to leave Al Shifa if they engage in combat close to the city, said Shalom Ben Hanan, a former Shin Bet official.
He told Reuters in Jerusalem that he and his friends would fight from the hospital if they (Hamas) were to shoot at us. There will be a high price to pay." The fighting is mainly concentrated in the north, but southern areas have also been attacked regularly. In Khan Younis, Gaza's main southern city, residents searched through rubble to find survivors on Thursday morning.
CALL FOR CEASE FIRE
Gaza's suffering was discussed by the G20, Arab nations, Western powers, and non-governmental organizations in Paris. Fighting continues, so expectations are low. Emmanuel Macron called for a humanitarian pause as he opened the conference.
There is a serious situation that is getting worse by the day, he said. Mohammad Shtayyeh attended. His Palestinian Authority has limited self-rule in the Israeli-occupied West Bank, but was driven from Gaza in 2007. No Israelis were invited. Shtayyeh asked, "How many Palestinians must be killed for the war to end?". "Does killing 10,000 people in 30 days suffice?"
Gaza Strip will be part of a future Palestinian state. However, Israel hasn't said how it will secure Gaza following the war. In 2005, Israel withdrew from Gaza.
SEE ALSO:
Governor Tate Reeves Of Mississippi Is Reelected For a Second Term